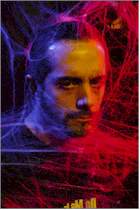 Maximum Metal's Stygian Steel and EC recently got the opportunity to chat with Bronx Casket Co. and Overkill bassist D.D. Verni. Bronx Casket Co. has just released their new record "Hellectric" through Regain/Candlelight Records, and D.D. took some time to tell us about the record, the new video "Little Dead Girl", and what the future plans are for both bands.

Let's start with what's going on with Bronx Casket Co. The band has a brand new album out on Candlelight Records/Regain called "Hellectric". Tell us a little bit about the mood of this record. In your opinion does this continue the same sort of gothic vibe as the previous two?

DD - Yes I think so. That is basically the vibe of the band although there are elements of Doom and Metal too. I think because of the horror elements people go towards the goth label, but the others are there too.

What is really the breeding ground for Bronx Casket Co? What sort of elements do you feed off of when writing and recording a rather dark record like this?

DD - Different stuff, could be a movie, or a book, I love both. Could be I'm just pissed off at something...mostly I try and keep the melodies memorable and the music driving

How is it that all the members of Bronx Casket Co came together? Between you, Jack Frost, and Myke Hideous it's a pretty ecclectic group as far as your backrounds & styles go.

DD - Jack I have known a long time so when I said I was interested in doing this he was into it right away and Myke I happened to know from seeing his band play once before and thought he could be ok for the group. I think because I write all the music and lyrics that the record keeps a coherent feel even though different guys are involved. And then they can just come into the studio and kind of play the songs with their style.

What is it you hope to achieve with Bronx Casket Co? Is it merely a side project to write a different style or do you have higher hopes for the group?

DD - Hey anything I do I hope sells a lot of copies and people can get into, so ultimately I hope that is where it goes. But if it stops being fun then it will go away. The best part of this band is it is a just a lot of fun to do.

On "Hellectric" you do a cover of Lynyrd Skynyrd's "Freebird", continuing the references to that band. Are they a favorite of yours? Also, did you feel any pressure to do justice to such a well regarded classic or was it just a fun thing as a fan?

DD - No, I was never really a Skynyrd fan, mostly I like that the two genres could not be more different, and putting them together appeals to me. I don't feel a need to do justice to a song in terms of the original writers, I do for myself and so I was happy with the way this one turned out.

On the album there is also a song about Rob Zombie's wife, Sheri Moon. What brought this idea on? Are you a fan of Rob Zombie's movies and/or music or do you just think shes a hot, evil chick that made for good subject matter? On a personal note this is my favorite track on the new one.

DD - I love this song too, if there is a second video this is the one I would like to do. Actually the song is not about Sheri Moon at all. When I had the music done it kind of felt like a Zombie-esque song, so when I got into the lyrics part I had the Sheri Moon theme come into my head. The song is about watching and trying to get the crowd into the show, and I like they way she dances in the Zombie video and can see girls dancing like that to the song.

Well probably one of the most exciting things associated with this album is the first video you have done in a long time. "Little Dead Girl" is an absolutely amazing video, really capturing that same sort of vibe as Tim Burton's "Corpse Bride" or "Nightmare Before Christmas". It has been a long time since I've seen a really quality video. This obviously goes miles beyond "band playing in abandoned factory". How did all of this come together and who is behind this?

DD - I am not the bigest fan of "band playing in abandoned warehouse" either. Although I know a lot of metal kids, that is all they want to see. A performance thing is cool sometimes but being that the band has never done a show that seemed silly. I contacted a director named Lee Lanier to do the video. I saw one of his short films and was blown away...he loved the band and the whole concept that I spoke to him about and then over a few months we went back and forth until it was done, I love the way it turned out and it was a lot of fun to do it.

There is a lot of stuff going on in the video, tell me what the story is here.

DD - Little Dead Girl trying to get to the Bronx Casket concert. Hearse trying to catch her and bring her back to the cemetery. She meets alot of creepy friends along the way and finally get into the show. People can check it out as well on our website www.bronxcasketco.com.

How did the band get involved with Regain/Candlelight? Is this a long term deal?

DD - Overkill signed with Regain for Europe and so it made sense to have Bronx Casket there to. Regain works with Candlelight for the states so that was how we got to work with them as well.


"The best part of this band is it is a just a lot of fun to do."

The way I understand it, you managed to record this record while you were out on the Overkill tour. How did you manage to swing both bands at the same time?

DD - I did it in between Overkill stuff. I have a recording studio called Gear Recording in Jersey. We did the last two Overkill records there so I could do it at my own pace and not have to sweat it to much.

What is the touring plans for this release? Also, what happened with the planned Starland show on the 16th?

DD - We are talking to a lot of people about touring right now, so hopefully something cool will come along. We were on the Starland show but there were issues with Bent Brother managing so it never really got together, so it was just not gonna happen.

Rob Pollata just joined the group as the new drummer. How does his style fit into the band's sound and how did you guys meet?

DD - He is amazing...very John Bonham so I think because Bronx has that big groove happening alot ...he fits great.

Well, while we have you on board let's talk briefly about Overkill. What is currently going on there? When will a new album be written or recorded?

DD - Who knows...sometime next year. We have a US tour coming up with Prong in Feb, after that we'll see. Depends on if we wind up doing Gigantour this summer, which we are discussing now...so we'll see.

After so many years do you find it hard to come up with new song ideas for Overkill considering there are certain expectations of what the band should be?

DD - Never...It's always fun and never a shortage of cool shit for Overkill.

Have you and Blitz ever considered retiring that band in pursuit of something new like the Bronx Casket Co?

DD - Are you nuts...

What do you think of all the thrash bands that are suddenly reuniting, with Anthrax heading back in time to the Belladonna days? Do you ever feel like there are a lot of bandwagon jumpers out there considering the lull in thrash interest for a while? Sometimes it seems like these bands weren't there when metal really needed it (90s), and now that metal is back again you have all of these bands just crawling back out.

DD - Hey I don't care...If they can have fun and get the old guys back together...great go for it.

Which thrash bands do you think currently have the best outputs and which are really limping along?

DD - Don't really know any new thrash bands...not real ones anyway. Some of the older bands like Kreator and Destruction I think are doing a nice job with their new stuff.

As far as newer bands in the metal scene right now, who are you enjoying/find the most promising?

DD - I love Machinhead and Static X although they aren't really new anymore. A lot of the new bands I hear are more modern Maiden music with heavy vocals, and that does not do much for me.

Black Sabbath has recently been voted into the Rock & Roll Hall Of Fame after years of deliberation. Do you think Sabbath joining the hall is too commercial, considering they are the founders of heavy metal, a sound that is built on rebellion and non-conformity?

DD - No, if they get voted in I would say go ahead, if not I imagine they could not care less.

In the 80s what was considered extreme and "pushing the envelope" was bands like Twisted Sister, King Diamond, Venom, and Slayer. Now today's extreme elements have been pushed even further, with death and black metal really being the primary focus for shows like "Headbanger's Ball" and "Metal Asylum". Today's youth is listening to bands like Emperor, Six Feet Under, Cradle Of Filth, and really getting pushed as far as the extreme can get in my opinion. In your eyes, what could the next level really bring. What is the next generation's metal fans going to experience. We have really gone from something as simple as Dee Snider dressing up in women's attire to corpse painted musicians screaming serial killer and anti-Christian lyrics. What is next?

DD - I would not put Twisted Sister in that category, but I know what you mean and to me it's all the same thing. Alice Cooper and now Cradle Of Filth or Kiss and now Dimmu....it's just a new thing. In 10 years it will not be looked at by the same and people will be talking about some other "thing".

Do you still keep in touch with many of the former members of Overkill and would you consider working with any of them again?

DD - I see some of them from time to time. Sure I would consider working any one of them. Only person who ever really left on bad terms was Bobby G and that was 15 years ago since I last saw him.

Finally, with the anniversary of Dimebag Darrel's death coming up, how do you think his death has effected the metal community and you personally? Do you think this tragedy has further effected the widely held belief that metal music is a bad influence?

DD - I never knew Darrel, but his death was a shock and a sin. And I think that not having anything at all to do with his music. He was a young man... making music is something we all do and love but there are so many other things.... kids, family... grand kids, etc....his brother and family were left without there son...it's just a sin for anyone to die at that age I think.