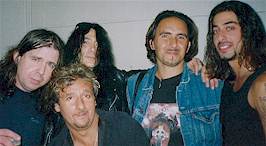 EARTH, WIND & STEELE
Being one of the originators of the epic Power Metal genre, Virgin Steele also helped lay the foundations for Metal within North America. Furthermore, the band helped build the 'macho' imagery around epic Power Metal bands. After being around for over 2 decades and boasting a rich discography, one gets the nagging feeling that Virgin Steele are somehow still being underrated in current times.

Being around since the beginnings, vocalist, keyboardist and artistic engine of the band David De Feis is in a position to offer a balanced opinion of the scene's development. Listening to him speak in the interview that follows, it also becomes obvious that despite adversities, the flame of Metal within Virgin Steele and himself is alive and burning. Meanwhile, he remains with his feet firmly on the ground.

BORN IN THE USA
Chris: David, in a recent issue of a UK magazine, MANOWAR, QUEENSRYCHE, SAVATAGE and VIRGIN STEELE were described as one of "grand survivors of USPM". What do you think of this acknowledgement?

David: It's a very nice complement. It's nice to be in good company with all those bands - very noble, wonderful bands.

C.: Ironically, I have a feeling that VIRGIN STEELE draws more influence from European Power Metal bands…..

D.: Yeah, that's true. We grew up on English bands like QUEEN, LED ZEPPELIN, DEEP PURPLE, RAINBOW…..so we did come from the European side of Rock and also Classical music. (We were influenced by) greats from Italy and Germany, such as Verdi, Puccini, Wagner, Beethoven. So our roots are more European, yeah.

And also Greek theatre was a very big part of it all, with its ancient music, its culture, the place.

C.: The spaceship within the artwork of VIRGIN STEELE's eponymous debut had 'NWAHM' etched onto it. Do you think there was a 'New Wave of American Heavy Metal'?

D.: There was at that time, yes. There was us, there was the RODS, RIOT, MANOWAR of course,TWISTED SISTER, a band called ZEBRA….there were other bands, I can't remember them all, but there was a wave of US Power Metal.

ALL THE WORLD'S A STAGE
Under David's earlier reference to Greek culture lies a critical factor that forms the essence of Virgin Steele. In fact, this influence is revealed in many forms. Albums such as "The House Of Atreus Act I & II" (respectively 1999, 2000) and specific songs like 'Mind, Body, Spirit', 'Rising Unchained' and 'Sword Of The Gods', provide solid testimony to the lyrical influence. This muse is also reflected in the aforementioned imagery as well as in the theatrics that Virgin Steele are known to evoke during the band's performances. When you think about the latter, this isn't at all surprising – after all ancient Greece is often considered to be the birthplace of formal theatre studies.

It seems Virgin Steele have an ambitious project in the pipeline that feeds on all these perspectives – a metal opera called "Lilith"…….

D.: It's what we're finishing now. We're currently in the process of doing the last vocals and the last overdubs of the orchestrations. "Lilith" was an opera that appeared on a stage in Germany a year or 2 ago. It went very very well. It was very successful. And now we're gonna release the album (version). Well, 2 albums eventually but we'll release 1 of them for now.

Actually I've even written enough songs for the next 4 albums.

C.: How do you manage to be such a productive artist – do you perhaps set yourself quantified targets and pursue them at all costs?

D.: Well, once I start writing, I have problems stopping. Unless I am stopped I won't stop. Sometimes this nearly drives me mad and fucks up my personal life.

C.: Obviously a lot of your lyrics are influenced by mythology…….

D.: …….mythology? (Are you sure?) They're really influenced by real life. I put them (the stories) into a mythological concept precisely so that they can be universal.


"[Writing] Sometimes this nearly drives me mad and fucks up my personal life."

You know, I don't want to be like a weepy sing-a-song writer saying 'I did this' or 'I did that' or even 'this has to be like this and not like that'. I try to make it all universal so everyone can relate.

C.: Wow! You actually foresaw my next question as I was wondering how modern man could possibly relate to stories that were supposed to have taken place centuries, even millennia, ago.

D.: Well, we haven't changed. We have not progressed since the cave people!

DAVID DEFEIS
There are many facets of the multi-talented individual that is David De Feis. For example he boasts a BA (in Piano Composition) and is also active as a record producer, having produced albums for a number of bands, besides, of course, for Virgin Steele.

C.: How did you start working as a producer?

D.: From the very first album, I had the balls to say: `I'm producing this fuckin' record. `

C.: So you learnt the skills by trial and error, basically?

D.: Yeah, basically through sheer will, stubbornness and overwhelming will.

C.: One of my favourite cult-metal releases of the 1980's is an album called "Nightmare Theatre" by a certain band called Exorcist……

D.: Really?

C.: ….. I've often heard rumours that this was an alter ego of Virgin Steele……

D.: No, no. Not really. Though I did have a lot to do with that record.

C.: Dave, besides singing you also perform the role of keyboardist with Virgin Steele. Let's face the truth. There was a time, in the 1980's, when the usage of keyboards in Metal was looked upon with scorn and regarded as some sort of blasphemy. Had you faced any problems, then, due to this prejudice?

D.: Oh yes, it was really frowned upon. People said: 'You're a fuckin' sissy, what's this keyboard show? We need guitar.' And I was, like: 'Fuck you!'

Gimme John Lord, Keith Emerson – are they not fuckin' heavy? Bach was heavy too, for me.

THE NEXT CHAPTER
C.: At what point are plans for a Virgin Steele DVD?

D.: We're working on that right now. In fact we've recorded tonight's gig - I hope there's something [worth using] on the tapes I have. We've been recording every show.

So once the next album, the "Lilith" project, comes out then I will step back and do the DVD work and see what we have. [I'll ask myself] 'Do I have [enough quality recordings for] a live album?' or 'Do we need to do some more shows?'

C.: Shall this DVD also feature any vintage Virgin Steel videos too?

D.: Oh yeah. I have stuff from the beginnings of Virgin Steele.


From how David described them, both "Lilith" and the DVD sound like very promising and exciting releases. Shall the band succeed in capitalizing on past glories? Until now, hindsight often seemed to be the best way to appreciate their art but the band never stopped evolving. This, in essence, is the very meaning of 'Virgin Steele'.

©Chris Galea - luciferlament@yahoo.com
-------------------

Current line-up:
David De Feis - lead vocals / keyboards
Frank Gilchriest - drums
Josh Block - bass guitar
Edward Pursino - guitars


Album discography:
"The Book Of Burning"
(2002 – alternative song-versions, unreleased tracks, rarities, etc….)
"The House Of Atreus Act II" (2000)
"The House Of Atreus Act I" (1999)
"Invictus" (19980
"The Marriage Of Heaven And Hell – Part II" (1995)
"The Marriage Of Heaven And Hell – Part I" (1994)
"Life Among The Ruins" (1994)
"Age Of Consent" (1988; Re-issue 1997)
"Noble Savage" (1985; Re-issue 1996)
"Guardians Of The Flame" (1983; Re-issue 2002)
"Virgin Steele" (1982; Re-issue 2002)

Relevant websites:
www.virgin-steele.com
http://virgin-steele.rockmetal.art.pl/en/