Hey, Cristiano...tell our readers about the new album as far as inspiration for it.

The songs came out because of things that happened in our personal lives. Some of us went through tough times, nothing crazy, but normal life stuff like break ups, paying bills, that sort of thing which sort of influences how things come out in the end. This album is slightly heavier and darker than prior albums. The way we wrote the new album was we just sat down, wrote and exchanged ideas. Mostly the songs that appear on the album are ones that Marco wrote. He, Cristina and Andrea locked themselves in a basement for 3 months to make sure we got good stuff. Shallow Life was more of an experiment for us writing as we deviated from our normal formula and way of writing. It taught us what works for us and what doesn't. We were more focused on what we wanted on this album.



"Don't label us as a chick thing or whatever, like it's gonna be pop rock. When you come to one of our shows, there is a lot of energy, we move a lot and try to exchange the energy with the crowd."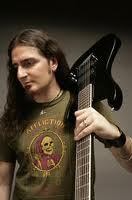 Feedback on the new album so far has been amazing. The album had been ready for a while before it was released. We were curious to see what feedback we'd get from fans and people that wouldn't know us or hadn't listened to us before. Right now while we are on tour people are just really getting into the album. We really couldn't expect a better reaction.

What made you all decide to cover Losing My Religion?

The idea to cover Losing My Religion came up around the same time when we were trying to decide on a cover for Karmacode. We went with Enjoy the Silence on Karmacode because it was the song music wise that we could work with. Losing My Religion was one of the candidates from back in 2005. Black Hole Sun was another candidate for us to cover but we ended up going with LMR because we liked the ideas Marco came up with for it and felt that it fit best with the other songs we had.

How did you all land the Gigantour spot?

Gigantour just sort of happened. Dave (Mustaine of Megadeth) tries to put together a package that works really well and he actually personally asks every band to do it. We love Megadeth and had a great experience on the Australian Gigantour. It was such a great package and we were excited to have been invited to be on a tour like this. To be honest, I'm seeing a huge crowd everynight. You have fans that listen to old school metal and then a lot of kids that listen to newer stuff. Every band is getting a great reaction. Only a handful of our fans make it because of us playing for only a half hour, the ticket price and maybe just not being interested in any of the other bands that are playing. It's really something great to be happening to us and we couldn't feel luckier to be a part of it.

After GT wraps, you all start a South American run with Hatebreed and Lamb of God, how pumped are you guys for that tour?

We love Lamb of God and Hatebreed! We did a tour with Lamb of God in 2004 with Slipknot headlining and have been really good friends ever since. Randy from Lamb of God went and bought our album when it was released and we went and bought theirs. South America is a crazy place to play, the fans there are just insane. They stage dive and have huge mosh pits going on all the time. It's really a different scene from playing in the States. The lineup on this tour is so wide of a variety. We are softer, Hatebreed is hardcore, and Lamb of God is technical. Fans down in South America don't seem to get many shows and people literally go crazy for whoever happens to be playing so it just happens to give a great atmosphere.

What did you think of the new Lamb of God album?

I think the new Lamb of God pretty good. I was a little disappointed by Wrath. This album goes back to the time when they were less Pantera with more of the technical riffs going on. I really like this one.

Does touring so extensively take a huge toll on you all or have you all been doing it enough to get used to it?

You have to learn to take touring day by day. Sometimes it gets hard. We really tour a lot and you have to be gone from home for a long, long time. We see how it really helps with the promotion of the band. We get a lot more exposure and get to tour with great bands. It is hard but we know we have to do it and are very thankful that we get to tour and do what we do. I have a lot of friends in Italy that are really good and can't get a decent contract to go on tour. We consider ourselves extremely lucky and we know that what we have is not a given. Itís not something that you will have every day when you wake up and it will be there. It's not like you'll be doing this the rest of your life.

Do you all pull pranks on each other? Anyone particular a pretty big prankster?

We used to pull pranks on each other back in the beginning but now since we have to share the same bus for 5-8 weeks w/10-12 people, we try to be respectful but sometimes there will be a crazy party or something like that. We try not to get on each othersí nerves. The bus is our house and we are on it for a long time. We know there are certain lines that are better not to cross.

Where do you draw your influences from? What got you into metal?

It could be anything that I listen to music wise or something that happens in my life, a book or a movie. I can't really say with a lot of certainty, when I sit down and start writing things just come out. I tend to work on stuff that I like the most. It could be anything that happens to me.

Have you all ever considered doing a full album in Italian? Or if not a whole album, another song?

We get this question asked quite a lot. I know that itís something very special. For us to sing in Italian it is not super easy, it's really hard to fit Italian lyrics with our music. All of our songs that have Italian are a little bit different, like acoustic or something like that. We aren't too comfortable doing it regularly. It would have to be the right time and right atmosphere to do it. It has to be something that comes naturally. Because there is no written recipe for songs that will allow you to sell millions of copies, we just write songs that we like and keep those that we really love. It would be stupid to sit down and write stuff that you don't know if it will really sell. You stick with what you know.

What would you tell people who haven't seen you live and what would you tell them as to why they should come see you all play a live show?

I think for one, you should give it a shot. Don't label us as a chick thing or whatever, like it's gonna be pop rock. When you come to one of our shows, there is a lot of energy, we move a lot and try to exchange the energy with the crowd. Most people that haven't seen us before say that they are blown away and didn't expect so much energy and heaviness.

Tell me how you got the nickname "Pizza"?

That's a long story. It has to do with foosball, and the fact that I'm not really good at it. Letís just leave it that.

Any last words for our readers?

I hope that people will give us a chance and come to see us live. We will be back in April and May for a headliner. No dates yet but they will be coming soon. We've done a couple of headliner shows and we are looking forward to playing the new stuff. Rock on!