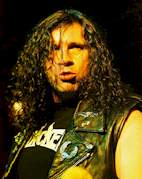 Some might say time is the best medicine to heal all wounds. That just might be the case with New Jersey's cult power/thrash legends Attacker. Since 1983, Attacker has had its fair share of ups and downs, whether it be label problems, line-up changes, personal clashing between band members, and to top it all of, completely breaking up for over 10 years. Not that that is anything out of the ordinary from bands of their caliber. Attacker could have easily stayed an unknown little metal band that made their debut on the much renowned "Metal Massacre V", with two full length albums that followed, only to disappear into the dark shadows of obscurity. Alas, in the late 90's Denis Gulbey and Sentinel Steel Records got the ball rolling with reissuing both of the first two Attacker albums on CD. After breathing life back into Attacker music and gaining new fans from the newly accessible CD reissues, it was only inevitable the Lords of Thunder return, and return they did. With 3/5 of the original line-up together (RIP Jim Mooney), the crushing "Soul Taker" album landed Attacker back on the Heavy Metal map and it's been a continuous victory ever since. Now, with "Battle at Helms Deep" bassist Lou Ciarlo back in the band, Attacker is ready yet again to recreate the magic that's been going on for over 20 years. CALL ON THE METAL. CALL ON THE ATTACKER. Right now, I'll call on Bob Mitchell.

Maximum Metal: First things first, Bob. Maximum Metal welcomes you. It's great to finally get around to another interview. How the hell are you?

Bob Mitchell: I'm doing great, thanks. My God, it's been awhile. It's a pleasure for me to be back talking to you guys at Maximum Metal. So fire away, pallie.

MM: I'm assuming that the European gigs must have all went great seeing as how a 2006 European Tour is already being planned. Attacker has achieved what most Metal bands only dream about. What was it like flying to Europe?

BM: It's been an incredibly great experience for all of us. The flights have thankfully, been without incident. Plus, the fact that I slept great going there and back. So, there was no jet lag on my part. I'd step off the plane feeling refreshed and ready to hit that stage. Germany is a beautiful country and the people there are very gracious and respectful. Our fans in Europe have been faithful and they've shown their loyalty when we performed for them! It's amazing to me that they sing every line, word for word, and they are just so damned loud about it too. The fans have made Attacker the band we are today and what the band will be for years to come.

MM: How does America differ as far as live Heavy Metal crowds are?

BM: I can sum that up in three words: passion, tradition and respect. To be more specific, however, Europe is truest of all as far as the tradition, respect, and passion they show for their bands. Again, I can't tell you enough how honorably we were treated in both Germany and Holland. Fans in America will like you for the moment you are there and of course, that's because America is so damned trendy. We play in America and don't get me wrong, we get great fan reaction too, but Europe held on to us for all these years that the band wasn't around and they let us know how much they cared by the reception we got each time we arrived there to perform for them.

MM: How does it feel stepping out onto a stage in front of hundreds of Heavy Metal maniacs? Those pictures from the Keep it True festival look like the result of an obviously head banger of a performance from Attacker.

BM: Josh, as you know, the stage is my home. I never feel uncomfortable in front of crowds. I was born to be an entertainer and besides my hospital work, it's what I do the best. It's especially gratifying when it's a new audience that has never seen you live and you win them over. When this happens, the longevity of the fans sincerity and commitment becomes a lifelong union between band and audience. As for Attacker, we are one with our audience and the feeling we get going out onto that stage cannot be put into mere words. Put it to you this way, for those that perform, they understand and there is no explanation needed. To those that don't, any explanation given would be dismissed.

MM: So, Attacker performed the entire "Battle at Helm's Deep" album at the Headbanger's Ballroom, July 10th in Hamburg, Germany. I can't even begin to imagine how energetic that crowd must have been by the time "Slayer's Blade" blasted through the PA. Was the album played in sequence and nothing else?

BM: Performing the "Battle" album in Europe was an absolute dream come true for me and I know for the rest of the band as well. It was our way of saying 'thank you' to our fans for the years of support and for welcoming us into their homelands with open arms. The crowd was, again, amazingly vocal throughout the show. The album was performed in sequence and we did "The End" for an encore. It was great and we will perform that show here in the US later this year.

MM: Any surprises like "Trapped" thrown in the set? I know it wasn't written by any current member of Attacker but I've always thought that was a great cult song.

BM: Actually, we haven't done "Trapped" since we recorded it. But in this business, you learn never to say never. I must agree with you that it is a great song. Personally, I would love to do that song someday in a live setting.

MM: How was the crowd response at the Headbanger's Open Air and the Thrash Till Death Festivals? German fans are known to be some of the most diehard Heavy Metal fans in the world.

BM: Honestly, I can't really go into detail because the experience of being there was..... It was great don't misunderstand me but...... really hard to describe. I was numb after each show because the positive crowd reaction was that strong. The organizers of both festivals were great too. They made us feel welcomed and basically let us run with the ball. We had a tremendous time. I look forward to our next trip to Europe in 2006 which is currently in the works.

MM: What was it like doing those meet and greets?

BM: Well, we finally got to personally meet so many great fans and make new friends. We signed so much stuff. CD's, Vinyl's, pictures, posters, magazines we were featured in…programs. I myself had a bunch of fans standing in line with Sleepy Hollow, Vyndykator, and Alchemy X offerings that quite frankly, I've had the pleasure to have been a part of outside of what I have done with Attacker. As for the other guys, they were signing Jersey Dogs CD's and vinyl's and the like and they got a big kick out of it as well. We were blown away by the support and the fact that they (the fans) have all the other bands we were on, respectively, and brought them all for us to sign. Those meet and greet appearances have become some of our proudest moments as a band.

MM: Was the language barrier a problem?

BM: Not at all. A lot of them actually spoke perfect English. But as you know, Heavy Metal is a universal language so it goes without saying that we had absolutely no problems communicating with our friends and fans.

MM: Attacker had quite a bit of down time between gigs in Europe. What did you guys do to keep busy?

BM: My lord. I don't know a damn thing about down time, brother (laughs). Seriously, when we came back from Holland late last year, we started working on "The Unknown" and we have been to this point ever since. At one point, we did take a break to perform at the Classic Metal Fest. After that, we started rehearsing for our recent trip to Germany and from the beginning of August till now, we resumed work on "The Unknown" and we're nearly completed with the album as of right now.

MM: Any interesting road stories while not on stage delivering the Metal?

BM: No road stories, boss. Even though we are a band, we don't live the lifestyle. We're not heavy partiers or anything like that. We hang with the people at our shows, we perform then we head on home. We have a respect for what we do as artists and we also have great respect for the people that come to see us. Many of them are hard working folks and have families. They pay good money to see bands like us so we are not going to go up there in a drunken stupor and pretend that we're putting on a great show. We go up there with the intention of performing to the best of our abilities and give them the best show we can possibly give.

MM: Is the DVD still coming out? I know there was news of this release at one time but I haven't heard anything else about it.

BM: The DVD is on hold as of now because we have not gotten some of the footage we are waiting for. Plus, we've been shooting this thing since our reunion show back in December of 2003. Again, with the DVD, it's going to be something really great for our fans and we can't wait to eventually put it out. But for now, you will have a new Attacker album in a couple of months which I know you and everyone else will really and truly enjoy!!

MM: "The Unknown" is out this fall. I thought "Soul Taker" took what was great about the previous Attacker albums but gave the overall sound a more refined quality, leaving "Soul Taker" to be nothing more than solid and my favorite Attacker release. "Forgotten" is certainly one of the best Attacker tunes. How will "The Unknown" compare to it or any other Attacker album?

BM: I think we've gone in a heavier direction, much like we did for the "Second Coming". It's still Attacker, but it's a more aggressive version of ourselves. To be more specific, I think overall, our songwriting has matured. Again, the songs are heavier than the last one, yet we have maintained the Attacker sound and character that has made us the band we are. Not much of a departure because we know what works, but the direction has certainly gone heavier.

MM: What should be expected?

BM: I can't say, brother. The fans will decide that. It's hard to say, really. I do expect it to do great but I can't count on that completely only because if we think it's a great record but the fans don't, well, needless to say, it would be a major letdown. We've worked very hard on this album and it has the best sound compared to any of our previous albums thus far. The intensity of it, I would definitely rate it up there with the "Second Coming", and the songwriting itself has surpassed anything we've ever done to this point. That's my view on this new album, but again, the fans will decide.

MM: Has a release date been set?

BM: No sir not yet.

MM: What was the songwriting process for "The Unknown" like? Were songs written individually or was it a group effort?

BM: These songs really started out as raw as you could possibly imagine but they have cultivated themselves into some great pieces. Again, however, that's just my view on things as far as the new album is concerned. For the first time in our history, "The Unknown" has become a complete band effort.

MM: I thought the production job on "Soul Taker" was really good. Was "The Unknown" recorded at the same studio?

BM: A few months after "Soul Taker" was released, we actually decided to build our own studio at our rehearsal room and it has turned out to be the best venture we've done for ourselves. We invested our money and we did the project ourselves. Our Drummer Mike (Sabatini) engineered the production of our new album and he did an excellent job! When my vocal sessions came up, he really pushed me to my limits and I came out of those sessions completely satisfied. The album as a whole, thus far, it sounds great! I'm really excited about this album! The beauty of having your own studio is that we aren't under a time restraint and the sessions run much smoother without the pressure of having to finish up before time runs out. We have taken our time and it's paying off in a big way.

MM: How far along have you guys gotten in recording the album?

BM: As I said before, the album is near completion. I think we'll start mixing it in the next few weeks starting off in, or about late September.

MM: If the artwork is any indication of the music, "The Unknown" will be yet another classic, dark, balls-out release for Attacker to include in their discography. Jowita Kaminska is an amazing artist that's really getting a name for herself in the metal world. Why was Jowita chosen to do the artwork?


"Europe is truest of all as far as the tradition, respect, and passion they show for their bands."

BM: You answered your own question, pallie. Her work speaks for itself. Actually, it was King (Fowley) who first turned me on to her artwork. So, I am indebted to him for that. If you're reading this Kingy, thanks again, brother! Jowita will do all of our album covers from this point on. I honestly can't see anyone else representing Attacker from an artistic standpoint, only her, Josh. She's really captured who we are as a band not only with the artwork but with her photography as well.

MM: Was the artwork a concept that had already been conceived or was the artist given the task of creating an image for the next Attacker album?

BM: Jowita and I mutually worked on the concept idea for the cover. I got my ideas from watching classic horror films of the silent-film era. More or less the German expressionist films like "Caligari", "Nosferatu" and the works of Lon Chaney Sr. So, I got ideas from the various films I had watched and I dictated these ideas to Jowita and, hell, she just took ball and scored the proverbial touchdown. The cover has gotten great reactions. I mean, even to the point that we decided to place the image of our new cover art on t-shirts and they're selling extremely well. When we did the Festivals in Germany this past July, a lot of people were wearing them. So, now I pray the album will do just as well.

MM: Is your Heavy Metal cover band Denim and Leather on the backburner? I don't recall if you guys officially called it quits or not. I know Alchemy X have reformed with a new vocalist but I've yet to hear any material?

BM: Yes, D and L are no more. I haven't done that band since 2000. Alchemy X was a great experience for me as a singer and they were great to work with. I've said this so many times before but it holds true for me and that is, Alchemy X has made a much better singer out of me and I hold the honor of sharing my name with the Scorsese name. I will never forget my time with that great band. I really hope they do well for themselves because they certainly deserve it. I want to, if I may, touch upon Alchemy X a little bit more. For the benefit of those of you reading this interview that are not familiar with my time with Alchemy X, here's a brief history of my time with them. It was through a mutual friend of mine that I had gotten a call from Steve (bassist Ratchen) and he asked me if I would be interested in singing for Alchemy X to which of course I said yes because I was a fan of their music. So, in turn, I asked him if he knew of any bass players because I needed one for Vyndykator. So Steve offered to join Vyndykator if I join Alchemy X and I really thought it was a fair exchange and it worked out great for a while. I managed to cut two albums with two great bands and get them both released by Unisound Records. It was a great experience for me. I want to go on record in saying this; Alchemy X was quite different from anything I've ever done. Aside from joining the A-X because of the great music they perform, it was really an artistic choice. I needed to see if I could perform a more progressive style and it has paid off for me in spades. This is a great band and, again, I'm very proud to have been a part of it. At first, truthfully, I wasn't quite sure of myself and I wasn't sure if I would become accustomed to that style, but since then, I have become accustomed to the progressive style of metal and I'm quite comfortable with it. Plus, overall, I think it's made me a better singer. The music of Alchemy X is challenging to say the least and, thankfully, I've learned a whole new way of singing. I mean, I finally got to utilize the influences of John Arch and Ian Gillan as opposed to Udo and Halford to which fans of my music have become so used to. We also did some great shows together. It truly expanded me as an artist and it is one of my favorite albums that I have ever been a part of.

MM: Do you keep in touch with any of those guys or anyone in the Vyndykator camp?

BM: No brother, sadly, not at all. But I wish them well, also. The metal world needs bands like Vyndykator and Alchemy X.

MM: Finding exciting, new heavy hetal albums and bands is quite the task for me nowadays. Have you stumbled across any new bands that have caught your attention?

BM: I'm sorry to say, but no. There are some decent ones that have come out recently, but nothing that has peeled the paint off of my walls.

MM: What's the most recent Metal album that you've liked?

BM: Judas Priest's "Angel of Retribution". It's a great album and I can't wait for the next one. I had the honor of seeing them over the summer and they were just awesome. It wasn't a show, it was school.

MM: Everyone I talked to that attended Classic Metal Fest 5 a few months back had nothing but great things to say about Attacker's performance that night. I was front row center for CMF4 but sadly wasn't able to attend this past year. Attacker got a great response at CMF4, and for good reason. The 14 hour drive to Chicago didn't seem like such a drag after we finally got into the club. It was great to hear songs from "The Second Coming". Your vocals were very convincing on the John Leone material. Closing the set with "A Dangerous Meeting" couldn't have been more perfect. Anyway, I think I'm drifting off into a flashback at this point. What was it like playing CMF5?

BM: I've been doing the CMF shows for the last four years and I've always had the best time at those events. The first time I brought Attacker over to the CMF, I couldn't believe the reaction. Hell, you were there, Josh, so I don't have to tell you. It was an amazing event. This year was even better. We tried out two of our newest songs from the forthcoming album and they went over great! We were really pleased with the response as well as the turnout for our set. The fans were as loud as we were (laughs). It was great and I look forward to more next year. I must say that the organizers of the festival (Metal Music Foundation) are the most professional and honest group of people I've ever has the pleasure of working with. Josh, they're like an extended part of my family. So, I want to say hello to Courtney and Lynette Debow and also congratulate them on the birth of their first child! Love you and God bless the baby!!

MM: Is it too mind-blowing to think that the band from Hoboken, New Jersey who originally started under the moniker "Warloc" in 1983 is still going strong today? As unfortunate as it is to say, most Heavy Metal reunions are nothing more than a joke. Why do you think Attacker has been able to strive ahead of others in their live performances and on record?

BM: I would agree with that Josh. It is mind blowing. I mean... It's mind blowing to me, to be part of an album that metal fans now consider a classic. I never thought it would get to this point and I feel in my heart, it's because we are true to whom we say we are. We are a Heavy Metal band. We didn't comeback with the intention to make money! We came back because we WANTED to come back! We wanted to remind the fans of metal that there is only one style of metal and that style is HEAVY. To be honest with you brother, I wasn't sure what the reaction was gonna be when we put out "Soul Taker" and quite frankly I'm sure, the fans weren't sure what we would sound like after all those years we were off the scene. Now we have proven to everyone that Attacker has maintained its musical character without change. Each album will get better without altering the style in any way, shape or form. We'll go into heavier directions, for certain, but we will NOT change who we are. In a live situation, we love what we do and many have witnessed that, as you know. For instance, to touch upon the new album for a bit, I don't want to reveal too much about it. But I will say this. It is really turning into something very unique and special. However, it's still a tried and true Attacker album. If the fans enjoyed 'Soul Taker', they will absolutely love this new one. It's the same feeling I had when I recorded 'Battle' all those years ago. The other thing I can say about it is that it will contain eleven songs. Some really heavy moments on this album, just wait and see, my friend. You know, looking back on my whole career after all these years, I'm really pleased with all that I accomplished and the way I feel now, I guess, coming from Hoboken, I feel as though Attacker are Heavy Metals answer to Frank Sinatra.

MM: Do you have any fond memories of when Attacker made it's inclusion with "(Call on) The Attacker" on "Metal Massacre V"? That might be my favorite MM compilation.

BM: I remember bringing my copy home to my family and playing the song for them! My mother was working late that day so she didn't hear it until later that night. She was very proud of me. I remember her taking it (the album) to her job and she hung it up in her office. As a matter of fact, she still to this day has that very copy in her home in Las Vegas. My grandfather bought up a bunch of copies and gave them out to his friends. He was my biggest fan, I really miss him. It was a great moment at the time for me and for all of us as a band.

MM: What would you say your greatest accomplishment has been, musically, so far in your lifetime?

BM: Attacker is the band whom I am most known for, obviously. That band is the Metal world to me. But, I would have to say that artistically, and I would venture to say even personally, my greatest accomplishments would have to be Alchemy X and Sleepy Hollow. Let me explain this a little bit to you. For example, Bela Lugosi is known for his role as "Dracula", right? But, his fans also remember him for his role as "Ygor" in "Son of Frankenstien". So, comparatively speaking, "Battle", or more specifically, Attacker is my equivalent to "Dracula" while A-X and Hollow are my equivilants to "Ygor". Any fan of his (Lugosi) will tell you that although he always appreciated the notoriety and success that "Dracula" brought him, he really enjoyed his role as "Ygor". Because it allowed him to showcase his acting talents in a more diverse way and it is, I believe, his personal favorite role. But, one would ask why was he buried in his "Dracula" gimmick? It's because he went home with the one that brought him to the dance. So, I attribute that same analogy to my success as a singer.

MM: Over two years ago, you told me that you would be retired from Metal in the next 5-10 years. With the success of the Attacker reunion still going strong and a new album about to be unleashed to the masses, has your mindset of retirement been persuaded at all?

BM: No, sir. My mindset has not been changed nor has it been persuaded in any way at all. I do plan on retiring from music real soon. Many musicians and entertainers say that, I know, but the difference is I have a future with something other than music to look forward to. I'll give you a good example. I'm not sure any of you remember the Saturday Morning show, "The Might Isis". Well the actress of that show who was also the star of the show is a now former actress named Joanna Cameron. Shortly after her show went off the air, she did a few movie roles and eventually retired from the business and went into the healthcare industry and has been an RN (Registered Nurse). Last I heard of anyhow, ever since. My point is she found success outside of show business and so have I. Josh, the successes that I have had with Attacker and my other bands could never be re-created and it's something I will soon be able to look back on with pride. I will also be able to look back and say that we (Attacker) accomplished what no other band has been able to do and that is, that I was…or I should say, we were responsible for one of, if not the best comebacks of any underground Heavy Metal band ever and we left them wanting more. Josh, that is something to be truly proud of. When I am ready to go, everyone will know about it and I'll be going out with a proverbial bang, brother!

MM:What does the future hold for Attacker and yourself?

BM: For the band, I would definitely say continued successes with another couple of albums, a tour, or two of Europe, and more great times together as a band and with our friends and fans. As for me I will continue with my hospital work as a CNA and eventually become an RN. I love what I do, Josh. I have the best of both worlds in that I interact with people either by providing care or entertaining them. Whichever I do, it helps them forget their troubles and in some cases, specifically with my hospital work, it helps them recover a bit sooner. Aside from the band and healthcare, I plan on going back to school and further my education and eventually move to Las Vegas so that I can live close to my mother. Actually, my family plans on moving there in a couple of years, so I plan on following them after I finish school which, by that time, Attacker will have another album or two under its belt. The future looks great and, again, I can someday look back on all this with absolutely no regrets.

MM: Well, this looks like the end. Thanks for taking the time to chat and keep everyone up to date with Attacker. I look forward very much to "The Unknown". Until we meet again, Bob. Any final thoughts?

BM: I can't thank you enough for allowing me to express myself to you and your readers. I had a blast, as always, doing this interview. I look forward to more great times and accomplishments with Attacker. All my best to the staff at Maximum Metal!! Prepare to escape "The Unknown"!

Photo Credit byJowita Kaminska: www.jowita-kaminska.com