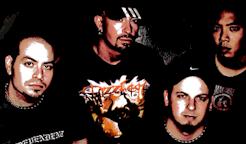 Hearing Bleeding Incorporated on record, you'd have no idea that they were the nicest guys in Central Florida.

The band, originally hailing from Philadelphia, PA, have transplanted themselves to Orlando, FL. During the move, they shed their rap-rock roots and took on a sound befitting of the invasion they've staged. Murderous and melodic, Bleeding Inc have started to put the pressure on the Central Florida scene. And they've only just begun.

Recently, we had a chance to sit with the members of Bleeding Incorporated to get the full story for ourselves after a recent show. After pulverizing another audience with such musical violence, Bleeding Inc were, by contrast, more than obliging and ready to discuss their plans to take over the rest of the world.


Raven: What is the current lineup of Bleeding Inc.?

JP Faideau: JP Faideau on vocals.

Mike Ferrell: Mike Ferrell, guitars.

Bill Cowgill: I'm Bill Cowgill, on bass

Elden Santos: And Elden Santos on drums. We've had this lineup in place for about 9 months now.

Raven: Where is the band originally from? How long has Bleeding Inc. been in existence?

Elden: We're originally from Philadelphia. We all got together in 2001. Bill and I were in a rap metal band before, but then decided we wanted to do something different and take advantage of what Orlando had to offer. So Bill and I brought our operation, so to speak, down here and we got this together.

Raven: What are the band's influences?

JP: Mine definitely come from Hardcore & Emo, like The Used and Sunny Day Real Estate. And from bands like Tool, also.

Elden: The heavier stuff like death and black metal like Cannibal Corpse. I also get into Iced Earth, In Flames, Opeth, and Moonspell.

Bill: I like Tool, and also Rush and Shadows Fall.

Mike: I like Tool, too, along with bands like KSENG, Stuck Mojo, Deftones, and Slipknot.


"Our mission statement is simple - Destroy all competitors with a lethal mix of heaviness, melody, and originality."


Raven: How would you describe or define the band's music

Elden: Our mission statement is simple - Destroy all competitors with a lethal mix of heaviness, melody, and originality. [Laughs] But that's really what we like, though – the heavier riffs and beats, but with some melody brought in to attract the listener and not scare the hell out of them right away. [Laughs]

Raven: What kind of reaction has the band gotten from fans here in the Orlando metal scene?

Elden: Well, this is our 4th show since we've gotten together and everything in order. So far it's been a really good response.

Raven: I've noticed that. I remember seeing you play before, and I remember thinking that the audience was really into it.

JP: Yeah, it's been really cool. It's gone really well.

Bill: There's been nothing negative that we've heard, so that's good. [Laughs] But all in all it's been really good here for us.

Raven: Is the band working on a new CD? If so, when can we expect it?

Elden: We're working on an album now, and by the end of summer we should have a new full-length release out. We've been in negotiation with Changs Studios in Oviedo [FL] about recording it there.

Raven: Where can we get the band's current releases?

Elden: We have a 4-song promo out that you can get either at the website or at any of the shows. The website is being renovated, but currently you can get to it at www.bleedinginc.com

Raven: Are there any plans to go on tour in the near future? What shows do you have lined up?

Elden: We're in the process right now of booking more shows. We're also looking to adding a 2nd guitarist. It's just an idea that we've been throwing around, maybe as far as having more flexibility for guitar.

Raven: What are the band's immediate goals? Anything you're working on getting done now?

Elden We're just looking to get our name out there, mainly. Booking more shows and building more of a fan base, getting management together, looking for labels, things like that. We just want to get a pretty good support network in terms of business and a fanbase.

Raven: Any long-term goals in mind for Bleeding Inc.?

Elden: One day we'd love to do a world tour and go overseas, hit up places like Amsterdam. [Laughs] We've played shows in Philadelphia, New Jersey, Spartanburg; SC, and now Ft. Lauderdale and Orlando. But we'd love to conquer the world and then go see the rest of it. [Laughs]

--Raven