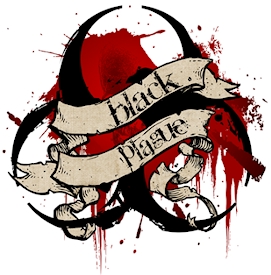 Recently I sat down with Black Plague, a local band in Virgina playing metal, working at expanding their audience, and taking measures towards getting national exposure. Their style is similar to Arch Enemy but their sound is all their own. Utilizing a mixture of styles, the band's sound is sure to appeal to fans of all genres of heavy metal. With an EP release looming on the horizon, I took a few minutes to talk with Stephanie (Vocals), Joe (Lead and rhythm guitar), Josh (rhythm and lead guitar), King (Drummer) and Jaton (Bassist) about their hopes, where they want to go next in their career, and profiling them in general. Enjoy and make sure you check out their page to hear some of their music. I promise if you do, you'll be infected and craving more.

1. Hey guys... So first off, for our readers and folks in general who haven't heard you yet, why don't you all try to give them an idea of your sound and what Black Plague is musically.

Stephanie (Vocalist): I think we are similar to Arch Enemy and possibly The Agonist.
Josh (Guitarist): I've heard a lot of people say that we sound like Arch Enemy. The stuff he (Joe, main guitarist) plays is like Southern death metal kind of styled. My playing is a mix between Death, Trivium and Lamb of God. All the music on the EP is him (Joe) and the album that comes out at the end of the year is gonna be both of us.
King: I think one of the covers we play by Killswitch is a good description of what we play to be honest. I think our bass riffs are a little more complex. I think as a group we play pretty sound as far as all of us having our own parts at certain times.
Stephanie: I don't know what we'd be as a sub genre though.
Josh: Southern Death metal I think. The newer stuff though has that djent bounce without the overuse of breakdowns.
King: Sounds like Power Slop
Joe: I think of Soilwork because we have real heavy verses, real heavy bridges and then really clean choruses.

2. So what made you all decide that forming a band and going through the ups and downs this business has was what you all wanted to do?

Stephanie: Well it's kind of funny cause we met King at a Mayhem show. King was living in Harrisonburg at the time. He, Joe and I got together at a friend's house and started jamming. Then King says he's moving to Roanoke and ends up being right down the street from our house. We said hell, let's start jamming and doing something together.

King: I think it worked out well with every memeber. From when Stephanie, Joe and I first jammed together and then we went to Jaton and Josh and they were like 'Whoa this sounds really good'. So everybody liked what they heard and everybody fit into the group, enjoyed their roles and things rolled from there. Musically we all get along pretty well.

Yeah you all seem to get along very well.

King: Fuck that, I hate these guys. (Laughter)
Joe: Yeah he's a cocksucker. (More laughter)
King: Just remember, we're a team. There's no I in team but there is an a-hole.
Stephanie: And you are it. (laughing)
King: It's kind of corny I know saying we're a family but that's really what it's like. You know anything that goes on outside of playing, it all goes away when we start playing the music.
Stephanie: Also, I feel like we have a big advantage having Josh who has a great ear for music and has his own recording studio. When we're recording he'll say try this vocally or try that. He's really flexible and makes it really easy to figure things out.
Joe: I think his flexibility comes from his expansive collection of pajamas. (laughing)
King: I think we're all able to learn something from each other and feed off of that. In the beginning it sounded like Pantera sort of with lots of screaming and heavy riffing but now we've been able to add versatility to what we're doing. The singing, guitars and the sound in general has continued to evolve as we've grown with each other.



"We aren't screaming all the time or singing clean all the time, it's a good mixture of both."


3. One of the things I love about you all and that I think sets you apart from other bands starting out is that you all decided to start wrtiting your own music from the jump. Was that because you were trying to set the bar high for yourselves or did it just fall into place that way?

Josh: I can't stand playing only covers
Stephanie: Yeah, believe it or not it takes us forever to agree on playing covers. Because we are all so damn different in our musical tastes.
Jaton: It's not that it's difficult, it just never happens. (laughing)
King: Me personally, I think it's harder playing covers than writing your own music. If you write and play your own song it's yours, but if you're doing a cover, you're giving yourself added pressure because it's someone else's song and you want to do it justice. Playing your own songs is so much more rewarding, especially when people recognize that and are calling out for your songs by name or know what's coming next. It's crazy to be playing a show and hear someone yelling out for us to play "Bring Out Your Dead" or "I'll Never Save You".
Jaton: Or you get people showing up at a gig with pictures of us stapled on to their shirt.
King: With us being in our infancy still, that's just great to see.
Stephanie: I was so happy we decided to bust out originals at the gate. Because all of us have different influences, it was cool to see what everyone was coming up with and how we've progressed with our songwriting. I think where we are now, writing our own songs gives us our own sound and that we don't really sound like anybody else. We don't want to be the band coming out the door playing what's popular now, we want to have our own style.
Josh: I like that we can incorporate some of the current trends in metal but still have our own sound.
Jaton: I thnk our musical styles being different is great. We all listen to different things. I have a lot of experience with jazz and so does Brandon (King). It's cool to add our own styles into the music and be writing our own music.
Joe: We all listen to different music and different bands. (laughing)
Jaton: Yeah that's what I just said. (Laughing)

4. So you all have played a fair amount of shows already. What's a rough estimate of the number of shows you have played and what do you all hope people will say after they've seen one of your shows? And you all already have a pretty loyal following, what do you all attribute that to?

Josh: 10 to 15 shows since the end of August.
King: We want people to feel the energy. At the last show we played, the band on before was playing and they were playing some pretty heavy stuff...Gorgoroth-type riffs and people were sitting there bobbing their heads along but nobody got up. When we get up to play, by the end of the show everybody was up in front of the stage. And none of that would have been able to happen if she hadn't brought them in.
Josh: It's kind of like the 'Harlem Shake' you know. That band was playing and there were a few people dancing and people yelling and then we were on the stage and it's like 'Boom' everyone comes up to the floor while we're on stage. That was just awesome to see.
Stephanie: Yeah, we just want to come out with energy that just infects everyone. Even though we haven't played that many shows, we haven't even been together for a full year yet and to be able to see how our stage performance has grown and how it affects people is awesome.
King: Yeah at this last show we played we had some poor kid get his face and his glasses smashed cause people were going nuts.
Jaton: Give the kid credit though, as soon as he fixed his glasses he was right back up front.
Joe: For me, if I don't feel like I'm having an asthma attack when I get off the stage, I didn't do something right. I want someone to come say 'Great show' and all I can get out are wheezes and gasps.

5. With you all being a local band and being from a small town like Roanoke, what difficulties/challenges do you feel that has presented to you all when it comes to booking shows and getting exposure?

Stephanie: It's a huge challenge.
Josh: Yeah playing a show with an actual stage.
King: Yeah, the venues here don't have a lot of actual stages but it's neat because I feel a lot of the attention we've garnered is due to the fact that we don't have a huge metal scene down here. As opposed to playing in a place like DC or Maryland where you'd be playing with 50 other bands and it'd be hard to get that attention. It's sort of a catch 22 in that way.
Stephanie: When we get booked for shows, we don't usually ask to play a show, they usually contact us. The thing is though that since we're a local band and not a lot of people know who we are, it's hard for us to bring people from here that know our band. So in that sense, it's up to that local venue to promote us and sometimes it's hard for that to happen to where there are a lot of people there. I've heard it a few times after we've played where some of the other bands have said 'Man that's going to be a hard act to follow'.
Josh: Yeah it's even better to hear it when you're just passing someone in the crowd.

6. Going back to your sound for a second, you all have your own sound. So let's say I'm a record exec, you all are trying to get me to sing you to a deal. What do you feel makes you stand out from the myriad of other bands that are in the same boat?

Josh: We don't try to throw our riffs together and be repetitive.
Jaton: To expand on that, the way that we structure our songs is one of our strongest points I think. Instead of having Joe in your face non stop, he knows when to dial it back and let Stephanie be the focus. We try not to step on each others toes and we know when it's appropriate to have
our turn and when it's someone else's.
Joe: We aren't screaming all the time or singing clean all the time, it's a good mixture of both.
Stephanie: It isn't sappy all the time or balls out all the time. It's a great mix. And our music will speak for itself.
Josh: Another thing is we don't have screaming only during the verse and clean only during the chorus. We mix it up to have an equal balance. When I'm recording a track, I put a background scream in the chorus to have it help carry things.

7. Ultimately, what is your goal as a band?

Stephanie: Ultimately my goal is to share our music all over the world, get on a bus and tour and just have a good time! I want us to be the next big thing. I want us to play that show where the right person hears us and we take off.
Joe: Yeah, we'll become an empire. Have Black Plague coffee. (laughing) We constantly are trying to set bigger goals for ourselves. I'd love to play with Megadeth one day personally. But to be at the point where people know our music outside of Virginia would be awesome.
King: For me, it's stay humble. Our first goal was achieved by playing in front of a crowd of strangers. It's great to see people who I don't know rocking out in front of us and knowing our songs. It'd be great to be able to open for a bigger act. To be able to open for a band like that may come to this area. We've talked about some of the bigger bands that have come around here like In This Moment or Sevendust and how awesome it would be to open for them.
Josh: We would love to be at a point where if we were going out to play shows where we could bring other bands from the area with us. One of those bands is Ytterbium. We've played with them a lot and they've had us play some shows they've been booked for and we've returned the favor. To be able to do that on a larger scale would be awesome.

8. Ok now it's time for a Sudden Death session. First, if you all could be in any other band what band would it be and what would you be doing in that band?

King: I'd love to be in Avenged Sevenfold and be the drummer.
Josh: My favorite band is Trivium and my favorite guitarist is Marco Sfogli from James Labrie's band. I'd love to play with him and be like 'Yeah'!
Joe: I'd probably lock Chris Broderick in his dressing room and hop up on stage with Megadeth. I'd be so scared though I'd be hiding behind the amps.
Stephanie: This is a hard one for me. I would have said Lamb of God but I don't want to take Randy out of it. But then after I heard the BMTH album, I loved it. So it's a toss up between those two for me.
Jaton: I wouldn't want to kick anybody out of the band. I'd like to tag along and learn from them. For me going back in time and tagging along with the Beatles would be awesome!

If someone asks you what metal is, what album do you hand them?

Josh: Painkiller! That album is it for me.
King: Depends on the type of person. I'd debate on giving them 'Number on the Beast' or 'Back in Black'
Jaton: I'd give them 'Best of the Beast'
Stephanie: Is there a DevilDriver's greatest hits? I would give them that.

Alright, what's the album you're most looking forward to being released this year?

Joe: The new In Flames
Josh: The new In Flames for me too
Jaton: Hopefully Tool's new one comes out
Stephanie: I'm stoked for Avatar's new album
King: I've heard rumblings about a new Blind Guardian, so that would be my celebration day!

9. You guys are currently working on an EP set to come out March 1st. What else is going on with you all in the future?

Stephanie: We actually just got booked to play...what's the name of that convention again?
Joe: Mad Monster Party
Stephanie: That's it! Apparently it's this huge sci fi/horror convention that lasts 3 days. It's a huge deal for us. William Shatner, Sig Haig, the original Jason Vorhees will be there to name a few of the guests. And we're booked through February for shows. The convention showfor us is on March 23rd. And then once we get the EP and press kits out go from there.
King: We'll see where things go moving forward on a grand scale. Hopefully good things will start to happen moving forward.

10. If you guys ask me back for an interview a year from now (which I hope you do) what do you all hope to have achieved by then?

Joe: World domination!!
King: For me, if we're able to meet up with Avatar at Rock on the Range, hit another stepping stone and open up for a world touring band. And from there, who knows maybe tour with a band like that. Maybe tour on 2 or 3 more stops with them, that'd be awesome.
Stephanie: I'd love to play on Mayhem's side stage or at Carolina Rebellion on a tour like that.
Jaton: Hopefully in a year's time we'll be too busy for an interview. But we'll still make time for you.
Josh: I'd love for people to hear the EP and then the record and then come ask me to record.

The last little bit of the interview is reserved for you all to sound off on anything that you want to. Best of luck to you all and may the metal gods hail you with the horns!

Josh: My studio's name is Event Horizon if anyone is interested in contacting me for recording.
Stephanie: Thanks for taking the time for interviewing our band and putting us on the web.
Joe: He's wearing white socks with black shoes.
Me: They're tennis shoes man, cut me a little break.
King: You have orange laces in your Converse shoes man
Jaton: They match your hair man.
King: Thanks to all the influences I've come across like A7X, Dream Theater. I want to thank my parents too and my friends. You gotta thank the people that brought you here.
Josh: If a big named band was to come around and their supporting band backed out and they needed a band quick to fill in and asked who the biggest local band was, I'm hoping that our name would be up there on the list.
Joe: I've had some people tell me that I have really nice hair.


Make sure you check out the band on Facebook. Go to Black Plague Official to see any upcoming shows the band will be playing and to check out their live videos. Keep tuned to Maximum Metal for an update on where you can find their EP.