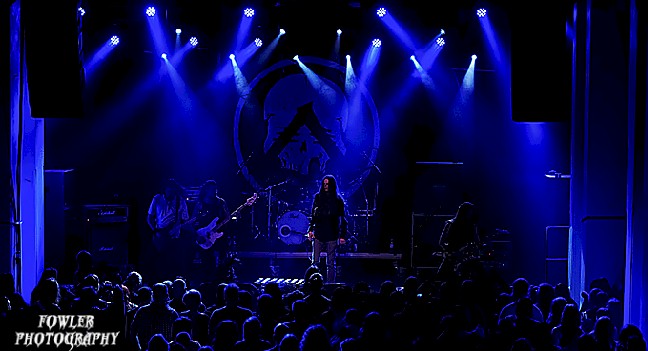 Having lived in Finland for almost 3 years I have been fortunate to be placed into a position to meet a lot of the metal bands this country is known for throughout the world. One such band is the prog/classic rock band Amoral who I was fortunate enough to see live last summer in Helsinki at the famous Tuska Metal Festival. I found the band to have a strangely unique and entrancing sound and their new album 'Fallen Leaves and Dead Sparrows' is a great listen that just a lover of music in general would enjoy. Having a career that has spanned 10 years with style changes, I find Amoral one of the more interesting bands coming out of Finland and also one the most talented.

Guitarist Ben Varon was kind enough to take a few minutes out of his busy schedule and answer some questions for Maximum Metal and without further delay here is the interview!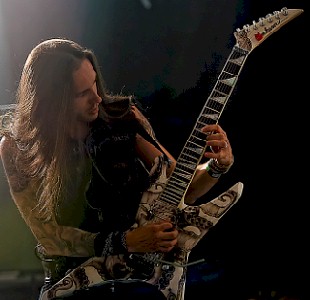 Maximum Metal (MM): First I would like to say thank you for taking the time to answer some questions for Maximum Metal! For our American readers out there who may have never heard of Amoral can you give us a brief introduction and tell us a little about the band?

BEN: Amoral grew out of just two kids jamming pretty much. Me and our drummer Juhana Karlsson met in school when we were 14, and decided to get together and jam on some Metallica tunes. Slowly we begun to bring other musicians in and dabble with our own material too.

Our debut album Wound Creations came out in 2004, so it's been 10 years since our first album now! Crazy... We have six albums out by now, the first three of which were technical death metal with just screaming vocals, until we had a line-up change and Ari Koivunen joined us in 2008, after which we got a lot more melodic and versatile. We've toured quite extensively around the globe over the years, but unfortunately the US is one of the few places we've hardly touched yet, with just one show at SXSW in Austin two years ago. He hopes to tour the States soon too!

MM: This past summer you have played extensively in your native Finland promoting your latest album 'Fallen Leaves & Dead Sparrows' but as I write this you are getting ready to embark on a mainland European tour in support of Dark Tranquility. Tell us about how this came together and what you are looking forward to most about this tour.

BEN: I'm actually writing this backstage in Budapest, and we're halfway with the tour already! It's been going great, DT is pulling good crowds, we have a nice 50 minute slot, and we've made new friends in Acyl, a killer French/Algerian band that plays before us. Whenever we have a new album out we look out for possible tours that could suit us and bring us in front of new audiences. DT seemed like a good fit, as they're also melodic with a long career under their belts.

MM: I got the opportunity to see you at the Tuska Festival this past summer and you put on a great show and there doesn't really seem to be many other bands that sound like you do. You have a very unique sound. If someone were asked to describe your sound or what to expect from a live Amoral show, what in your words would best describe this?





"I just feel bad for the kid who'll never know what it's like to have just ONE new album to obsess over for a month, learning every lyric, every riff, knowing the artwork by heart"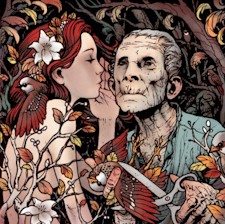 BEN: Well that is really nice to hear, as originality is definitely one of our musical goals. The funny thing is, some people think a lot of thought went into architechting this particular blend of styles, but honestly, it comes really naturally for us. We're lucky to have five very open-minded individuals in the band, with very different but extensive musical tastes, and that comes out in our music as well. But really, it's always just been about playing exactly the kind of music we felt like at the moment. Whether it was the tech death in the beginning, the flirting with 80's hard rock on "Show Your Colors" or the 9-minute prog rock monsters we're doing now, it has always been the most natural thing at that time for us.

What to expect from an Amoral show? Big riffs. Big melodies. Musicianship. Attention to detail. Nuances. Surprising arrangements. Our very own brand of Classic Rock For The 21st Century.

MM: Still talking about your sound, while I think Amoral is still classified as a metal band your sound really has changed since the beginning. Going through your entire catalog the band started out more of a death metal band and now you have evolved into a really progressive/classical style band. Many bands would not be able survive something like that. Can you shed some light on the musical shifts of the band's career and would you still classify Amoral as metal?

BEN: Yes, our roots are very much in metal, and that still acts as the base of our sound. Our technical death metal past still rears its head every now and then in the new songs, as quirky riffs and the occasional scream vocal part. But we're also so much more than that. We truly do not want to place any restrictions on our music. We love to be able to go from metal to an acoustic part to a piano ballad to a crazy instrumental piece to huge, orchestrated parts...

When we switched singers and our sound changed drastically, many said we should have changed the band name. And I get that. It really was a huge change, the leap we took from Reptile Ride to Show your Colors. But at the same time, we still felt that it's the same band at heart, same founding members, same sense of riffs and melodies, same attitude. We lost a lot of fans with that, but we also gained new ones. And lately many of the old fans that jumped ship have been coming back, as the new material is again much more to their liking than Show Your Colors was. I guess it took us a few years to learn how to be the "Amoral mk II", and to again find our voice.

MM: As mentioned you have been touring in support of your current album, 'Fallen Leaves & Dead Sparrows' but have you began work on any new material and will this mark yet another shift in musical styles? A little bird, named Heta ;) told me you have purchased a sitar and theremin. Care to explain this!!! Are you going to invent Kebab Metal??? Haha.

BEN: First of all, kebab metal is already been invented! It's true, I've lately been getting into trying and finding new instruments, after almost 20 years of just playing guitar. It's not necessarily all gonna end up on new Amoral songs, but it keeps making music fresh for me, and I also write a lot of other stuff beside Amoral as well. But we'll see, as our second guitarist Masi is also quite the multi-instrumentalist, and we do have an urge to widen our "color palette" when it comes to instruments in Amoral. We have something really cool cooking up for the next album, and I can't wait to let the cat out of the bag... The music is pretty much written already, and we're tweaking arrangements right now, trying to find just the right tempos, parts and ways to play the songs. And then I have the big task of writing the lyrics, which I have the basic idea for already but need to dedicate a good chunk of time to complete.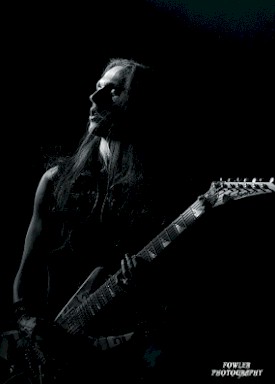 MM: I want to mix it up a bit now and am always interested on perspectives of musicians inside the music/metal scene. So my question here is: We obviously live in a digital age which allows a lot of people to have a voice and make music. As a result there seems to be a metal band around every corner to a point that a person can really have a information overload trying to keep up with it all. Where do you see the metal/music scene 5 years or 10 years from now? Do you think it will grow stronger or become weaker as a result of so many bands out there? What would you personally like to see happen in the music or metal scene to make it stronger?'

BEN: Well personally I'd like to see the internet crash and the business going to the model of the good old days! But that's just me, haha... While I love having all the music in the world on my phone via Spotify, I hate to see how music has been devalued in people's minds, especially kids. Whereas for me it was obvious that 99% of my little cash would be spent on albums as a kid, these days it doesn't even cross their mind to "waste" money on music. And why would they? It's all there for free anyway.

I honestly have no idea what the business is gonna be like in five to ten years from now. But I really don't see any way people will ever buy albums the way they used to do. Streaming and monthly fees are the only business model that has any future. But it is what it is. I just feel bad for the kid who'll never know what it's like to have just ONE new album to obsess over for a month, learning every lyric, every riff, knowing the artwork by heart...now that you have everything available all the time, it's not likely that you'll spend the same kind of time with one album as before.

MM: Ok before we wrap up I would like to thank you again for taking the time for this interview but this is you final chance to say whatever you want. Any final words out there for Amoral Fans or fans to be?

Ben: I hope you give "Fallen Leaves & Dead Sparrows" a spin (or preferably more than one), and stay tuned, we have big things to announce in 2015...


Amoral are currently touring with Dark Tranquility in support of their current album 'Fallen Leaves & Dead Sparrows'

Find out more about Amoral at these websites:
www.facebook.com/amoralweb
www.amoralweb.com
www.myspace.com/amoralweb
www.twitter.com/amoralband
www.youtube.com/user/amoralweb