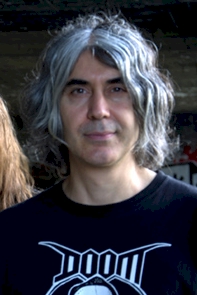 Michel "Away" Langevin is a true product of integrity and perseverance. Long live Voivod for further pursuing a strong and maintained career. The untimely death of their key member Denis "Piggy" D'Amour could have brought any other band to a screeching halt. Leave it to Voviod to return with a new album that is stronger than anything they've done in years. Voivod carry on...


Maximum Metal: Hi Michel. Welcome to Maximum Metal. Thanks so much for taking the time to do this interview. "Target Earth", I belive, came out in the USA recently. How satisfied are you with the final result in how the album came out?

M: Well, of course I'm really proud of it. We worked a lot on it. It's a very intricate album. But so far the reaction is amazing.

MM. I know a lot of people are really raving about it. To me, "Target Earth" is the best Voivod record since "The Outer Limits".

M: Excellent.

MM: I was wondering too... speaking of "The Outer Limits", people say "Target Earth" sounds like "Nothing Face" meets "Dimension Hatross" with the melodies of "Angel Rat" or something like that. But to me Voivod never really went back. Voivod always progressed to the next step. Do you think "Target Earth" is a revisiting of older albums or does it feel more like a new experience?

M: It's definitely a mixture of a lot of things. Of course, Blacky's blower bass sound is reminiscent of the 80's prog thrash metal that we did but there are elements of "Angel Rat" and "The Outer Limits" in terms of psychedelia and also I think bits of the Eric Forest and Jason Newsted era. So, there is a little bit of everything for everybody, I guess.



"There are tons of people who thought they would never see Voivod and people are so happy that we're back in the game."


MM: From what I understand, Daniel Mongrain was only meant to play one show with Voivod. Something like a tribute show to Piggy. At what point did it seem to make sense for Daniel to be a permanent member in the band?

M: Well, in 2008 when we reformed it was for only one show, a festival in Montreal, called "Heavy Motreal", with Iron Maiden, Motley Crue and a whole bunch of bands...at first we were a bit scared because we though maybe some people would find it to be sacrilege without Piggy, but Chewy was very well accepted immediately. The crowd reaction was amazing. Word spread around and soon we were invited to other festivals with Judas Preist and Ozzy and we were invited to go to Toykyo for two nights with our old friends in Testament. Things just kept rolling. In early 2010 after touring a couple of years we were comofortable enough to start writing a new album and I think Chewy really brought a fresh style to the band even as he help keep the spirit of Voivod intact.

MM: So, the fan response has been really positive? I know it's very difficult when bands lose members, especially key members like Piggy who's pressence was so distinct.

M: Yea, definitely. It's a bit of a struggle to start over again but it's been a real positive vibe going on right now with the band. We've been touring a lot. There are tons of people who thought they would never see Voivod and people are so happy that we're back in the game. It's all good now.

MM: "Katorz" and "Infini" were basically the leftover guitar tracks that Piggy had recorded before his untimely passing. Are there any more songs that did not get released or were maybe going to be released at a later time for whatever reason.

M: Oh, I don't think so. There is one last album that we did a demo in early 2000. it was when Eric Forest came out of the hospital after the crash in Germany. It was never released. Maybe we'll release it on DVD with some extra footage we have. Everything we wrote with Piggy and Jason was released on "Katorz" and "Infini". There is a solo album that Piggy recorded that we might release one day but we would have to get the permission of Piggy's family.

MM: Anymore, Heavy Metal and I guess rock n roll in general has gotten pretty conservative. Death Metal has a certain look and sound. Power Metal has a certain look and sound. It's all a pre-conceived mold that bands are adhering to. Is genre/sub genre labeling important to you? If so, where does Voivod fit in?

M: We've integrated so many different styles from progressive rock to crust punk and psychedelia and so on...but we're mainly related to the thrash metal community. But we're on our own in a different separate dimension in a way. It has played against us but it's one of the things that I'm most proud of nowadays.

MM: So, you've mentioned 70's prog rock and being influenced by that. Are there any new bands you're into or any new music out there that inspires you?

M: I really like Baroness. In terms of music, I'm pretty retro. I still mainly listen to old school hardcore like Discharge and Broken Bones. When I listen to Metal I listen to my classics--Iron Maiden, Judas Priest and Motorhead. But Blacky plays a lot of Baroness and Mastodon on the tour bus and I really love it.

MM: "Target Earth" musically seems a lot more technical than the last few Voivod records. Was it very time consuming changing from the simpler, or at least simple by Voivod standards of the last few records into what was recorded for the new record?

M: It was a bit more work because the parts were more intricate. But when you have the luxury of living in the same town of Motreal and being able to go to the jam space whenever we feel like to arrange and re-arrange songs, that's how we were able to come to the studio pretty well preparted in early 2012. The three albums before were much more of a long distance affair with Jason being on the west coast and us being on the east coast. It was more of a punk metal record with a little bit of stoner rock. This time we made sure the album felt like a long journey.

MM: There are a lot of companies putting out signature instruments anymore. Do you have a favorite drum company and do you have any signature Away merchandise for sale or plan on having anything like that in the future?

M: I have a signature snare with my art on it. It's through Drum Shop USA.

MM: Who are you favorite drummers? Are there are newer drummers that push your limits as a musician or inspire you as a drummer?

M: My favorite drummers would be Terry Bozzio, Clive Burr (Iron Maiden), Philthy Animal Taylor (Motorhead), and Guy Evans from Van Der Graff Generator. There are all very influencial to me.

MM: Voivod have done so much throughout their career. The band has accomplished so much and had so many changes. With that being said, has there been a favorite era or album for you as an original member that has been through it all?

M: For every line-up, I have a favorite album. From the 80's I really like "Killing Technology". From the 90's I really like "Phobos". From the Jason Newsted era I really like the s/t. I'm proud also of "War and Pain", our very first album. It was not that obvious being from northern Quebec, speaking French and all that, we were able to secure a deal with Metal Blade which seemed incredible to us back then.

MM: You put out an art book a few years ago (World's Away). Do the things that inspired you as an artist years ago still inspire you in the same way now with how you go about your artwork?

M: Yes. I was heavily influenced by the magazine called "Heavy Metal". It was more of a comic book style magazine. That's where I take my sci-fi influence from but also a lot of movies interest me like "Eraserhead", "Blade Runner", "Mad Max"...those are movies that changed my art and I'm still a huge fan of sci-fi art and sci-fi movies.

MM: Last question. What does Voivod have planned for touring in regards to the Target Earth" album. Is everything official or is it still a work in progress?

M: It's being planned right now. We are expecting a very busy year because its the 30th anniversary, this month actually, of Voivod so in mid March we are going to go south by southwest, and mid April will be South America, mainly Brazil and Chile. May, June, and July will be across North America, Canada and USA. After that well go through Europe to play festivals and clubs. In the fall we plan on going to Asia. China and India are becoming more open to Metal. We are going to try to make our way over there. In between tours we will write new material.

MM: Very cool. I just want to end things in saying thank you for taking time to do this interview for Maximum Metal. Happy anniversay to Voivod! The new album is great. I enjoy it very much as a fan. If you have any last words, now is your chance:

M: Yea! It's been a while since we've been all the way across USA. The last time we toured in USA was with Kreator in 2010. This time around we want to play more states. I'm sure we'll see the Voivod family again this year.

MM: Thanks a lot, Michel. You have a good day.

M: Thanks a lot. Cheers!