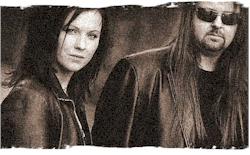 Can you briefly introduce Shiva to Maximum Metal readers?
Anette: SHIVA is project with two members; Mats Edstroem and Anette Johansson. Mats is the one that do the most hard work; he composes, he plays all the instruments, he is the studio man and makes me sound good. I just do the singing! Well, I write lyrics so sometimes I work too…; o).

How would you describe "Desert Dreams", your new album?
Anette: Well, you could say that it's melodic hard rock with a touch of metal. Every song has its own theme and they are about ordinary things and situations we all can relate to.

Who came up with the album title?
Anette: I wrote the lyric to the verses but we both felt that it was a great album title. The song "Desert dreams" has a symbolic language and I like it a lot. It's about how helpless we are when we are searching for our desires and how easy someone can buy your soul providing you with what you need.

How did you work on the songs in Desert Dreams?
Mats: First I write the song and have some ideas about the lyrics and then we test the key and Anette usually begins working on the lyrics, then we get together when the lyric is ready and start recording the song. We record all the vocals and instruments one by one 'til it's ready for the mix down.

Do you think Desert Dreams has any imperfections?
Mats: Yes, we'd rather catch the feeling of each song than try to make it perfect.

On the song "Losing My Child" (actually one of my favorites) you have as special guest on piano, Niclas Olsson, from Swedish Band Alyson Avenue: how did you get to invite him to perform on your record?
Mats: Well, Niclas and I are very good old friends, and as I as am not really a keyboard-player I thought it would be good idea to have him with us on that song.

What kind of response are you getting from "Desert Dreams"?
Anette: It seems that we have received a bigger audience with DD and also a little bit broader. The response has mostly been positive; some of our old fan thinks that we have become too heavy with too much metal influence in our songs but they are thankfully few.

Can you explain the difference (writing, musically, and lyrically) in the self titled album and "Desert Dreams" for the recent listeners of your band?
Anette: While we were working on DD we came to realize how important the lyrics were for a song and for my own vocal performance, so we put more time and effort trying to write better lyrics. DD is also a little bit harder and heavier than SHIVA s.t but still very melodic so perhaps the different isn't that big anyway?

How do you see your debut album "Shiva" after two years?
Anette: I think we have developed a lot both musically and lyrically since our first album but I still think that it's a strong debut with good songs. I still listen to it from time to time.

You self-titled debut was released for Z-Records while for Desert Dreams you singed with MTM Music. Why did you change and how did you get in touch with MTM Music?

Anette: Well, Z-records didn't honor the contract we had and even broke the law at some points; they lied to us at several occasions and still owe us money because we haven't got a dime from the SHIVA s.t album. We would like to send out a warning for this record company: they are very nice at the beginning but their only mission is to profit on small bands and newcomers. MTM contacted us just after we had signed with Z-records letting us know that they were interested. So after we got out of the contract (thanks to Mats brother who is a lawyer) with Z-records we sent new material to MTM and they took us in. MTM is a serious company with good people and they keep their word.
"I think the market has exploded and it's great this music is back for real."

What do you answer to people who think you've been influenced by Judas Priest?
Anette: I have never listened to Judas Priest so I don't really know. I guess Mats can give you a better answer because he is the maestro!
Mats: Well, I've listened to Judas Priest in my younger days when they released their sensational album "British Steel" and of course it must have influenced every musician who is into heavy metal.

What are the tour plans? What are the chances that the people of the US will get to see this tour?
Anette: We have gathered a couple of musicians from "Cloudscape" and Niclas Olsson from "Alyson Avenue" and the current plan is to make some club gigs in Sweden and hopefully in Germany in the fall. Then we will see, depending on the response from those gigs, if it's possible for us to play in other countries. It would be an ultimate thing to play live in the US so maybe one day…; o).

What do you think about the current metal scene?
Mats: I think there are many great band out there like Masterplan, Edguy, Nightwish, Evergrey and many, many more. I think the market has exploded and it's great this music is back for real.

It seems Sweden is the country with the highest number of AOR/hard rock bands on this planet: how would you explain it?
Mats: I think it's because we had a band like Europe and guitarists like Yngwie Malmsteen that have inspired many.

Which is your favorite Swedish act?
Mats: Right now I think it's Evergrey.

What's your opinion on file sharing? Do you think it damages the artists? How would you feel if you knew people download your albums from free file sharing programs?
Anette: I don't mind file sharing; I have done it a several times myself. It's a good way to spread music all over the world to people that perhaps never would listen to you. The sad part for small bands like us is that our future in the record company is based on how many albums we are selling; otherwise I have no problem with that.

What are you up to now?
Anette: We are preparing and practicing for our live performance in the fall and also promoting the DD album with interviews and so on…

What can you tell us about your future plans?
Anette: Our nearest plan is to start working with new songs after summer and also make live appearances. Everything can happen after that!
Mats: We're also planning on the next album after summer and hopefully finished it early 2005.

Any last words for our readers?
Thank you for your great support! Please visit our homepage at www.shivahardrock.com. Ask us anything or make a statement, we will answer you as soon as possible. Take care and hopefully we'll see you sometime!


--Zerohour