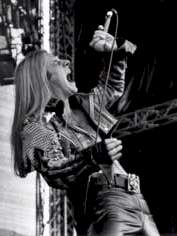 Thank you so very much for your time Andy. Everyone at Maximum Metal is very excited to learn that Marshall Law are preparing a new record. It has been five years since the band's last record, "Warning From History". Tell us Andy, what has been happening with the band in the last five years?

After 2000 we suffered some bad luck with myself and Dave Martin suffering from various debilatating illness, which knocked us about rather badly for long periods. At this point, we struggled to find a label to back us, much to our frustrastion, so we put the band on the back burner for a few years. Myself, Andy Southwell and Dave Martin remained in touch with each other. Eventually we had a meeting and decided that we will build a recording studio and record and produce our own recordings. This has taken a little longer than expected because of the teething problems we had with some of the recording gear and outboard effects. We now have the studio fianally functioning. However Myself and Lee Morris played around Europe in a band called 'Damage Inc' we had big Mick;[outfront sound], form Metallica on the desk. Playing to 1500-2000 venues playing Metallica songs. Good experience and enjoyed this very much, but I missed playing Marshall Law music!!!

We have also been trying to retrive lost finances because our manager at the time of Powergame took us for a few thousand pounds [more than a few thousand] He stole money from the band, his name is Rick Staines who is now a down and out living in rented accomodation. It couldn't of happend to a nicer man! This also brings me to FM/REVOLVER who have also shafted us for even more monies this time. Mr Paul Birch [chairman of the bpi], disgraceful, this man is a fraud and a crook who steals from bands and lives on their money which he never pays as royalties. He is laughingly a born again Christian. I would like to nail him to a cross!

The investigation work that we have done has turned up some positives so hopefully we can regain our back catalouge from FM/Revolver and Neat Metal. We will repackage them and also put out a box set limited edition. Powergame has been remastered it will contain a wealth of goodies on it as well as never released material.

We have put the past behind us and we are stronger and more driven than ever to play our music, record, play live and meet our fans. Thanks to Maximum Metal for communicating our version of the truth.

"Warning From History" was probably my favorite album of 1999. With this new album, will there be clear comparisons to the last record, or will Marshall Law take on a different sound with this new release?

Thanks for enjoying "Warning From History", it is my favorite Law CD. It is an honour that it was your favorite CD of 1999. We feel that this record in its structure and production will be our finest yet. It will carry on where "Warning" left off, but heavier, faster, and more powerful. It will also show progression, it will contain a few slower tunes as well. It excites me !!!

What is the current status of the recording? Have the songs been recorded?

The songs have been recorded/demoed first. We shall start laying down the drums on July 4. Demos have been completed so the drummer, Chris Green, knows what he is playing. Also Lee Morris will guest on four tracks as well. We have a bass player in mind but at this point it is not a concern.

"We have put the past behind us and we are stronger and more driven than ever to play our music, record, play live and meet our fans."

Who is the producer for this album?

We will produce the album ourselves. We have enough experience and know what we want to achieve.

Is there an album title and track listing picked out?

The album will be called "Axis of Power". The axis being myself, Andy, and Dave. The power, well that speaks for itself. We have demoed 14 songs for the CD. We may not use them all. Off the top of my head in no particular order: "Secrets Behind A Dangerous Mind", "Bloodlines", "Nothing Lasts Forever", "Dr Metal", "Waiting For The Sign", "Retribution", "Faith Divides", and "What Lies Behind". I am sure you will get a full track listing from our manager. My mind has gone blank dude. One very important factor is the fact that the production and songs will totally rock.

Do you have a label in mind to put this out?

We will talk to some labels in Europe and Japan. We don't have any contacts in America. Any suggestions? Plan B will be to sell over the internet. We are currnetly building an official Marshall Law site. www.MarshallLaw.co.uk

Will there be a tour to correspond with the new release?

We plan to promote the album via live shows and festivals late 2004/2005. We will also tour Japan playing 6 shows!

Has the band changed any members during the last five years, and if so, how will that reflect on the new record?

Line up for the album will be Andy Pyke,Dave Martin, Andy Southwell,Chris Green, and a guest bass player. We will have various guest musicians also.

Andy, since you have been away from the metal scene since 1999, what do you think have been the biggest changes?

Rock music like all music is cyclical, however I think that it is great that rock is in the forefront again. It makes you laugh, cry, love, hate, and brings people together. I wanna rock!

Are there any new metal bands out right now that really impress you?

No, same old, same old. New metal sounds like metal did from 1990-onwards. Just people coining phrases. Metal is metal. Not dicipated watered down avenues of the same? I have thought of a new label: Mid gothic metal trance with old metal overtones. It's crazy. Kerrang couldn't tell the difference between a metal band a pop band and a indie band, fact look at the shit it puts out. It is not a metal mag. It pretends to be.