I N T E R V I E W S

Syron Vanes
"Bringing Chaos from a Distance"

Interview with Anders Hahne, guitarist for the veteran Swedish act
By: Eric Compton | Published: Friday, May 5, 2017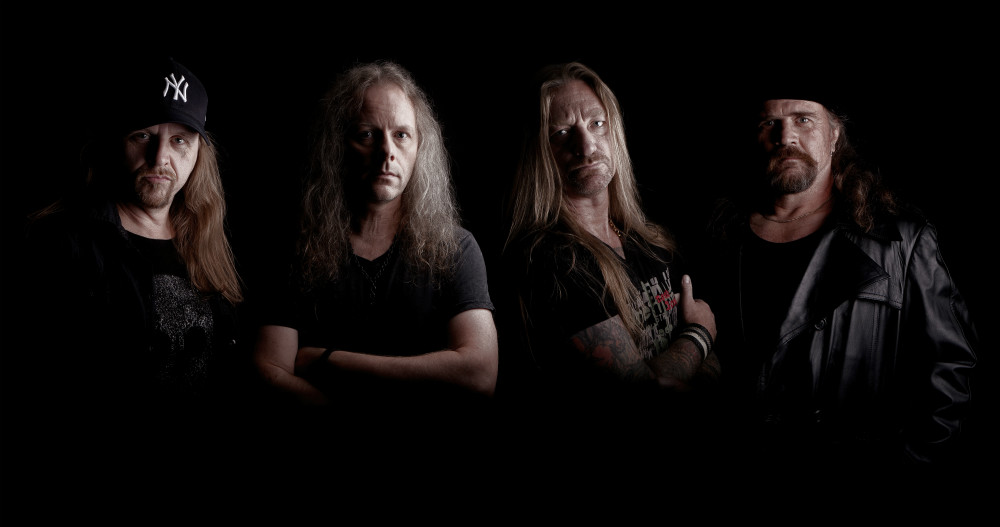 Traditional heavy metal act Syron Vanes were early pioneers for the Swedish heavy metal scene of the 1980s. The band released a demo in 1983, 'If you Prefer Heavy Metal', that landed them a deal with late NWOBHM label Ebony Records (Grim Reaper, Chateaux). The band's debut, 'Bringer of Evil', is often cited by collectors and fans worldwide as a prominent display of Swedish metal fortitude. Since then, the band has achieved success over the course of six albums and nearly 30 years of seasoned experience. The band signed to Scandinavian stalwart label Mighty Music last year and the end result is their greatest achievement – 'Chaos from a Distance'. It's a powerhouse of songs draped over heavy riffs and hard rock accessibility. Maximum Metal's Eric Compton had the opportunity to chat with founder/guitarist Anders Hahne about the album, the band's early days with Ebony Records and the group's new deal with Mighty Music.

Eric Compton: Congratulations on the release of the new Syron Vanes record. 'Chaos from a Distance' was released on January 27th courtesy of Mighty Music. In my own opinion, I feel it is the band's best work and probably the best representation of the Syron Vanes sound. It's still early, but so far what has the response been from fans and press?

Anders Hahne: Thank you so much and I'm glad you like the album. It's appreciated. The response has been fantastic so far. It has become greatly appreciated by the press and fans. We have only seen good reviews and we are taken by surprise by the response we have received.

"For the most part it is an automatic process, you sit down and play the guitar and suddenly you hear something cool and then build the song from there. The riff always comes first and then the melody." --Anders

EC: Syron Vanes has signed with a variety of record labels over the years. The band's last album, 'Evil Redux' (2013) was released on a Transubstans subsidiary called Denomination. In 2016, you picked up a new label deal with Denmark's Mighty Music. Can you tell me how that came about, specifically the conversation in Copenhagen with Mighty Music CEO Michael Andersen?

AH: We had a few different companies that we negotiated with but never felt quite sure if they were right for us. I contacted Michael and asked if he wanted to hear a new song, and if he was interested in helping us release our new album. He liked what he heard and offered us a deal. Rimbert (vocalist and guitarist Rimmy Hunter) and I went to Copenhagen and had a meeting with Michael. He proved to be a nice guy and we got along well. Michael has been around a long time just like us and it makes things so much easier. We talk the same language although he is Danish.

EC: Did you already write and record the new record before signing with Mighty Music?

AH: Yes, the album was finished except for the mastering.

EC: Syron Vanes is nearly forty years old at this point. 'Chaos from a Distance' is the band's sixth record. You have a lot of experience and you've all shared a number of ideas through the decades. What was the idea and vibe you were hoping to accomplish with the new record and do you feel the goal was achieved?

AH: Yes, hard to believe that we have been around so long. We set no goal more than we are trying to do the best we can. With "Chaos from a Distance" however, we had the last album "Evil Redux" in mind. We think that album was good and we wanted to surpass this with the new album. As an artist, you always try to improve. This album became as we wanted and we are very pleased with the end result.

EC: I searched for a few hours the other day trying to locate a studio or producer of the album. I couldn't find a source. Where did the album record, who produced and from a production stance, do you feel this is one of the best sounding records of your catalog?

AH: The album is produced and mixed by me and recorded in two different studios. The drums were recorded in Vintage Recording Studios and the rest is recorded in my own studio. The whole album is also mixed in my studio and the mastering is done by Thomas Eberger at Stockholm Mastering. It is, of course, digitally recorded but I have used tons of analog equipment to get that fat sound. It's the best sounding album in our catalog, in my opinion.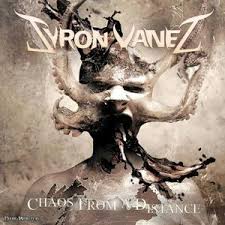 EC: There's 13 total tracks on the album and it clocks in at nearly an hour. It's a diverse selection of songs ranging from faster cuts like "The Seventh Day" to a little more "chunky" rock oriented tracks like "Ringside". There's epic stuff as well like "Trial by Spirit", a song that is nearly eight-minutes long. Who wrote a majority of the album and what do you attribute its variety and diversity too?

AH: I have written nine songs out of thirteen and Rimbert did the other four. We try to vary the songs when we write them. For the most part it is an automatic process, you sit down and play the guitar and suddenly you hear something cool and then build the song from there. The riff always comes first and then the melody. "Trial of Spirit" is an unusual song coming from Syron Vanes. I've always liked songs with "anthem" feeling and this was spinning in my head long before we decided to record it. We were a little unsure if we would dare to include it on the album but there it went.

EC: I see a lot of bands and labels just throw a record out with very little promotional effort. What I love to see with this new record are its "accessories". There is a ton of fun stuff associated with this release like digital singles, lyric videos and two promotion videos. Before we get into the promo videos...Syron Vanes isn't a baby band by any means. How important is it to invest money into online marketing with digital singles, additional artwork, lyric videos, etc.? Would you advise baby bands to spend extra funds for online promo and videos or spend that money on tours and the travel expenses that go with it.

AH: Promotion is extremely important. Many bands including us have made albums without any real promotion. No promotion is waste of time and money. It is important with promotion at least 3 months prior to and after a release. It is also important to draw up a plan and set aside a budget for it. You can use a promotion company or you can do it yourself. It doesn't have to be too expensive just make sure that you are visible in one way or another. Internet is your friend.

EC: You guys have shot two videos thus far - the album's title track, and most recently "Shape of God". I want to ask you about the "Shape of God" video. This one was shot in the studio as the album was recorded. Who came up with the idea of shooting a video there at the time? Was there footage shot of the entire recording process, and if so, could fans see that as a possible video release in the future?

AH: We filmed a few days during the recording of the album. The idea was not to make a video of it but there was enough material to put together "Shape of God". We thought it would be fun to show us in a different environment than usual when it comes to promo videos. You know without the smoke and lights. There are some more material, but I do not know if it would be enough for more videos.

EC: In terms of artwork, this record has a very visual representation. What was the concept behind the artwork? Obviously, it's a must drastic change of pace from an album cover like 'Property of...' *laughing*.

AH: Well, I was not in the band during the "Property" album so I'm innocent *laughs*. Artwork on "Chaos" is created by a Chilean artist named Javier Lonko. The idea was to create a visual image of the album title and this is Javier's take on it. We think he has done a fantastic work and at the same time created an image that catches the eye. No one can fail to see this cover along with other albums.

EC: I don't want to touch on the early days too much. But, I really want to ask you about two specific points in the Syron Vanes timeline -- 'Bringer of Evil' (1984) and 'Revenge' (1986). Those were both released after the NWOBHM era had passed (more so on 'Revenge'). They were released by a record label that fans and collectors closely associate with new wave -- Ebony Records. Can you tell us what it was like working with owner Darryl Johnson on 'Bringer of Evil'? Had things really gotten bad for the label at this time?

AH: Working with Darryl was a great experience. He was very nice and took care of us well. We were very young then and knew nothing about the industry. His wife was also very nice. During the time we were on the label there were no sign that he had problems. He had a studio in his house in Hull but told us he would move into a mansion and build a state of the art studio there, he even showed us pictures of the place. We left the company after the first two albums. I do not know what happened next. I have not seen him since. Rumor has it that he is in New Zealand but I do not know. Would be nice to meet him some day.

EC: If I'm not mistaken, 'Revenge' was the last album released by Ebony. How was the relationship at that point? Had things gotten a bit grim with their proverbial writing on the wall?

AH: There were no hard feelings. The reason that we broke with Darryl was that we felt we did not get the support we needed. We felt that it began to stagnate. Maybe he had a problem with the company and that was the reason. We had a deal on five albums but made only two.

EC: So, moving forward in 2017...the band already have dates booked for Nordic Noise fest in Denmark as well as a November date for Hard Rock Hell. What else is going on for the band this year? Will there be a string of tour dates?

AH: We are negotiating with tour companies now, and the idea is that we get out on the roads. We love playing live and facing the crowd.

EC: Again, congratulations on the new record. It's out now, get a copy! We wish the band a tremendous amount of success this year and the years to come.

AH: Thank you very much and thank you for the interview. It was my pleasure.



[Website]
[Facebook]



ALL FULL REVIEWS FOR: SYRON VANES
ALL SUMMARY REVIEWS FOR: SYRON VANES
No Summary reviews currently exist for them.
ALL INTERVIEWS FOR: SYRON VANES
<< back >>