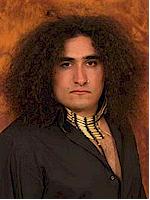 How and how long ago did your band get together?

The band was formed in Italy in 2002. Before there was a band called Snake Eyes. We had another singer, but we fired him and decided to change the band name into Edge Of Forever and to become a 4 piece act. In fact, I was not only playing keyboards but also singing. We did many gigs across the country, as all the bands do at the beginning, and we recorded a 13 songs demo for labels with me on vocals. With that demo we reached Marcel Jacob, our future producer, bass player for Malmsteen and Talisman, etc.., who wanted us as opening act for his first Italian tour with Talisman. Then came the deal with MTM Records and Bob Harris singing with us.

How did this line-up come together?

We were 4 in the band, but after we did the gigs with Talisman we realized we needed to increase our level including a permanent singer in the band, not because I was not good in singing, but because I wanted to focus only on the keyboards and backing vocals without taking care of my voice everyday. So Mario Lehmann, the boss of MTM, suggested us Bob to take my place. You can only imagine the honour we had when Bob called us saying:" ok guys, I'm the band" after he listened to our songs. We already were in touch with MTM and while talking of the record I told them that if I should have found the right singer I would have left him my place without problems. We did many auditions in Italy but there was NO singer able to sing hard rock in a professional way. Many power metal singers, some really good, but any real rocker!

We were looking for someone able to combine the melodic style with the drama we had in the songs. We didn't want a normal AOR singer and I can proudly say that Bob is the perfect singer for us. Not only has he a God-gifted voice, but also a deep, strong, moving interpretation that were the aspects we always looked for and never found. I gotta thank Mario Lehmann for understanding what kind of guy we had in mind. As a singer I was more into class metal, but Bob was really able to combine the rough and the melodic side of our songs.

What were you and the other members doing before putting Edge Of Forever together?

As for myself besides Edge Of Forever I have a progressive metal band in the vein of Symphony X called Furyn'n'Grace with Matteo Carnio and Christian Grillo (guitarist and bassist of EOF). I think we will have the album out this year, if troubles don't come! I have my session activity that made me play on records and doing gigs with some bigwigs of the metal and hard rock scene such as Andre Matos, Patrick Rondat, Steve Walsh, Glenn Hughes and many many others. I gig 120/130 times a year with an Italian famous rock cover band with Francesco (drummer of EOF) so when we put all this together we knew each other very well.

Bob always gigs with his piano across Colorado, Usa, where he lives. Bob in the past sang and played for Frank Zappa, Steve Vai and was part of the legendary AOR act AXE, with Bobby Barth who will produce our next record in New Orleans at the end of the summer.

What are the influences behind the band?

I just could do few names…Yngwie J. Malmsteen, Deep Purple, Rainbow, Whitesnake and Black Sabbath. Is this enough? Yeah..ok…I will go deeper:-).

It's hard to tell our influences in a precise way. The names I did are the most relevant, but I love Music, and Music is truly my life, so I take inspiration from many different kind of music. I can listen to Bach and Iron Maiden in the same hour. Music is a whole..not a particular, I think. But I can say that as a keyboarder my greatest influences are Jon Lord, Jens Johansson, Derek Sherinian, Mats Olausson, Keith Emerson and David Paich above all. My most favourite bands are Queen, Uriah Heep, Winger, Giant, House Of Lords, Europe, Symphony X, Bon Jovi as so many others that I could keep on writing for hours:-)

The other guys in the band were influenced by the same stuff. You have to know that me, Matteo, Christian and Francesco in a certain way grew up together. We lived in the same part of Italy so we knew each other since we were kids. Bob was inspired by the great funky-motown movement so he could be compared without problems to Glenn Hughes, Joe Lynn Turner and Paul Rodgers for his soul-funky-rock style.

Who came up with the name "Edge Of Forever"?

Mmh…I don't remember who came up with it, but we took inspiration for the name from Symphony X and their song from The Damnation Game album. We really like them and I had the chance to play opening for them several times here in Italy. Maybe I was the first in Italy to know them…I was a kid and I bought their first record that was only imported from Japan… AMAZING!!!

4 members out of 5 are Italian: why did you decide to add an American singer to you line-up?

That's simple. Because in Italy no one is able to sing Hard Rock in the way it should be. In Italy there's no culture of it. They only care about technique and not of all the other important things that matter in music. I'm talking about interpretation, passion, pronunciation…and list goes on and on. I know great high range power metal singers here, but no one is able to sing David Coverdale's stuff…or Ronnie James Dio or Glenn Hughes. They know them…but they suck! They have no culture…AT ALL!!! We needed someone who was deep into melodic hard rock, not just a simple singer who grew up with Bruce Dickinson without knowing Ian Gillan and Edgar Winter. Do you know what I mean? It's a strange situation here. So many good voices, but used in a bad, bad way!If you find an Italian good in it please let me know!

It was incredible…ok, I'm a singer, I gig as a singer, I did records, backing vocals and so on, but I was always better than any of the guys auditioning for us, so I was obliged to take the microphone. I should have sung the record if Bob wouldn't have joined us. Luckily Bob did the vocals, and he's much better than me...if he's saying the same about me:-) He was not of the opinion of becoming part of the band because he told me we didn't need a singer for I was good in it. But I knew that Edge Of Forever deserved something more, even in a commercial way. That's why we have him, Jeff Scott Soto, Marcel Jacob and we're under MTM records. We had high goals in mind, since the beginning.

How did Marcel Jacob come to get involved as the producer of your album? And how did Jeff Scott Soto come to be your backing vocalist and guest on the song "Prisoner"?

I first met Marcel and Jeff while they were recording the album Cats And Dogs here in Italy. I left them a demo and Marcel got back to me telling he was impressed by the songs and the musicianship. He told us we were playing the kind of music he grew up with. Then we wrote times to times and we asked him, after we gigged together, if he wanted to produce us. After two months we found ourselves locked together in the same studio working for our record.

Jeff was touring in Italy while we were in the middle of the production. So Marcel asked if we would like to have him singing for us. I was moved…having Jeff and Marcel on my record was a dream since the first time I listened to Yngwie Malmsteen's Marching out album…I was just 12...Jeff reached us in a day off and did most of the backing vocals and worked on the song Prisoner together with Bob, while I just couldn't realize what was happening. Imagine the magic in the studio!!


"I think that technique isn't enough for being a musician. You gotta play with your soul and your heart."

What can you tell us about the writing process of "Feeding The Fire"? How long did it take and who wrote the music and the lyrics?

Yeah… wrote the songs in something like a few months of rehearsals in the middle of touring and working with other projects. The main authors in the band are me and Matteo, but while we were in the studio Marcel and Bob worked on some melodies and some arrangements with us. Usually me and Matteo come with some ideas on which we all together jam to see what happens. We just play and don't need to talk about it. We knew where we wanted to go with the songs since the beginning, so we had not troubles writing the songs.


3 adjectives to describe "Feeding The Fire"…

Oh my God…powerful, technical, melodic…but I don't know if this is true;-)

What are the lyrics about?

The lyrics are about our perception of life and things in general. When Matteo is writing he talks about the dark side of the whole, he's really into Edgar Allan Poe's stuff. Marcel wrote mainly two lyrics for Bloodsucker, about a kind of blood sucking woman, and The Gates of Hell, who was related to magic and to the song Gates Of Babylon of Rainbow.

Me and Bob have the same approach to life. We have a positive vibe towards everything, we love nature, animals…we have a deep relationship with Earth and the whole. And you can read it in our lyrics. Here and there we mixed anything, sometimes it is really dark…sometimes shining. But the lyrics talks of how we are.

What kind of response are you getting from "Feeding The Fire"?

Sometimes I can't believe what I read. We're getting good responses everywhere from the record. There's someone crying at the miracle. Somebody is saying we play nothing innovative but the record is very good…well…it was a goal for us to play what we like. It's not a defense, but it's reality of things! We wanted to do a CLASSIC album…absolutely.. I think we are having back what we deserve. The highest rating we had is a 9 out of 10…so we can't but be satisfied!

Will the band be on tour to promote the album? How will you deal with live exhibitions since Harris is actually a member of the band Axe?

Right now AXE are on hold so if in case of a tour we gotta arrange only our local live activities. Will the band tour? I still don't know. Today's costs for touring are really high and we have to see how the record goes to know if we can face that. If sells are good, well…we'll tour. We're having contacts to play at some summer festivals, but still I can't say anything else. With MTM we're planning to tour in Europe in fall if the sales are good enough.

How did you get to sign for MTM Records?

It was music that lead us to them. When we sent the demos they got back to us asking what we wanted to do with those songs. Then came Bob, Marcel and we signed for them. I'm proud of it. First of all Mario and Sebastian are great guys and know perfectly the hard rock market. They're planning good things for us. We'll see what future may bring!

What are your immediate plans for the band as far as promotion is concerned?
We are now doing interviews from all over the world and there are some advertisement on magazines and websites talking about MTM releases among which there's Feeding The Fire.
We have a video that somewhere like Italy, Germany and Japan is aired, and we already did some shows as guests to promote the record. As I said before…if the sales are good maybe we'll tour to promote live the album.

Will there be a follow up to "Feeding The Fire?"

SURE! We already wrote all the songs for it during the last months. We will record it in August in New Orleans with Bobby Barth (Axe, Jaded Heart, Caught In the Act, Guild Of Ages) producing it. As you can see we cannot stop our passion for music. As soon as we realized we could do it, we planned it. We gotta thank MTM that, before the record was out, was already working on our new one.

What is there in the future of Edge Of Forever?

There is the new record and I hope many live gigs! I can assure you that what you listen on the record isn't enough for us to express our supreme love for Music. Who saw our shows knows what I mean. There'll be three compilations with our tunes. One it's MTM ballads, set for July, featuring The Road We Walked On, and other two with some new songs here and there. One features again Jeff Scott Soto.

Any dreams you wish will come true?

Well…I just realized many of the dreams I had when I was a kid. Edge Of Forever is one of them! I wanted to become a pro musician and...here I am...I'm just 25 years old and I can make my living from playing. But I just have two things in mind to dream about...Playing with Yngwie and Deep Purple…it's enough! Don't you think?

You had the chance to play with a huge number of outstanding international names. What do you think about the Italian Metal scene?

As I already told you, Italy it's not the best country for hard rock and rock in general. But there's so many fucking good bands here! Some metal bands leave me breathless! I think that in Italy there are good musicians, but I found few that really kicked my ass..I think that technique isn't enough for being a musician. You gotta play with your soul and your heart. I think that in Italy few musician know what Rock'n'Roll really is. They care about sweep pickings but don't know how to do vibratos as Ritchie Blackmore, or Yngwie or John Sykes do. I think still today jealousy and envy are filling Italians' hearts in music business. I believe in collaboration and friendship in music first of all. They believe that life is a war, a struggle in which other musician are enemies…oh this is fucking infantile. I hope things will change. But the result of this situation is that we have an American singer, a Swedish producer, a German Label, and not everything done by Italians. Some Italians really suck!

I know you've joined a project called Moonstone with Steve Walsh from the band Kansas. What can you tell us about it?

The man behind this project is Matteo Filippini, not only a musician but also a friend, who listened to our demos some times ago and called me to join him in this project with Glenn Hughes, Ian Paice, Graham Bonnet, James Christian and…myself among the others;-) The music is really into 70's hard rock, in the vein of names such as Deep Purple, Free, Jimi Hendrix, Bad Company, etc...I am really proud to be on the song with Steve Walsh…I've always loved Kansas…so...gotta thank Matteo for making this possible! I think that the album will be ready this year...so check it out!
www.moonstone.it

As a huge fan of Edge Of Forever I would like to thank you for this interview! Is there anything you'd like to say to our readers?

First of all I have to thank you for the possibility of talking about our music! Please keep up the good work in supporting good music. And you readers, give a listen to our record, it's filled with good music, good musicianship and 2 great and fantastic singers!

Take a visit on our website www.edgeofforever.it

Rock'n'Rooooooollll!!!!!

--Zerohour