A 90s Look at the Albums Metallica Should Have Made
1/27/2017 5:11:07 PM by Frank Hill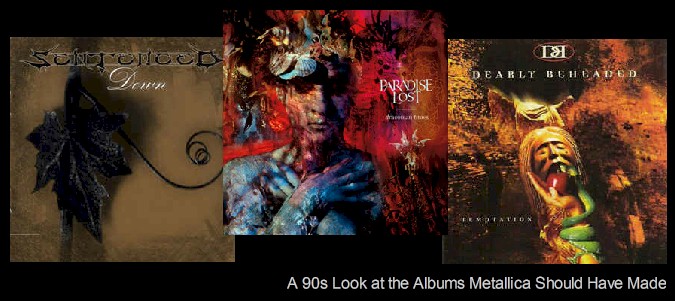 The 1991 -1996 period for Metallica fans was pure anguish.
That five-year period between Metallica albums wasn't a fair one. The lofty expectations were ultimately going to lead to disappointment even if 'Load' was far better than it was. It's just human nature. But the real fact of the matter is this; the metal community spent the middle to second half of the 90s saying they don't need Metallica anymore. They were quick to shuck their ties and move on. It was this early to late 90s period that saw Europe explode with energetic youth. In Flames, Entombed, Hypocrisy, Immortal, Amorphis, Edge of Sanity...they were all blooming with innovative techniques that pushed heavy metal into the next century and helped pioneer and define new sub-genres.
There were a ton of great records in the 90s...I can remember collecting back then and before even reading the press reviews I could sense that something exciting was happening with an album's release. I've listed a few of these here for you and some of my memories of the album and its impact on the 90s culture that was clamoring for a new Metallica record or a suitable replacement for what they considered a very failed offering in 'Load'.
Read Eric Compton's editorial column on metal's image here:
[Full Column Link]
<< back >>