New "Made in England" Column--Crucifixion
1/13/2015 12:05:36 PM by Frank H.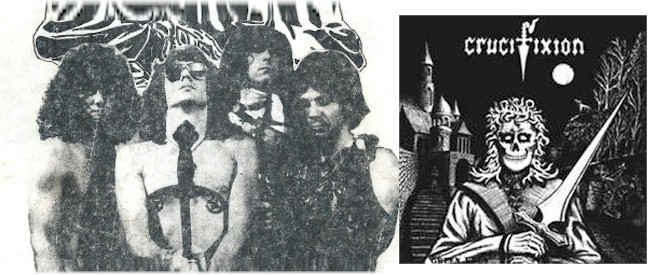 Not to be confused with presumably ten plus other bands with the same moniker, the Essex quartet readied their version of Crucifixion in late 1979.
It wasn't until 1984 that the band graduated from 7" to EP with "Green Eyes". Showcasing yet another skeleton/reaper style artwork, the title track seemed to quite possibly be the most standout track yet, an infectious chorus that sticks with you much long after the EP's exit.
Even though basically every member of Crucifixion has fallen into obscurity, both singles and the EP are still very highly regarded in the NWOBHM collector's market and that's reason enough for Glyn Morgan, Pete Morgan (brothers?), Paul Drinkwater, Geoff Ford, and the aforementioned Chris Mann to be proud, wherever they are. More from Josh Greer on Crucifixion here…
[Full Column Link]
<< back >>