Tales from the Jugular
Made in England #6 - Crucifixion

By: Josh Greer
Published: Tuesday, January 13, 2015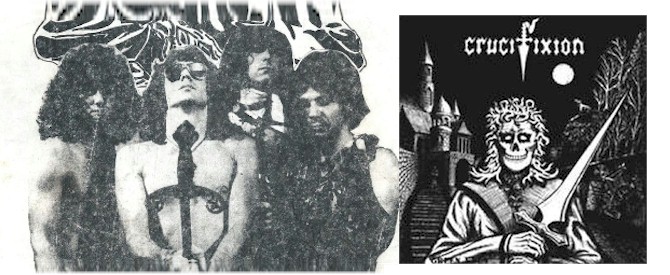 Band:
Crucifixion

Song:
"Green Eyes"

Label/Year:
Neat Records 1984
Not to be confused with presumably ten plus other bands with the same moniker, the Essex quartet readied their version of Crucifixion in late 1979.

After about a year of establishing themselves throughout their area as a high energy rock act, Crucifixion recorded and released their first 7" release via the anomalous Miramar Label with 1980's "The Fox" b/w "Death Sentence". Both tracks were on the heavy/raw/boogie rock side, akin to Tank/Motorhead and Glyn Morgan's gravely vocals fit perfectly. The single sold modestly (maybe due to the fact that it was released with NO artwork, only a blank sleeve) and it was back to the usual attack, playing more shows, before Crucifixions follow-up 7" "Take it or Leave It" b/w "On the Run" in 1982 was released.

This line up presented the departure of then bassist Paul Drinkwater's replacement Chris Mann (who seemed to follow the guitar harmonies more closely and was the band's sound engineer while also contributing vocals) and Crucifixion's new found, yet short relationship with Neat Records was established. A beefed up re-recorded version of "The Fox" was released for Neat's "60 Minutes Plus" compilation. Regardless, Neat Records were not ready to give the band the option of a full length album yet. Sales weren't high enough and bad press, most notably "Kerrang" magazine, put a halt on the immediate future for Crucifixion.

It wasn't until 1984 that the band graduated from 7" to EP with "Green Eyes". Showcasing yet another skeleton/reaper style artwork, the title track seemed to quite possibly be the most standout track yet, an infectious chorus that sticks with you much long after the EP's exit. Regretfully, the other two songs on the EP "Jailbait" and "Moon Rising" didn't come close and fell by the wayside of the opener. Maybe the balance of tracks wasn't quite there or the fact that a lyric sheet was included, displaying the confusing yet brilliantly grouped verses. You've got to have something going for you to make lines like "moving through my castle, telepathic hassle, see the thunder roll inside my head" sound powerful and convincing!

Suspiciously, a new vocalist seemed to be in the ranks of Crucifixion, yet no one new to the band was credited upon this EP released on purple vinyl, very small quantities in marble and the rest in the usual black. Even though basically every member of Crucifixion has fallen into obscurity, both singles and the EP are still very highly regarded in the NWOBHM collector's market and that's reason enough for Glyn Morgan, Pete Morgan (brothers?), Paul Drinkwater, Geoff Ford, and the aforementioned Chris Mann to be proud, wherever they are.
[Other Maximum Metal Columns]
<< back >>