Where Are You?
Ted Bullet
Vocals for Thunderhead
By: Eric Compton
Published: Friday, November 4, 2011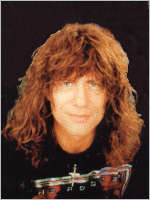 Who could forget Ted Bullet, the charismatic raspy voiced wailer that fronted Thunderhead? His vocal delivery proved to be a unique calling, blending his American voice to some of Germany's best laid hard rock. With his cocky edge and vocal range Bullet was a good mixture of Krokus' Marc Storace and David Lee Roth's arrogant flamboyance, combining a flair for the rough and tumble "mean streets" while still soaring with a vocal range that could please the 80s arena rock crowd.
Bullet (real name?) traveled to Germany to audition for the commercially acceptable Victory in the mid 80s. The German hard rockers had a vacancy due to the departure of Charlie Huhn (the job later went to Fernando Garcia). After apparently failing the audition he met up with guitarist Henny Wolter (Sinner, Primal Fear) in Hamburg and the two combined their talent to form the powerhouse Thunderhead.
The band's debut, "Behind The Eight Ball", was a scorching number of solid cuts that showed off some of the raw edge of Motorhead but still the groove intensity of Accept. Thunderhead went on to record six albums between '89 and '99 with the band seeing exposure worldwide (even domestically in the US). Bullet also fronted Son Of A Bitch, delivering one solid album in "Victim You" with Saxon alumni Pete Gill, Graham Oliver and Steve Dawson.
Generally Thunderhead received positive praise and to this day still draw great reviews and often comparisons to Scorpions, Accept, Victory and Sinner in the German "hall of fame". After "The Ugly Side" in 1999 the band minus Bullet backed the late David Wayne (ex-Metal Church) on his solo venture while Ted quietly disappeared into obscurity.
So where are you Ted Bullet? It has been almost 13 years since we've heard your voice. Sweden is exploding with hard rock. The Germans and Swiss crowds are on rock riot. Even the US is breaking the scene with up and coming glam rockers. What a great time for Bullet to return to rock glory! Bullet...bullet....BULLET!
Where Are You Ted Bullet?
If anyone has any information to the whereabouts of the above musician, please email us at
news@maximummetal.com
READER UPDATE - 8/21/19
In summer 2013, I had just moved to South West London. On summer's day, I was waiting for a friend while wearing a Faith No More shirt. All of a sudden this American lad comes up and say "hey man, I like your shirt". Cue a five minute stop 'n' chat about heavy metal bands, to which the guy tells me he was the vocalist in a band called Thunderhead. I had never heard of them, but as we parted ways I promised I would check them out.
The following day I found the The Fire is Burning video on YouTube, and was was floored that the incredibly warm and polite guy I was talking to was this 80s rockstar with a phenomenal voice.
Alas, we never crossed paths again, so I never had the chance to tell him how rocking they were. So maybe he will see this someday!
--Cairbre
READER UPDATE - 8/21/19
In response to your story about Ted Bullet, real name Theodore Pulit born on 1/26/57. He went to North Branford High School (CT) for a couple years where I became friends with him, but finished high school in East Haven, CT. Being he was the 'new kid' I befriended him and we just hit it off seeing he had a lot of friends in East Have and I had a lot of friends and family there also. I ran into him in 2001 in Branford, CT in a restaurant when he went home to see his mom who again lived in North Branford, CT and we stayed in contact for quite a while. I believe he got married in the early 2000's and is now living in England somewhere with his wife and 2 children. I spoke to him a few years ago and I believe that's where he is still in England with his family.
Despite his 'hard' rock image and music, he's a great guy with a heart of gold and very easy to get along with and talk to and very talented. Very down to earth and humble and never forgot the fact that I befriended him during a time that's sometimes not easy for a teen moving to a new town and attending a new school especially seeing his image not fitting in so well in the farm town of North Branford.
[Other Maximum Metal Columns]
<< back >>