Tales from the Jugular
Staff Year End Awards for 2007!

By: Maximum Metal Staff
Published: Tuesday, December 18, 2007
Tales From The Jugular - Staff Year End Awards for 2007!
STAFF AWARDS: AL, ETIAM, Frank Hill, STRUTTER, VINAYA, WEASEL


Frank Hill
TOP CDS
ASG - Win Us Over
Gamma Ray - Land Of The Free II
Hard Echo - Mouth of the Sun
Sanctity - Road to Bloodshed
In This Moment - Beautiful Tragedy
Helloween - Gambling with the Devil
Biomechanical - Cannabalized
The Blackening - Machine Head

Biggest Surprise: The gaming industry's success with the Rock Band and Guitar Hero III games. It's another avenue and revenue stream that exposes the world to hard rock and metal

Watching for: A new AC\DC album, Zeppelin, Maiden, and Gamma Ray/Helloween on tour.


STRUTTER
Evergrey- Monday Morning Apocalypse
Hanoi Rocks- Street Poetry
Incrave- Dead End
Chinatown- Chinatown
Exploder- Exploder
Rob Zombie- Zombie Live

Biggest Surprises:
LA's Warner Drive (rocky punk, radio friendly- high octane live performance), UK's, Spit Like This...Glam is back and wearing waterproof mascara and who would have thought Allison Kraus and Robert Plant could hang.


David Loveless
1 Porcupine Tree - Fear Of A Blank Planet
2 Xasthur - Defective Epitaph
3 Type O Negative - Dead Again
4 Chronicles Of Israfel - Starborn, Tome I
5 Symphony X - Paradise Lost
6 Riverside - Rapid Eye Movement
7 Blood Of The Black Owl - S/T
8 Aborted - Slaughter & Apparatus: A Methodical Overture
9 Middian - Age Eternal
10 Architect - All Is Not Lost

Honorable Mentions:
Retrospective - Spectrum Of The Green Morning
Fata Morgana - Is This A Dream
Ulver - Shadows Of The Sun (although no longer metal, this is some creepy shit!)

Worst/Most Disappointing Albums of 2007:
1 A Life Once Lost - Iron Gag
2 Obituary - Xecutioner's Return
3 Danzig - The Lost Tracks Of Danzig
4 Marduk - Rom 5:12
5 Otep - The Ascension


DEBBIE KAR
Soundtrack to My High Speed Police Pursuit Award
Resurrection - Chimaira
The Blackening – Machine Head
Rise of the Tyrant – Arch Enemy
The Apostasy – Behemoth

Kicked the Headliner's Ass Six Ways to Sunday Dinner Award
Behemoth – Ozzfest
Amon Amarth – Sounds of the Underground
Atreyu – Family Values Tour

Freshest Meat on the Scene Award
Divine Heresy

They're so Metal it's Unreal Award
Dethklok

Penis Metaphors Are so Metal Award (tie)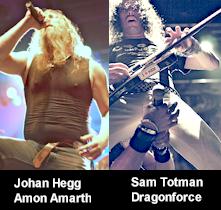 Being the yuppy-esque hottiesexual that I am, I'm always recognizing the tastyliciousness of both sexes. While this is a totally useless category not based on talent, but almost solely on physical attributes and stage presence, it's still amusing to me. There is a "dirtysexy" element in metal that for some reason works and therefore should be acknowledged. So without further ado, I present the first:

I'd Hit That Like the Population of Sodom Award
Sharlee D'angelo – Arch Enemy
Tuomas Holopanien – Nightwish
Sharon den Adel – Within Temptation
Corey Beaulieu – Trivium
AL K.
The Cursed - Room Full of Sinners. Can't believe this one isn't on MTV and the radio. Catchy, heavy... Blitz from Overkill singing like you've never heard him before and Dan Lorenzo from Hades/Non-Fiction writing some of the tastiest riffs of all time.
Overkill - Immortalis. On the topic of Blitz... new drummer Ron Lipnicki adds a lot. Great tunes, as good as they've ever been.
Tom Waits - Orphans. Does this have to be just metal? A collection of forgotten/dug up tracks from one of the greatest songwriters of all time, on par with Johnny Cash's Unearthed. "What Keeps Mankind Alive" is as heavy, dark and dismal as anything a metal band has ever done.
Angel Corpse - Of Lucifer and Lightning. May not be as good as some previous albums, but the underground was sorely missing Angel Corpse.
Denial Fiend - They Rise. The greatest death metal album of the year. Catchy, heavy songs you'll be signing by the second chorus. Like Scream Bloody Gore, Slowly We Rot, or Mental Funeral for the 21st century.
Downlord - Ramdom Dictionary of the Damned. Dave Ingram (Beneditcion, Bolt Thrower) fronting an insane grinding death metal band.
Hail of Bullets - demo CD. Members of Gorefest, Houwitzer, and Thanatos wrote some great death metal songs, and Martin van Drunen of Pestilence/Asphyx fame provided THE voice to bring it all over the top. Can't wait for the full-length.
Manowar - Gods of War. Most people hate it. I say listen to it start to finish, the way you would watch a movie. Not the album anyone expected. Manowar actually doing something new.
Monstrosity - Spiritual Apocalypse. Are there still death metal fans out there? Why is no one talking about this album??
Mayhem - Ordo Ad Chao. Mayhem (along with Gorgoroth) have made black metal frightening again.
Type O Negative - Dead Again. Just when you thought all hope was lost... Type O prove they can still make you feel more hopeless.
Ween - La Cucaracha. If it doesn't make you laugh, you just aren't alive.
Fishbone - Still Stuck In Your Throat. One of the greatest live bands of all time finally releases another great record. First studio album since 2000's very disapointing The Psychotic Friends Nuttwerx. Fishbone are raw and heavy. Reminds me of the underrated Chim-Chim's Badass Revenge.
Biggest let-down: King Diamond - Give Me Your Soul... Please. Great cover art. Good first tune. From there on out, it is all downhill. Not heavy enough, not even remotely scary. I will buy every King Diamond record because I love the man, and always go see him live, but let's be honest... he hasn't released a GREAT record since Conspiracy.
VINAYA
Waysted: The Harsh Reality
Saxon: The Inner Sanctum
Rush: Snakes and Arrows
Helloween: Gambling With the Devil
Scorpions: Humanity- Hour 1
Dream Theater: Systematic Chaos
Symphony X: Paradise Lost
Allen-Lande: The Battle
Sinner: Mask of Sanity
Kotipelto: Serenity
Steel Assassin: War of the Eight Saints
Primal Fear: New Religion
Icarus Witch: Songs for the Lost
Nightwish: Dark Passion Play
TNT: The New Territory
The Donnas: Bitchin'
King Diamond: Give Me Your Soul… Please
Black Majesty: Tomorrowland
Echoes of Eternity: The Forgotten Goddess
The Order: Metal Casino
Cool covers albums: Tesla, Jorn, Mountain of Power
Cool compilations:
Black Sabbath's "The Dio Years," Jorn's "The Gathering"
Cool live stuff: Jorn's "Live In America"
Cool reissue: Zoser Mez
Cool album, dumb title: "Tomorrowland" –Black Majesty
Cool DVD's:
Thin Lizzy: Live & Dangerous
Saxon: To Hell and Back Again
Heaven and Hell: Live at Radio City Music Hall
KISS: Kissology Vol. II
Y&T: One Hot Night
Pleasant Surprises:
-Heaven and Hell tour- A great tour that I had pretty much given up hope of ever seeing. With the gross amount of hype afforded the Ozzman for almost entirely non-musical reasons, it seems somehow fitting that the singer who originally replaced him- Ronnie Dio of course- should be brought back to bring vitality and credibility back to Black Sabbath; Even if they had to change their name.
-Crystal Eyes' "Dead City Dreaming"- Power metal made without a cookie cutter! How refreshing!
ETIAM
1. Deathspell Omega – Fas, Ite Maledicti…
I said in my first list that I'd be kicking myself for putting this at number two, and I was right. After spending more time with this mysterious troupe and their latest release, I've become nearly as enamored with it as I am with all the releases from their modern era. They may be stepping up the merchandising, they may be the fan-boy scourge of the year, but damned if they don't write some of the most compelling, challenging, and memorable metal out there today.
2. Mayhem – Ordo Ad Chao
Though it was dethroned, this is still an excellent album. Mayhem's best to date, in fact. Attila has grown into his vocals, Hellhammer is put at the top of the mix where he belongs, and the songwriting is ugly enough to deserve this album's name. A contentious release, but what else would we expect from them? A vile experience all around.
3. Therion – Gothic Kabbalah
Although it is something of a grower, this album contains some of Therion's most fully-realized and polished work to date. It may not include all the orchestrated bombast we've come to expect, but evolution has always been part of Therions's M.O. as well, and 'Gothic Kabbalah' certainly has plenty of that. Kristian Niemann also dazzles, as usual, and may finally be getting the credit he is due.
4. Nile – Ithyphallic
Hard not to call this a step down from 'Annihilation…', but even three steps down would have merited a spot on the year end lists. 'Ithyphallic' is more brooding, more sinister, and, like the album above, takes its time in unfolding. The results are worth it, though; if 'Annihilation…' was the pharaoh's wrath, 'Ithyphallic' is the doom pronounced by Anubis.
5. Shining – V: Halmstad
Another contentious black metal release, another phenomenal product. Shining, like Mayhem, have evolved tremendously since their early days while still retaining a core as blackened and bitter as ever. Thankfully, Shining has sloughed off the petulant vibes of adolescence along the way, and 'V' is a surprisingly mature release that draws nearly as much from blues as it does black metal.
6. Cephalic Carnage – Xenosapien
Another band who's come of age in '07, although 'Xenosapien' certainly still has its fair share of sophomoric fun. No longer preoccupied with zany antics alone, Cephalic Carnage now frame their avant garde passages with sound song structures and irresistible beat-down grooves.
7. Devin Townsend – Ziltoid The Omniscient
It's true that 'Ziltoid' isn't as momentous as 'Terria' or 'Accelerated Evolution'. Could any album about a space puppet reach those heights, though? It its own right, 'Ziltoid' reaches about as high as it possibly could and has surprisingly high replay value. Besides, only Devin can combine space-pop, hyper-thrash, and heavy metal glory with this kind of panache.
8. Immolation – Shadows in the Light
The aural embodiment of a sledgehammer. No frills, no filler, just solid, bludgeoning metal from end to end. As many bands today continue to change their tools search of newer extremes, Immolation proves time and again that the same old chisel can cut just as deep.
9. Swallow the Sun – Hope
After lingering in the shadows of greater brethren in their early years, Swallow the Sun have stepped into the spotlight with 'Hope'. Demonstrating a touch far beyond their years, these Finns balance beauty with despair, frustration with aspiration. Guest spots from the likes of Jonas Renkse certainly don't hurt, either.
10. Slough Feg - Hardworlder
Heavy Metal's enduring hard rock heroes. Although John Cobbet has left the group, Mike Scalzi forges on and proves his salt once again. As if we'd ever doubted him. 'Hardworlder' has all the classic Slough Feg touches—-unusual harmonies, gruff vocals, oddly stirring anthems—-and 'Tiger! Tiger!' is one of the year's best songs, in any genre.
Top Honorable Mentions:
Aeon – Rise to Dominate
Candlemass – King of the Grey Islands
Helloween – Gambling With The Devil
Kamelot – Ghost Opera
The Living Fields – The Living Fields
Pig Destroyer – Phantom Limb
The Ruins of Beverast – Rain Upon the Impure
Symphony X – Paradise Lost
Threshold – Dead Reckoning
Trelldom – Til Minne
Wuthering Heights – The Shadow Cabinet
The best albums I still haven't heard well enough (to put in my top 10):
Necros Christos - Triune Impurity Rites
Lifelover – Erotik
Malignancy – Inhuman Grotesqueries
Anaal Nathrakh – Hell is Empty and all the Devils are Here
Behemoth – The Apostasy
Novembers Doom – The Novella Reservoir
Middian – Age Eternal
In Vain – The Latter Rain
Splitter - Avskräckande Exemplar
Turisas – The Varangian Way
Primordial – To The Nameless Dead
Master – Slaves to Society
Best Live Set:
- Immortal at BB Kings, NYC, on July 13th. Unfair to the rest of the competition, and for that reason, I've included a second place.
-Consolation: Pagan's Mind at ProgPower USA, October 5th. About as consummate a performance as a band could ever put on for this festival. Stunningly powerful
[Other Maximum Metal Columns]
<< back >>