Tales from the Jugular
Looking Back: Hear-n-Aid

By: Frank Hill
Published: Thursday, March 6, 2003
"On May 20 and 21, 1985, 40 artists from the metal community gathered at A&M Records Studios to participate in the making of a record called "Stars," as a part of a very special project known as Hear 'N Aid. The "Stars" single and a video documentary on the making of the record was used to raise money for famine relief efforts in Africa and around the world. These 40 artists, along with hundreds of other volunteers, donated their time and talent over four months to make Hear 'N Aid a reality. "Stars" is a plea for unity in the fight against world hunger."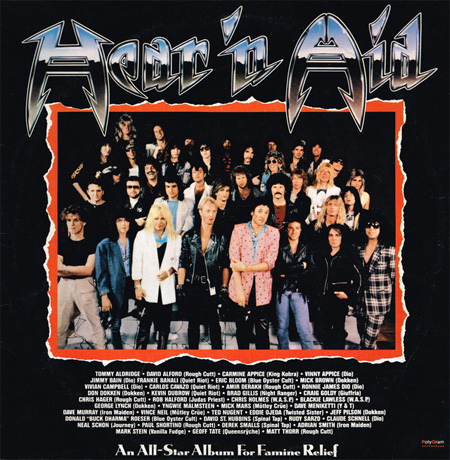 Almost 36 years ago, 40+ members of the metal community gathered together to help the hungry in famine-wracked Ethiopia. It was the first time that so many metal greats had been in one studio for a common cause. If you're too brain-addled to remember or to young to know, then read on for a little history in HEAVY METAL GENEROSITY 101--Hear n Aid.
In 1985, the African country of Ethiopia was suffering from the effects of a country-wide famile that had millions of people facing death from starvation. Relief, maybe more symbolic than actual, started when Bob Geldolf of the Boomtown Rats gathered a bunch of English pop stars together as "Band Aid" and released the single "Do They Know It's Christmas?" with the proceeds going to relief funds.
The ball started rolling even faster when the US pop stars joined in. Michael Jackson got everyone together for "USA For Africa" and they did the mega-selling "We Are The World". A trans-Atlantic concert called "Live Aid" soon followed.
Anyway, everyone in the metal community must've lost their invitations because USA for Africa didn't have any headbangers in it. Ronnie James Dio, one of metal's elder statesmen from Elf, Rainbow, Black Sabbath and Ronnie Dio and the Prophets, gathered together a host of performers. At the time, Dio was at the top of his game like Michael Corleone and he could do stuff like that.
"Stars" was the released single from the project and I'd say that it was pure Dio in sound. It was verse-chorus-verse and had a big-hook, almost excessive, guitar riff driving it. For various lines in the verses, a different metal guy would belt out his part and they would all gather for the chorus just like in the other relief project songs.
Every singer was incredible from Halford's stellar pipes, to Don Dokken's smooth vox, to Geoff Tate's awesome range, to Paul Shortino's growl. Hell, even Kevin Dubrow from Quiet Riot sounded great. The chorus was a simple "We're stars." which at first listen seemed a bit egotistical, but once you read the lyrics you could see that it was in reference to the eternal points of sky-light that guide us and give us direction in the darkness. Now, that's metal!
The guitar solo of the song was actually 13 solos by as many as 9 different six-string heroes. You had George Lynch, Vivian Campbell, Yngwie and others. Also, they had a couple of different drummers doing fills and stuff.
I remember the video for "Stars" because it was one of the first metal videos I ever recorded. It started out showing the different performers arriving at A&M Studios smiling and looking like they were all having a good time. Then they showed each guy doing his vocal or guitar part. The best part was the crowd of guys together doing the chorus. I have never seen such a cool mixture of metalheads together since. You had well-known guys like Rob Halford with lesser knowns from Blue Oyster Cult, classic guys like Ted Nugent and newer stars like Blackie Lawless. Some were dressed up flashy and others were in street clothes. The guys from Spinal Tap even made it. I think half the guys had on those round mirror sunglasses probably to cover up their bloodshot eyes.
An album was released that had some good live contributions from other bands that didn't show or couldn't make the sessions. From what you'd expect, it didn't outsell the other relief records, but it appearently did make money and it showed that even guys who sing about violence and death on a regular basis do have a generous spot in their steel hearts. Recently, "Stars" was redone by a band called Powergod on the ass-kickin album "Bleed For The Gods (That's Metal - Lesson I)".
It's on YouTube. Go check it out and see metal history! \m/
TRACK LIST: Stars/Up to the Limit--Live (Accept)/On the Road--Live (Motorhead)/Distant Early Warning--Live (Rush)/Heaven's on Fire--Live (Kiss)/Can You See Me (Jimi Hendrix)/ Hungry For Heaven--Live (Dio)/Go For the Throat (Y&T)/The Zoo--Live (Scorpions)
More:
Hear 'n Aid Wiki
More:
Hear 'n Aid Covers
[Other Maximum Metal Columns]
<< back >>