Tales from the Jugular
Tribute to Mark "The Shark" Shelton of Manilla Road

By: Josh Greer
Published: Friday, July 27, 2018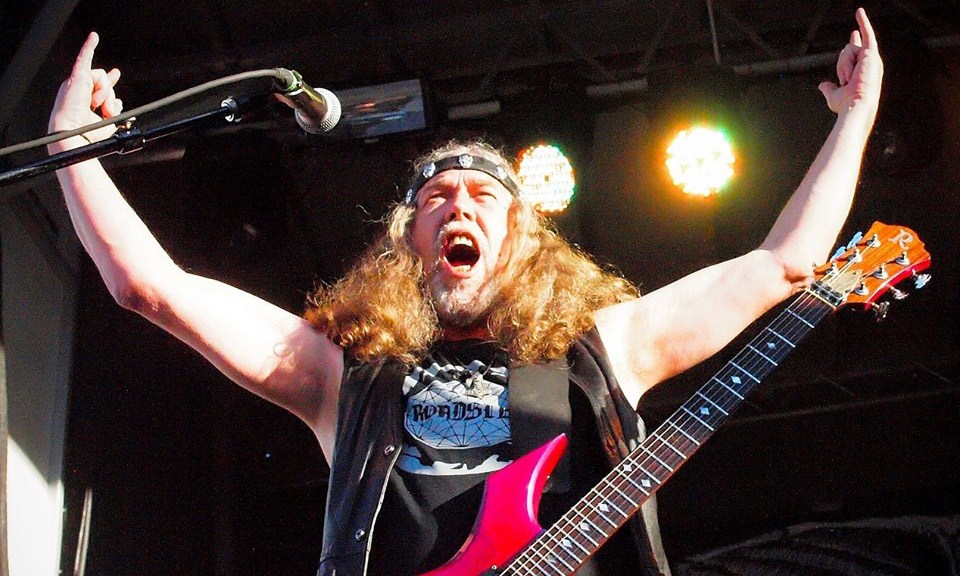 Mark "The Shark" Shelton --guitarist, vocalist and founder member of the metal band Manilla Road died this morning after performing at the Headbangers Open Air Festival in Germany. He was 60 years old. The band confirmed in a live Facebook video that Shelton died of a heart attack.
I have been fighting back the tears and wrestling with the fact that Mark Shelton died today.
I have nothing but infinite sadness at the moment for someone who I met and spent a considerable amount of time with at the Powermad Festival back in 2001.
I will never forget Mark handing over both of his classic red Warlock and steel plated guitars without hesitation to me in the hotel room and trusting me with them even though we had barely met. I can still see Mark running down the hall back to his hotel room like a young teen after doing a late night random door knock prank and how funny that was to witness.
I have listened to Manilla Road since the late 90's thanks to Jeff Wagner/Metal Maniacs and tape trading and will never forget the first time I heard the volume swells before "Necropolis" peeled the flesh off of my face on my Power/Doom Metal dub comp. So much harder to appreciate new music now with how available and disposable it can be. Still, it's hard to imagine life without another Manilla Road record. He was one of my biggest musical heroes and was still kicking so much ass at 60 years old.
If I can hardly put it into words, I pay nothing but respect to someone who was irreplaceable, completely unique, appreciative, humble and one of the strongest and most talented underdog musicians in underground weirdo fantasy Heavy Metal.
R.I.P. Mark "The Shark" Shelton, or as he might say... "Good journey!"
May the lords of light be with you. Your music will live forever.
LINKS
Manilla Road Official
[Other Maximum Metal Columns]
<< back >>