Tales from the Jugular
From the Boobtube to Youtube
An Op-ed on Getting Media Now and During the pre-YouTube Days
By: Eric Compton & Frank Hill
Published: Thursday, July 12, 2018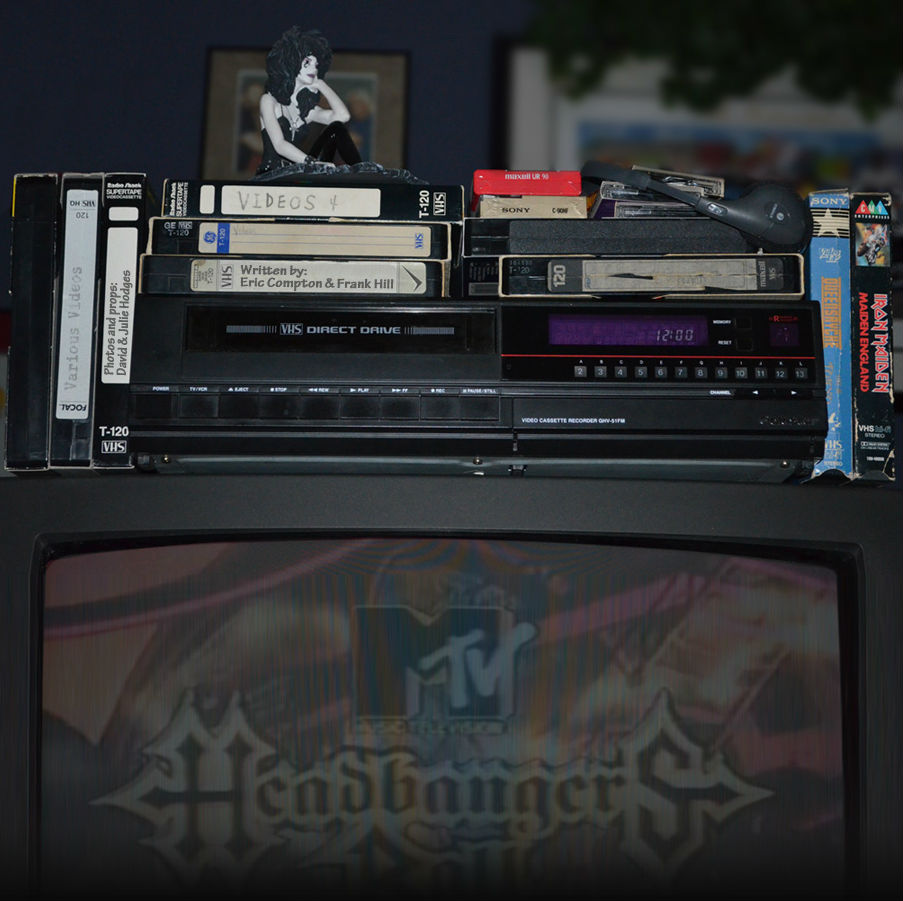 I was part of a holy trinity in my younger days--Wrestling-Horror-Metal.
The first vice was removed around the same time that WWF lost their "F" and the "Attitude" era became a faded memory. Growing up as a wrestling fan brought some growing pains with it. Not the flying elbows from the top bunk but the real pain in the 80s and early 90s of "media poverty". Kids like myself had to resort to VHS tape trading with other fans all over the globe. While watching some scrubs from Georgia battle it out on a Saturday night telecast, the real action was happening overseas. I had heard names like Cactus Jack, Bruiser Brody, and Terry Funk and the brutal matches they were having in Japan. However, unlike today's simplicity of pulling up a YouTube search for Terry Funk, back then it required me sending some sort of rare match or event on a VHS tape to someone in Hong Kong who happened to have a match recorded also.
MTV LAUNCHED IN 1981
That same media poverty was the culprit for my horror woes. Living in a small town with very little access to rental stores, my horror fascination limped around the confines of Camp Crystal Lake and Elm Street. I had heard of Lucio Fulci, Dario Argento and other cutting edge directors in my youth, but the only ability to grasp such auriferous genre entries was tape trading. "I mail and then you mail" was a foisted method to view world cinema.
Deceased drummer, front-man and Maximum Metal contributor King Fowley would be considered by many the king of VHS. You want '83 footage of Mercyful Fate playing Denmark coffee shops? Fowley could pull a dozen tapes from boxes and show you King Diamond all night. I've been there, done that. You want a killer snake movie? Let King run through ten VHS tapes that may or may not have been banned from domestic shores in the 70s.
For decades, the only way to see this sort of frowned upon media was through VHS tape trading. Now, one simply hovers their sweet little finger on the YouTube app and that world of tape trading disappears. Poof. In its place is a window of opportunity, a map of wonder that allows you to search for anyone, anything from just about any electric age. You want Mercyful Fate coffee shop footage? Easy. The real pain now is deciding which videos to watch from what year and on which screen. YouTube is on everything I touch. My television has it built in. My Blu-ray player. My Apple TV. My PC, phone and iPad all have this magical portal to media Shangri-La.
YOUTUBE CREATED IN 2005
The really interesting thing about YouTube is that the technology has re-invented the promotional music video. Remember MTV videos? VJs? "Headbangers Ball" (or "Super Rock" if you aren't Gen X)? By the mid-90s the "Real World" culture had removed music videos from television. In 1995, labels like Century Media, Nuclear Blast, Relapse and Massacre were nearing a fevered pitch from underground metal. Those labels were actually still producing videos, but there was no U.S. format to air them. By the late 90s those labels had created their own home video series that compiled eight to ten videos per tape. Metal Blade had their "Metalmeister" VHS series. Century Media sold their "Visual Chaos" video compilation. Nuclear Blast was actively marketing their video series "Death Is Just the Beginning". At a price tag of about $12 you could special order them from your local store and experience the horror every heavy metal fan of the 90s experienced--back-order Purgatory.
Now, as we sit in 2018 and I go through promo stacks and news feeds, nearly every band that has an album out has a promotional video. Typically, a lyric video hits first for the lead single followed by a professional video of decent to superb quality. Or if the band is still underground, they'll simply mix the music with images. How do you see it? Tape trading? Special ordering the compilation? Nope, it's all on YouTube for a fraction of the cost of your internet service.
Thousands of promo videos a year are coming out with YouTube links. The media sensation is at an all-time high and not only are we seeing the typical promo videos, those derelict factory rooms showcasing the five bopping mop-heads (and there are tons of those) but now you are seeing whole concerts. You didn't make it to Wacken this year? Watch every band on YouTube through professional cameras, the band's cameraman or the cell phone eye from that hairy kid in the fourth row and from 20 different angles uploaded by the next day. Missed Megadeth playing acoustic in a Buenos Aires public park? Yngwie Malmsteen shred-busking on a street corner? Bruce Dickinson in a leopard pattern suit hamming-up "Delilah" on a variety show? It's on there.
As we look ahead to more and more virtual reality content being supported by the music industry one can only imagine what's next with YouTube VR. Could we see more band concerts filmed with 360 degree cameras? Will the shaky fan shot videos you are seeing now be replaced by VR type footage that the average user can film? The possibilities are endless for both the musician and the fan. Given some realistic programming, bands would have no need for physical pyro. You could "see" Sabaton in historical battlefields, or Voivod on various planets, Deceased would be in graveyards, and even Slayer could have a retirement concert in Hell. I can only imagine a Megadeth hologram performing an entire concert for me in my own living room. By that time, maybe my flying DeLorean will be parked outside with a KISS manufacturing logo stamped on the engine.
YouTube is peaking while spotlighting and giving us an insight into to the industry that no generation has experienced before. Full albums. Full DVDs. Backstage footage. Interviews. Studio reports. Lyric and promo videos. Fan films. Reaction videos. Tuba covers. Enough 70s and 80s horror movies, wrestling matches, mosh pits and cat videos to last my bloodline's lifetime.
It is all right inside there.
Pardon me while I go update our Maximum Metal YouTube channel. I think Metallica just released tent footage of James having a Mai Tai in Bora Bora a few minutes ago.
[Other Maximum Metal Columns]
<< back >>