Tales from the Jugular
Staff Tribute to Guitarist Ralph Santolla

By: Eric Compton
Published: Thursday, June 7, 2018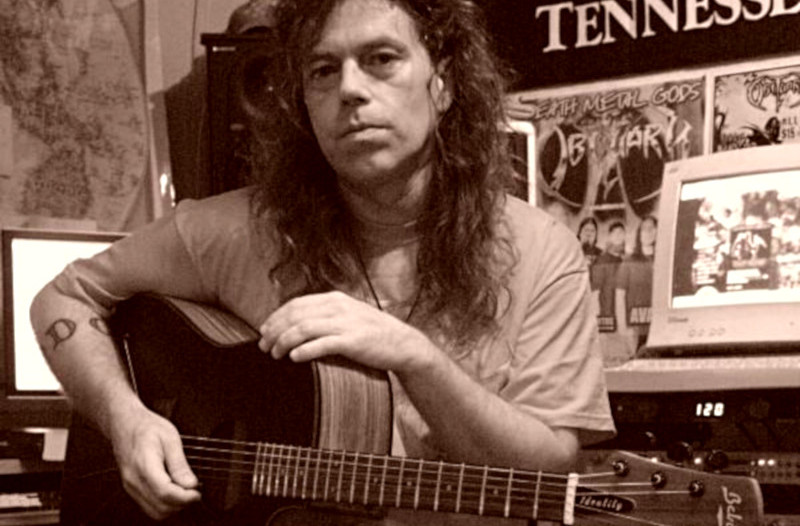 Italian-American guitarist RALPH SANTOLLA suffered a heart attack on May 29th, and unfortunately was taken off life support on June 6, 2018 at the young age of 48. As we mourn his passing and express our condolences to the Santolla family, we'd like to celebrate his accomplishments in life as a well-respected musician and contributor to the genre we love so much.
Born in Charlotte, NC, Santolla's career would be defined in Florida with roots tracing back to 1993. Death metal icons DEATH parted ways with temporary guitarist Andy La Rocque, so band frontman and founder Chuck Schuldiner hired Santolla as a touring replacement for the band's European "Full of Hate" tour. Santolla was later replaced in 1995.
In 1997 Santolla became a founding member of Tampa, Florida's MILLENIUM. The band's self-titled debut showcased Santolla's multiple talents including bass, keyboards and lead guitar. He would later go on to perform and record with the band through 2018, releasing four total studio albums.
In 2004 Santolla joined another Tampa act in ICED EARTH. He performed on the group's 'The Glorious Burden' record, injecting leads on "When the Eagle Cries", "Hollow Man", "Waterloo" and "The Devil to Pay" as well as touring with the band through 2005. After a short stint with SEBASTIAN BACH in 2004 and 2005, Santolla received his most noteworthy roles--guitarist for powerhouse death metal pioneers OBITUARY and DEICIDE.
As a seven year member of Deicide, Santolla's shred-style playing enhanced the band's extreme sound. Along with touring along side the Florida natives, Santolla contributed on two studio records--'The Stench of Redemption', 'To Hell with God' and the live opus 'Doomsday LA'. With Obituary, Santolla performed with the band as a replacement for Allen West. He collaborated with the group for four years, recording lead on 'Xecutioner's Return', 'Darkest Day', 'Left to Die EP' and the 'Live Xectuion' video.
In addition to those appearances, the journeyman recorded studio albums or performed as a guest or temporary member for bands like HOLLOW, MEMORIAN, REDSCREAM, SERPENT REDUCED EYE, TOXIK, EYEWITNESS, VITAL REMAINS, MELECHESH, WARMEN, WARMACHINE, THE AUTUMN OFFERING, PATHOLOGY, LOVER OF SIN, JORN, JON OLIVA'S PAIN, HOLY MOSES, DIABOLICAL, INFERI, CRIMSON MOON and ANOMALY.
Santolla recorded two solo efforts--'Shaolin Monks in the Temple of Metal' and 'Requiem for Hope'. His most recent work was DEVIL'S HIGHWAY, which supposedly will be released posthumously, as well as instructing guitar in Tampa. The guitarist was a devout Catholic, a Republican and an organ donor.
"I'm not going to pretend to be some dark and angry and evil person so that people think I'm metal. I have all of that in me, but the most important thing is that I play my guitar, and you either like it or you don't. I really don't care one way or another." --Ralph Santolla in a 2006 interview with Chronicles of Chaos.
LINKS
Facebook
[Other Maximum Metal Columns]
<< back >>