Tales from the Jugular
Staff Round Table: Iced Earth's 'Incorruptible'
Our track-by-track Analysis of the new IE release
By: Eric Compton, Greg Watson, Troy Cole
Published: Friday, June 23, 2017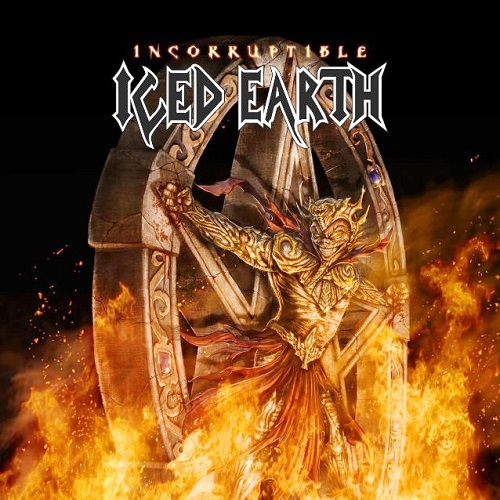 Iced Earth continues to be the underground phenom that is closely associated with and admired by the true metal legions. Founding member and rhythm guitarist Jon Schaffer formed the band in 1985 as Purgatory, later to be named Iced Earth in 1988. Since then the group has had a revolving door of musicians, making the changing dynamic of its members the one true consistency over the course of 30 years. After the band's departure with beloved vocalist Matthew Barlow in 2011 (after welcoming his return in 2008), the Midwest powerhouse seemingly reinvented the wheel with singer Stu Block. The critically praised 'Dystopia' (2011) and 'Plagues of Babylon' (2014) returned the band to less-contrived conceptual albums and band mythology that ran rampant from 2007-2011. This was a welcome change that rejuvenated Schaffer and enforced a bond between himself and Block – not merely just co-workers but friends.
The band's 12th album, 'Incorruptible', arrives via longtime label Century Media in June 2017. The production duties were overseen by Schaffer himself along with a majority of the song lyrics and arrangements. The mix was handled by the famed Zeuss (Christopher Harris), known for his work with Hatebreed, Shadows Fall, and Queensryche with artwork and layout by David Newman-Stump and Roy Young. 'Incorruptible' is also the first album to feature new guitarist Jake Dreyer (Witherfall).
In what has become tradition for big releases, is big discussions by the Maximum Metal staff. Eric Compton, Greg Watson and Troy Cole provided a track by track analysis (rating of 1-5) with their thoughts on this new Iced Earth release:
"GREAT HEATHEN ARMY"

Eric – I love the way the song starts with the sounds of battle. The opening chant reminds me of "Damien" from the band's 'Horror Show' album. I think Stu sounds pretty convincing with his opening falsetto scream of "Valhalla!". That beginning stream with the double-bass also is reminiscent of "Wolf", the album opener for 'Horror Show'. Lyrically, this is about the Vikings banding together and forming the Great Heathen Army to attack and waylay what is now known as the United Kingdom. That lyrical imagery is presented perfectly in the song. I totally geeked out with those big, workforce chants after the lyrics, "One-thousand heathens breach the gates". I think of a rainy, wind-swept shoreline with longboats on the horizon. Wow, the perfect opening song for an Iced Earth record. Rating 5.

Greg – Well Eric Compton pretty much said about all there is to say for this song. As far as opening tracks go, this track is my favorite opener since "Burning Times" off of 'Something Wicked This Way Comes'. The twin attack of Schaffer and new axe wielder Jake Dreyer make the music epic and then Stu's falsetto scream at the beginning and his vocals throughout the song give this an epic feel. Rating: 5

Troy – Schaffer and the gang get things started with some slow paced atmosphere culminating into a sonic assault. Lyrical imagery, chants, double bass and twin guitar combined with the straight on vocals of Stu provides the perfect opening track . Rating: 5


"BLACK FLAG"

Eric – The opening simplistic chords really set the atmosphere. Sort of the calm before the storm. At 0:25, the opening guitar lead is just melodic and soothing before lyrics "a storm is raging on the open sea". While it never hits a fast-pace, a trademark for this record, the pace is good and I love the lyrics. My take-away from the lyrics is the early creation of pirates – a group from the Royal Fleet refuse to pay taxes and serve the king and strike out on their own. It's sort of a cross between Jag Panzer's mid-tempo power and Running Wild's pirate imagery. Rating 4.

Greg – As far as this song goes, musically it's pretty awesome and the story behind the song is really cool, the lyrics just really kill this one for me. The references to "barrels of rum" being treasure and the "blood-stained cutlasses" are just way over the top for me and really hurts this track overall for me personally. Rating: 3.5

Troy – Never hits the full momentum of the opening track but still a solid song. Great melodic guitar throughout. Stu delivers his vocals as if telling a story until he releases his high wails. Lyrical imagery is over the top thanks to some of the lyrics. Stu forces a pirate enunciation on some which really detracts from the overall song for me. Rating: 3.5


"RAVEN WING"

Eric – Along with "Seven Headed Whore", this song was released in early May to provide a bit of a teaser and preview for what's to come. It's track three on the record and probably should have moved up a bit in the album. It's slow and driven by softer, acoustic textures. Stu sounds phenomenal on it and you can really hear the dynamics of new guitarist Jake Dreyer. His playing seems effortless with a ton of high-energy fret-work. While this song has a slow pace, it's definitely "Raven Wing" and not the sappy "When the Eagle Cries". Not a bad song by any means but I wish it was further up in the album. Rating 3.5

Greg – Another typical slow song from the IE crew here. Stu definitely does some really good work on the vocals and the acoustic guitars are on point. This is one of the better slower tracks in recent years from the band. Rating: 3.5

Troy – Here we have the traditional slower to mid-tempo song providing the perfect break after the two heavier tracks. I really like the build-up of the song as it starts out with soft vocals and acoustic guitar that transforms into fluid fretwork and pounding drums in the last two minutes. The chorus is gripping like they want you to sing along with it. Rating: 4


"THE VEIL"

Eric – Wow, really melodic track. Once again, this is a slower song with a really soft texture. The vocal verses are extremely emotive and reek of sadness and despair (it's no wedding veil here). The chorus is extremely addictive and attaches itself to the listener after a few plays. There's some backing orchestration thrown in but it doesn't get in the way too much. Great leads and harmony. Kudos to experienced players that don't let heavy percussion kill the mood. Rating 4.

Greg – Listening to this song reminded me a whole lot of "Watching Over Me" with the slower song and the very emotive, heart wrenching lyrics. The chorus is catchy as hell and I was singing it for several hours after the first time I heard it. Rating: 4

Troy – Damn! This one caught me by surprise. Slow and melodic opening coupled with haunting vocals. It's heavy at the right moments but keeps a sorrowful tone throughout even with the catchy chorus. The eeriness reminds me of the 'Burnt Offerings' album. Something about the emotional presentation calls to me each time I hear it. Rating: 4.5


"SEVEN HEADED WHORE"

Eric – This song with "Raven Wing" was released in early May and we couldn't stop talking about it. It's by far the heaviest of the album and has the same vibe of the 'Dark Saga' era of the band. Comparisons are made to "Violate" and rightfully so. The guitars at the beginning remind me of Slayer before hitting a bashing rhythm and break-neck pace. This is the ripper of the record. Rating 5

Greg – The clear bruiser of the album, this track has everything I've come to love about this band. Crunchy, aggressive guitars, thundering drums and Stu's falsetto at its best. The lyrics on this one are really cool and the line "They feed their children to the beast abomination" makes me wonder if it's a biblical reference to the deity Moloch, who was worshipped by the Canaanites. While I wish there were more tracks like this on the album, the fact that this is the only track of its kind on the album is what makes this one even more of a monster. Rating: 5

Troy – This song flat out incinerates all the others here and demonstrates why Stu is still the man for Iced Earth. The range he displays is just incredible and multifaceted. Sounds like a cross of influences from the 'Dark Saga' and 'Night of the Stormrider' albums. Dreyer and Smedley combine to create a powerful force with the face melting riffs and pummeling drums. The only drawback is it's the shortest song on the album - clocking in at a mere 3 minutes. I want a whole album of this! Rating: 5


"THE RELIC (PT. 1)"

Eric – I know Greg Watson could write a novel on this song alone. Man, this is a really dark and evil track, but again it's a mid-paced cut coming off of the ripping monster "Seven Headed Whore". It's difficult to match that energy but what it lacks in speed it more than makes up for with a heavy dose of atmosphere and well-crafted lyrics. The middle has a lot of Eastern instrumentation and seemingly hints at a tie to the band's "Set Abominae" storyline. Schaffer dismisses that idea though and claims none of the album tracks are linked to that mythology. This is a really effective song with lyrics that are Gothic and riveting. Rating 4.5

Greg – For me, this is the track of the album hands down. I've listened to this song more times than any other from the album and I constantly find myself in awe and entranced by the story that the lyrics tell. The story has some elements to me reminiscent of H.P. Lovecraft's "The Haunter of the Dark" in the description of the Relic and how it feeds upon innocence and has a sentient evil to it. Another thing I love about the track is how Schaffer left the song open to interpretation by the listener in regards to what the intention of the Relic is and how it will have an effect on the young boy in the song. It has this very cool "The Omen" and "Damien" vibe to it in the way it seems to infest the boy when it is gifted to him. Near the end of the track, we get this really cool instrumental interlude that is reminiscent of songs off 'Something Wicked', 'The Crucible of Man', 'Framing Armageddon' and 'Dark Saga'. Then Stu's vocals come in and just completely finish the track out with this really heartfelt yet feeling of impending malignancy that's getting ready to manifest itself. I can't get enough of this song and really hope that the Part 1 indicates that there will be a sequel coming to this track sometime soon! This track has already catapulted its way into my all-time Top 5 and has a very good chance to unseat 'Dante's Inferno' as my favorite track of all time. Rating: 5

Troy – Another song that reminds of 'Burnt Offerings' and one that could have fit well with the 'Something Wicked' trilogy. A dark and atmospheric mid-tempo journey into evil. I can't really add more than what has already been said by Greg and Eric, except I would have placed this song before "Seven Headed Whore" in the track listing. Rating: 5


"GHOST DANCE (AWAKEN THE ANCESTORS)"

Eric – It is difficult for me to review instrumentals. I'm not a musician and can't describe the technical aspects of a song without some lyrics and vocals. I'm one-dimensional, but I'm 40 and just know what I like. This one is over six-minutes but is extremely flashy and polished with tons of driving guitar and twin-guitar harmony. I can take it or leave it really. Rating 3

Greg – The inclusion of the Native American flutes and chants is pretty cool and the music on this one is really cool but the big downer for me is the length of time on this. 6 1/2 minutes is a very long time to go without any vocals at all. That really hurts this one for me but as always, Iced Earth plays some pretty epic instrumentals and this one is no exception. Rating: 3

Troy – Solid instrumental with a variety of instruments but way too long. Really seems like this song was constructed with lyrics in mind and given the title would lead into another track but instead it's followed by the even more lackluster "Brothers". Rating: 3.5


"BROTHERS"

Eric – After "Seven Headed Whore" we got mid-paced "The Relic" and an instrumental. I needed "Brothers" to really crank up the heat and bring the second half to a roaring finish. I cringed upon hearing the opening acoustic notes and on first listen, "Brothers" sucked. After repeated listens, and maybe associating the lyrics with X-men somehow (I'm old and a mutant geek), something clicked. It's a very elementary song ¾ of the way with what I consider a bit of lazy playing the on drums and that simple riff. The last fourth is a fret frenzy with the guitars amped up and explosive. It's a whirlwind of melody and precision playing and I'm not sure an Iced Earth song has been so flashy before. That last fourth reminds me of those Shrapnel releases in the 80s where every axe-slinger was out to tout their talents. Rating 3.5

Greg – I've had a couple of listens to this one and I don't share the same opinion as Eric does of this track. While I enjoy this one, it just seems to be lacking a little something for me. I don't know if needs more pacing on it or what but it just doesn't really cut the mustard for me at all. Rating: 3

Troy – The only song I would classify as filler (well maybe the instrumental). It feels out of place on this album even after repeated listens. I might be being a bit hard on this song but really it's Iced Earth at its most formulaic and generic form. I would have been just as happy without this track. Rating: 2.5


"DEFIANCE"

Eric – This one is a crunchy, thrash oriented cut with Stu nailing some extremely high falsetto near the end. This song sounds like something left off 'Plagues of Babylon'. It's driven by mid-paced rhythm and of course builds to a harmonized (layered) chorus. An easy to like track that you won't turn off if it comes on unexpectedly. I can foresee it growing in popularity over the years. Rating 4

Greg – This is the track for me that was a slow burner. The first time I heard it I was quite underwhelmed by it. But on subsequent listens, I've really come to like this track. The pacing of the song is pretty decent but the building of the vocals throughout is what really sealed it for me, especially the notes he hits at the end. I agree with Eric that I can see it becoming an in -demand track for fans as time goes on. Rating: 4

Troy – I loved this song from the beginning but it could have something to do with how frustrated I was with "Brothers". It has a nice thrashy vibe with a catchy yet singable chorus. Dreyer is stout with his fretwork again and Stu nails it here with his vocal stylings. I love the chanting of "rise...fight" behind the high-pitched lyrics halfway in. Rating: 4


"CLEAR THE WAY (DECEMBER 13, 1862)"

Eric – Good God Almighty. This is THE track for me. Best of the album in my opinion and compliments Schaffer's love of history. The song is about the Battle of Fredericksburg, but most importantly it's about the Irish clans that were forced to fight against each other in a Civil War they had no ties or obligations to. The imagery is one of battlefield horror, reaching a climax as Union Soldiers (Irish wearing green) run across gunfire to forge an impenetrable wall defended by the Confederacy (Irish wearing red). It's atmospheric, emotional and has a higher speed with tons of energy. The gang chants speak unity in volumes while Irish influenced music is sporadically placed for effect. Schaffer is a brilliant tactician here and I applaud his "NWOBHM" tendencies in the song while telling a story as blood-soaked as the dirt they fought on. One of the best songs of Iced Earth's entire catalog. It's stunning perfection in every way. Rating 5

Greg – Again, Eric has really said much of what I would say about this track. I feel that Schaffer really knows how to elicit emotions and feelings like a writer crafting the perfect story when it comes to his songwriting and that really shines through on this track. You feel the emotions that those Irish soldiers had to feel facing their own kinsmen on the battlefield. The Irish music that plays at the beginning and near the end really tugs at the heartstrings. This song goes in to Iced Earth lore and their continuing ability to craft epic, powerful songs. Rating: 5

Troy – This is perfection, this is ICED EARTH! This one song is the embodiment of what is Iced Earth lyrically, musically, and emotionally. Few bands could craft a song as masterfully as this one on their best day not to mention almost thirty years into their career. A truly epic and powerful song that invests its listener and could be the pinnacle one of their career. Eric has done a great job in describing the history of the song and knowing that you truly can't listen to this song again without an overwhelming amount of emotion. It unbelievable the amount of effort this band puts into song crafting. Rating: 5

LINKS:
Official -
icedearth.com
Facebook -
facebook.com/OfficialIcedEarth
| REVIEWER | Eric | Greg | Troy |
| --- | --- | --- | --- |
| GREAT HEATHEN ARMY | 5 | 5 | 5 |
| BLACK FLAG | 4 | 3.5 | 3.5 |
| RAVEN WING | 3.5 | 3.5 | 4 |
| THE VEIL | 4 | 4 | 4.5 |
| SEVEN HEADED WHORE | 5 | 5 | 5 |
| THE RELIC (PT. 1) | 4.5 | 5 | 5 |
| GHOST DANCE (AWAKEN THE ANCESTORS) | 3 | 3 | 3.5 |
| BROTHERS | 3.5 | 3 | 2.5 |
| DEFIANCE | 4 | 4 | 4 |
| CLEAR THE WAY (DECEMBER 13, 1862) | 5 | 5 | 5 |
| TOTALS SCORES | 41.5 | 41 | 42 |
| OVERALL AVERAGES | 4.15 | 4.1 | 4.2 |
[Other Maximum Metal Columns]
<< back >>