Tales from the Jugular
What is Metal Condonation?
Judging and Forgiving within Our Genre
By: Eric Compton
Published: Wednesday, May 17, 2017
Condonation as defined by Wikipedia:
"Condonation, or condonance may be made when an accuser has previously forgiven or condoned (in some way or at some level supported) the act about which they are complaining. In some legal jurisdictions, and for certain behaviors, it may prevent the accuser from prevailing."
That's condonation. The short version are these steps - Jane marries Ted. Ted cheats on Jane. Jane has intercourse with Ted. Said intercourse proves that Jane not only has forgiven Ted for his dastardly deeds, but she condoned it. That's condonation.
The term gets thrown around a lot in legal circles. Let's say Jane and Ted have children, own property together, and have some money. Ted cheats on Jane. Later the two discuss over a bottle of wine and Jane decides...what the heck...and has intercourse (or some sort of physical make-up) with Ted again. A few weeks later Jane decides to divorce Ted. Jane goes to court to obtain child support and a piece of Ted's 401K account. Jane's argument is that Ted cheated on her and now she wants a divorce. Ted tells the judge the two had sexual relations after the affair. Now Jane doesn't have a leg to stand on legally because she absolved Ted of his wrongdoing by sleeping with him after the affair. That's condonation.
What in Samhain is Metal Condonation? Well I made it up last night during an episode of Judge Judy.
Basically we, the metal society of mop-headed minions, decided that Metallica not only cut their hair but carved off their integrity and metal soul in the 90s. 'Load' ('96) and 'Reload ('97) were aimed to please the Lollapalooza crowd more than the mighty Clash of the Titans. The band even headlined the alternative fest in '96. The band did themselves no favors by releasing the horrendously sounding 'St. Anger'('03) devoid of melody, solos and substance. But we condoned their act of metal riddance.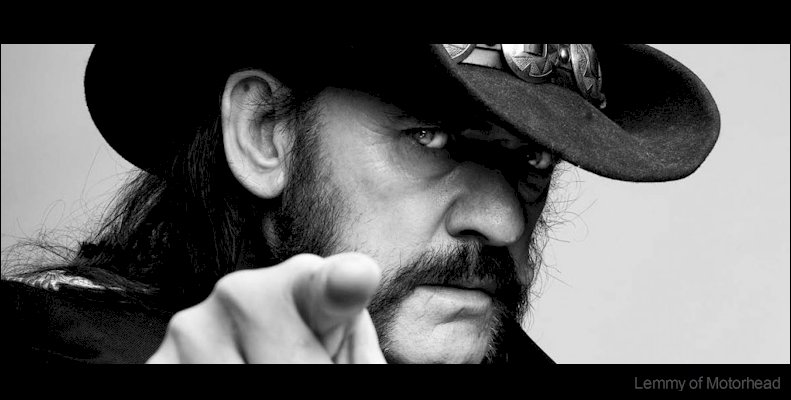 How?
We committed metal condonation when we saw them live post '03? Or when we bought, played and talked about the metalized metallic Metallica on '08's 'Death Magnetic'? Yeah, we probably absolved them of their crimes by intimately embracing a future contribution.
The same scenario cuts and pastes for a whole host of artists. Let's look closely at these abysmal short changes:
Dokken--Hair metal perfection from 1983 through 1989. The band splits, comes back with a worthy effort in 'Dysfunctional' in 1995 before going completely alternative on 1997's 'Shadowlife'. But the band absolved their sins and had us commit Metal Condonation with four more solid albums and the inclusion of notable guitarists like John Norum and Reb Beach. I'll sleepover again for that kinda action.
Queensryche--Melodic progressive power metal enthusiasts. The band raged for order from 1984 through 1990 before hitting an alternative lackadaisical approach for nearly twenty years. All is forgiven when we committed Metal Condonation last year to celebrate the band's return to form on 'Condition Human'. Let's run a bubble bath.
Motley Crue--Glam metal gutter rock aficionados from 1981 through 1989. Alternative nonsense, lineup shakes and a poor label move resulted in the horrid 'Generation Swine' album, complete with an alternative/industrial/contrived cover of their own hit "Shout at the Devil". We committed Metal Condonation by seeing them open for Megadeth as well as supporting/playing/celebrating the commendable albums "New Tattoo" and "Saints of Los Angeles". You were probably there for the teary-eyed farewell.
The list could go on and on and include notables like KISS, Machine Head, In Flames, Iron Maiden (it's true!) and less notables like Kreator, Grave Digger (the duck!), Destruction (although they officially erased those records) and Helloween (Pink Bubbles Go What?). But you get the idea--we hated it, despised their existence, removed the stickers, posters and flags and a few years later re-declared our love for them by buying show tickets, a shirt, a "comeback" album and general swank. We condoned the behavior by committing official Metal Condonation.
The ultimate question though is this--why are we even using the terms like "forgiven", "absolved" or "condonation"? Because metal fans live it. We invite metal artists and industry professionals into our homes, our cars, our work place, our marriage, our heart. We become these songs, these genres, these words and notes. It defines who we are, what we know and where the path takes us. It's our destiny, whether we are conscious of it or not. It's a marriage, the consistent give and take of living and loving something so much that it consumes our daily rituals. We can't live without it. Maybe that is why metal fans are also some of the most critical.
According to a recent study by Spotify, metal fans are the most loyal to their genre.
"Do fans of some genres return to their favorites more than fans of other genres? And which genres inspire the most loyalty in the listener?

To find out, we first identified the "core" artists that, according to The Echo Nest (a part of Spotify), are most central to each genre, starting with the big ones, on a global level....To create a measure of genre loyalty, we divided the number of streams each core artist had by their number of listeners. All of the charts are normalized against the genre with the loyalest fans.

The first thing we noticed: Metal fans are the world's loyalest listeners:"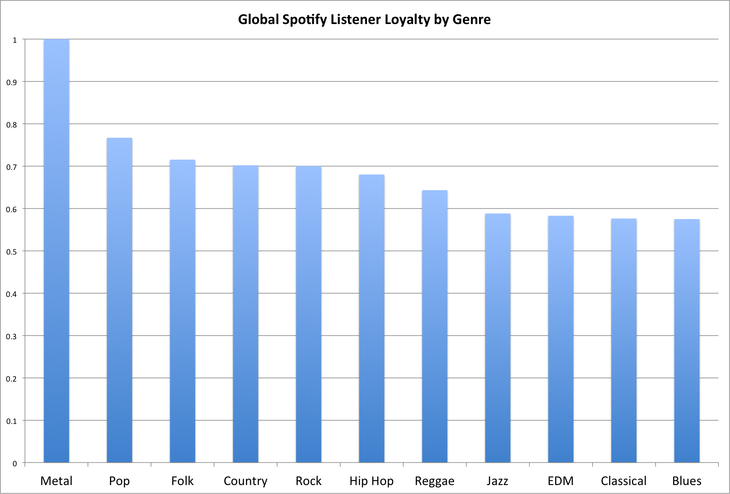 [LINK: Which Music Genres Have the Loyalest Fans?]
We are quick to judge, quick to dismiss anything or anyone that violates our metal trust. These are our heroes and these are our songs--how dare you violate that inner sanctum. When an artist takes the relationship for granted, it creates a nearly unforgivable mistrust.
Nearly.
While we are the most critical of our genre, we are also the most forgiving. We can completely exonerate artists for straying from the path we selfishly put them on to begin with. Maybe it's unfair to pigeon hole a one-record band as the torch bearing new blood saviors that we believe they are. But we do. That same torch-bearing, new blood savior becomes the bane of metal's existence with the wrong tour, wrong single, wrong clothes, or wrong follow-up. It is our rise and fall...not theirs. Somewhere in our thick skin defensive posture we know that too. It's why the metal condonation exists. It's to bury the hatchet and forgive and forget. We move on with a handshake and a hug, to rock hard and ride free with our metal brethren again.
In the end, we may point our fingers at--but we eventually put our fingers up. Just give us a year or two.
"A heavy metal heart is hard to tear apart" - Hammerfall
[Other Maximum Metal Columns]
<< back >>