Tales from the Jugular
The New Wave of Traditional Heavy Metal
Classic Metal Has Come Full Circle
By: Eric Compton
Published: Friday, March 17, 2017
Back in 2000, I read an interview that ex-Motorhead drummer Mickey Dee did with an online zine. He presented this interesting story about being in an airport in Europe awaiting a connecting flight. He glanced up momentarily and spotted a kid wearing a Hammerfall shirt nearby. As the boy came a little closer, Dee spoke up and advised him that he had heard the band and complimented their worldwide appeal, especially with young people. Dee questioned the kid if he had ever heard Iron Maiden before. The boy replied something to the effect of, yeah, they are okay, but they are no Hammerfall.
That conversation has played itself in my mind for fifteen years. How could a young metal fan proclaim his love and loyalty to an act that seemingly walked the same familiar footsteps as countless bands before them? Hammerfall released their first album nearly twenty years after Iron Maiden's famed self-title, yet this kid is quick to dismiss the importance of the famed Englishmen and their pivotal position in metal's global appeal. My "up-the-irons" sensitive defense mechanism is pushed to the brink when I hear young fans point to what they perceive as a meaningful and relevant cornerstone of global importance.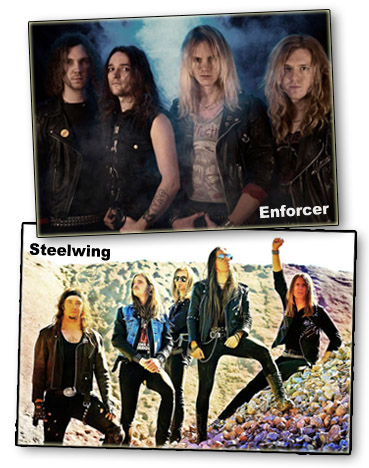 However, the more liberal portion of my psyche taps me on the shoulder and reminds me that there is an exploratory nature to delving in this wide and wonderful world of heavy metal. Perhaps I should be appreciative of Hammerfall's metal fortitude, their homage to traditionalism and that "true as steel" persona they wear so proudly on their chainmail. That same liberal portion reminds me that Hammerfall contributed to a resurgence and curiosity of global metal in the late 90s, a rather bleak and stale landscape that escaped a harrowing misstep with its flannel covered grunge and nu-metal contrivance. Who am I to stand back, point my finger and scold an asset that has performed a plethora of good for the genre that I cherish?
That same devil on my shoulder is back again, years later, but this time consistently prodding me with a three-pronged reminder that we have reached another milestone for today's youth, another pivotal moment of earth-shattering revelation...at least according to them.
Kids are sporting back patches, shirts and stickers of bands that reached prominence over thirty years ago--nearly two lifetimes in comparison. We are witnessing droves of young metal fans donning the classic emblems of Maiden, Motorhead, Saxon and Venom, yet delving even deeper for the tattered reminders that underground NWOBHM was just as important. Angel Witch, Wildfire, Touched, Quartz, Steelwing, Enforcer, Jaguar and that ilk are on proud display worldwide.
Wait...Steelwing? Enforcer? Those are NEW bands.
They released debut albums in 2008 and 2009, respectively. They had as much to do with the New Wave of British Heavy Metal as the internet. How could these bands collectively be stirred into one homogeneous mixture?
Because CLASSIC metal has come full circle again.
Much like our society's fascination with iterations, classic metal, what some have coined "retro metal", has surfaced. Garbed in the clothing of 1978, young bands are fighting for their denim and leather cause. It's occurring in Sweden, Canada, Germany and the US as more and more new bands espouse the belief that NWOBHM is worthy of imitation, the flattered attempt to burke modern sensibility for more vintage virtues.
It's the
New Wave of Traditional Heavy Metal
.
But it isn't just seeing and hearing, these bands are awash in the sound and scene. Production standards are nearly analog. Vinyl and cassette releases are heralded more so than digital or CD. Striped spandex, denim, leather and the coveted back patches aren't just worn, they are warning: the kids will rock, and they ascribe to "Ye Olde Metal".
To fully grasp this obsession with the primitive, one needs to look at the entertainment spectrum as a whole. This is happening on all mediums, across all formats. We have seen it in Hollywood for decades, the remaking and rebooting formula that curtain jerks and keeps the seats hot.
Perhaps you weren't in the universe when Mad Max roared from the screen in 1979. Hollywood gained your dollar when they semi-rebooted Mad Max for new generations last year. Remember the 1984 blockbuster "The Terminator"? And it's three sequels? It all began again last year with a re-imagining titled "Terminator Genisys" that looks to reboot the entire franchise for the next generation of fans. "Jurassic Park" "National Lampoon's Vacation" "Point Break" All spins, reboots or re-introductions made for new audiences last year.
James Maddox
, creator of the comic books "Clown", "The Horror Show" and "The Dead", likes to refer to re-imagining as --rehashing with purpose".
"The pessimistic view is to say that nothing is new. That there's a paint pallet full of hues and styles that you can mix and maybe even get fun, interesting results, but you're not going to invent a new color. It's basically blending and a lot of subterfuge on both the part of the creators, producers and even the audience." --James Maddox
Maddox, an emissary for indy comics, has watched his industry reinvent itself countless times. In 2011, DC Comics rebooted large portions of their universe to enhance sales and attract younger readers. They felt that new generations of comic fans, perhaps spawned by film adaptations, were confused and estranged from seventy years of backstory. A convoluted history led to a simple answer: write it all off and start over. "The New 52" launch rejuvenated stale sales numbers, influencing Marvel Comics to do something similar with their branding of "Marvel Now" in 2012. DC, looking to spark sales again, was "reborn" recently. Rumors are also circulating that yet another branding of Marvel awaits.
Beyond just the books, over the next five years Marvel and DC collectively are planning sixteen films dedicated to introducing their heroes to new audiences. Sixteen. Says, Maddox:
"Like any story that's seen multiple iterations of itself, mainstream comics thrive on reinventing their characters to fit the mold of modern times. With a choice of multiple versions, comic characters fit what any specific reader or demographic or era demands of them. This not only gives a perennial quality to the characters, but invests entirely new readers into the titles, which keeps the industry moving toward the future." --James Maddox
Arguably the NWOBHM movement (term coined in 1979 via Sounds magazine) was encouraged by the successes of bands like Judas Priest, Budgie and Motorhead. The decade's farewell in 1979 was met by the self-titled Saxon release, the recording of Def Leppard's 'On Through the Night' and NWOBHM poster child Iron Maiden's auspicious demo 'The Soundhouse Tapes'. One could place any number of albums or bands in the mix as catalysts for the NWOBHM movement, yet Saxon, Def Leppard and Maiden have probably had the most long-term success of any. Those bands have four to six releases since 2000 and continue advancing their sounds with seemingly endless world tours.
So why is this sound, specifically 1976 through 1983, and bands like Priest and Maiden now so prominent and important within the ranks of new metal? Is it theoretically just a remake or re-imagining of the 70s and 80s in the same way that pop culture recycles the same ideas and concepts today?
Steelwing
, one of the emissaries of this NWOTHM, have released two albums over their six year career. With an abundance of 80s influences, the Swedish act have perfected the speedy guitar finesse of the NWOBHM for a whole new generation of fans.
"From our perspective, we just play what comes naturally, which happens to be Classic Heavy Metal", explains Steelwing guitarist Robby Rockbag. "This style has always been around, but it's gotten a lot more attention over the last few years, since a lot of similar-sounding bands have appeared. And I think that we all share the same basic values, and the fans do too. We're tired of the typical, boring, modern metal sound and we want to play and hear something more authentic. We genuinely love that sound, so we have no problems being referred to as a retro band, even though we would prefer to be called timeless."
That same mentality seems to be the driving force behind
Speedbreaker's
2014 debut 'Built for Speed'.
"First is to say that the so-called re-imagining of the 70s and 80s sounds is a very good thing. The music in the 70s and 80s had a lot more power and emotion than the modern electronic music", says guitarist Simon. "You kill the humanity in music when you just use electronic devices to produce it. And this is what more and more people seem to be pissed off about. They want to listen to real and honest music. Therefore it is obvious that there is a wave of new bands that are so heavily influenced by the 70s and 80s bands.
But is it really cyclical? That's a difficult question. If yes, it would mean that the next wave of new bands would use even older bands as inspiration.
Former Judas Priest vocalist
Tim Owens
expresses the need for new bands and new music, like Steelwing and Speedbreaker, to continue metal's endurance and longevity.
"Metal now is really strong. Stronger than in the 90s. I myself love to listen to classic metal and rock. Because I am old. My nephews listen to new and cool metal bands that I don't even know their names. But it's a "their" thing. Just like I had new bands like Anthrax or Armored Saint or Savatage or whoever. If fans want to live in the past, then buy all of their old favorite bands' CDs. But young kids need their new generation of metal to have the music survive." --Tim Owens
More and more bands are rising to prominence in the traditional ranks by creating a retroactive sound based on 70s and 80s culture. Tour flyers are made to look vintage. Cassettes, vinyl, and CDs are released simultaneously with digital to blend five decades worth of technology. We are seeing young acts utilize social media--Facebook, Twitter, Instagram--but also delve deep into streaming music services like Spotify, You Tube, Bandcamp and Soundcloud. While the bands are certainly making a statement that they are heavily influenced by the old, they are still quick to embrace new technology and advancements in media to circulate their sound. With so many avenues of releasing music to the masses, it becomes a whirlwind of exposure for both the fan and musician.
Jens Halter, founder of German label
Killer Metal Records
, makes an observation on the amount of new music and emerging bands on the scene.
"Many bands are knocking on my door. They want a deal or just to release their vinyl. So I could sign new bands every day. But to my mind not everything has to be pressed on vinyl or a CD. The market is overflowing with releases. Today it is much easier not to release a demo but an actual 'full-length' album. So there are many, many more releases than thirty years ago."
As a metal fan, nothing could be better than a buffet of styles and sub-genres to choose from daily. We have reached the proverbial crossroads where we literally can backtrack and play nearly fifty years of hard rock and heavy metal releases while still keeping an open ear for the new music spilling out from all corners of the world. Whether you love 70s and 80s bands, music and culture or firmly embrace the new generations, one thing is for absolute certain--heavy metal music and its legacy will never fade or burn out. It is eternal, evolving, re-generating, and continues to entertain regardless of social class or era. It is truly a timeless culture and phenomenon that continues to be prevalent and resilient regardless of any bonds or resistance.
Metal is and always will be.
[Other Maximum Metal Columns]
<< back >>