Tales from the Jugular
Headbanger's Ball Tour 2016

By: Eric Compton
Published: Tuesday, August 2, 2016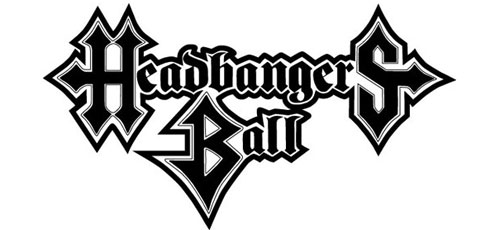 Wow, when was the last time you saw this logo?
MTV's "Headbangers Ball" aired its first episode on April 18, 1987. Since then the show has existed in some variation via networks or online programming. Its prime time was the 1987 through 1995 period when it routinely aired around midnight every Saturday night. The show's original hosts were Kevin Seal and Adam Curry before Riki Rachtman took over and added a popular personalized touch. Ultimately the show came to an end due to the rising commercial success of alternative and grunge rock. "Headbanger's Ball" was replaced by the subpar show Superrock, hosted by Julia Valet.
In 2003, the rise of New Wave of American Heavy Metal prompted MTV2 to launch the show again. Early shows featured bands guest hosting before Hatebreed vocalist Jamey Jasta took over as permanent VJ. In 2007, the show became a lackluster block of time featuring videos only, neglecting the more personalized touch of hosts, interviews and news. In July of 2011, Jose Mangin launched the show again via an online stream, however MTV pulled the plug a year later.
So, it is now with great shock and elation that we see a tour poster released showing the original "Headbanger's Ball" logo. This European tour is being offered by Continental Concerts in cooperation with MTV. The concept is to make this tour continue a series of events that not only showcases some of the best heavy metal bands, but also celebrates its diversity. The first tour features bands culled from metalcore, death, folk and power genres representing the US, Finland and Canada.
The touring aspect of "Headbanger's Ball" has been an ongoing staple since 1989. That tour featured Exodus, Helloween and Anthrax, an exhibit of speed and thrash precision. Since then the tour has existed in some fashion throughout the years and featured acts like Lamb of God, Shadows Fall and Damageplan performing a select few dates. The 2013 version featured indy and underground bands while the 2014 edition had mid-tier acts like Hatesphere, Raunchy and Mercenary performing a short run of only three dates. Both of those tours were brief Danish events.
Much like the original 1989 tour, Continental and MTV are partnering to offer a full seventeen date run through December of this year. Let's get to those venues, support heavy metal and bring back the attention and support for the show and its legacy.
Continental Concerts
[Link]
Facebook
[Link]
Side by side: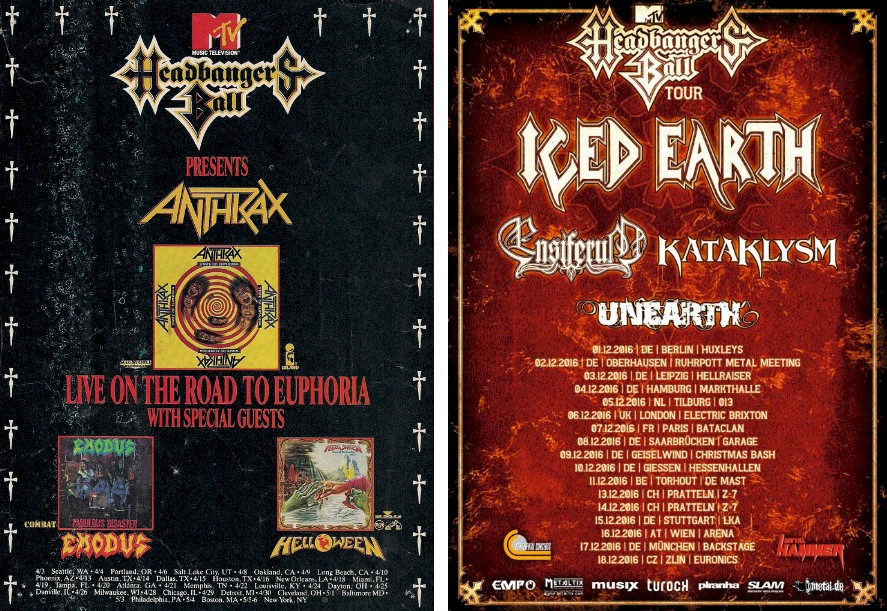 [Other Maximum Metal Columns]
<< back >>