Tales from the Jugular
The Streaming Metal Option

By: Eric Compton
Published: Saturday, July 30, 2016
Stealing.
It's written in our matrix code. From infant to toddler the general concept is animalistic in nature.
If you want it, take it. Simple, right?
The moral development in children doesn't typically even begin until the 3-7 year old period. From that point the "Golden Rule" (or Rules) will start to become reinforced by parents or guardians. This inner growth develops into an understanding of other ideals, rights, and rules while being reminded that there is a punishment for being inconsiderate to others. Later, children will question the rules, the superiors making the rules, and start the short or long conquest of defining the boundaries of the rules. How far can we step over the line? Does the reward outweigh the punishment? By the time children become teenagers their peers have a great impact on the development of right vs wrong and can either reinforce those values or retroactively remove the brain's moral compass.
Over the last fifteen years, tweeners to young adults have developed different definitions of stealing, being considerate of others, and punishment for inconsideration. While the moral code may have been successfully planted during childhood, its definition of stealing is distorted. While the internal "programming" may prevent a Snickers bar theft at a convenience store, an illegal online download may bypass the programming. Peers bypassing their own programming adds even more distortion to the term "theft".
The instant gratification part of a digital generation makes almost everything a comfort. A phone can easily navigate you to Starbucks while playing a funny cat video to a soundtrack of your favorite Rush tunes. You can wirelessly stream an endless supply of movies and TV shows to your home entertainment center using Wi-Fi and Bluetooth functions. Now virtual reality pushes the envelope further by allowing us free reign over digital worlds in full 360 degree spectrums. In many ways humanity reverts back to our infancy.
If you want it, take it. Simple.
Downloading media illegally from a torrent site or streaming an unauthorized YouTube video is theft. It violates the "Golden Rule" and is simply inconsiderate of the creator's time, art and *gasp* money. I am as guilty as the rest and have wrestled my own moral war for a number of years. I think all of us probably have had the same inner conflict. While you can't get beer from a stone...you can get nine hundred albums for free by bumping the code. It's amazing how much our ideology and moral compass can become disoriented when faced with a never ending buffet of FREE. It's tempting and is the path of least resistance to instantly 'getting the goods'.
As we sit in 2016, would you believe that those stealing media may actually become the minority soon? Physical presentation has reached new heights with bands and labels packaging comic books, videos, bonus tracks, virtual reality content (see Megadeth's 'Dystopia') and puzzles not to mention the vinyl explosion of gatefold limited editions in various colors and sizes. But outside of the physical media lure comes the onslaught of the hook-line-and-streamer music industry.
In 2015, the US music industry netted 7.02 billion in sales
[1]
. Of that amount, streaming services ranging from YouTube authorized videos to giants like Spotify and Rhapsody had 34.3 percent of the share
[1]
. While dollars have been exchanged for pennies as the industry can only dream of its past fortunes, illegal downloading and streams are slowly being replaced by legal paid streaming services. That translates into monetary gain as media collects an estimated 0.506 cents each time a song is played (Billboard's estimate of so called On Demand streams excluding internet radio).
With so many options currently available the simple task of hearing an album isn't an easy one. Besides purchasing a copy physically or digitally, which is always the best way to support an artist, online streaming is a convenient legal way to show support. It provides monetary support and packaged with word of mouth, concert tickets and merchandise, can slowly reverse the tide.
Link:
Maximum Metal Guide to Streaming Music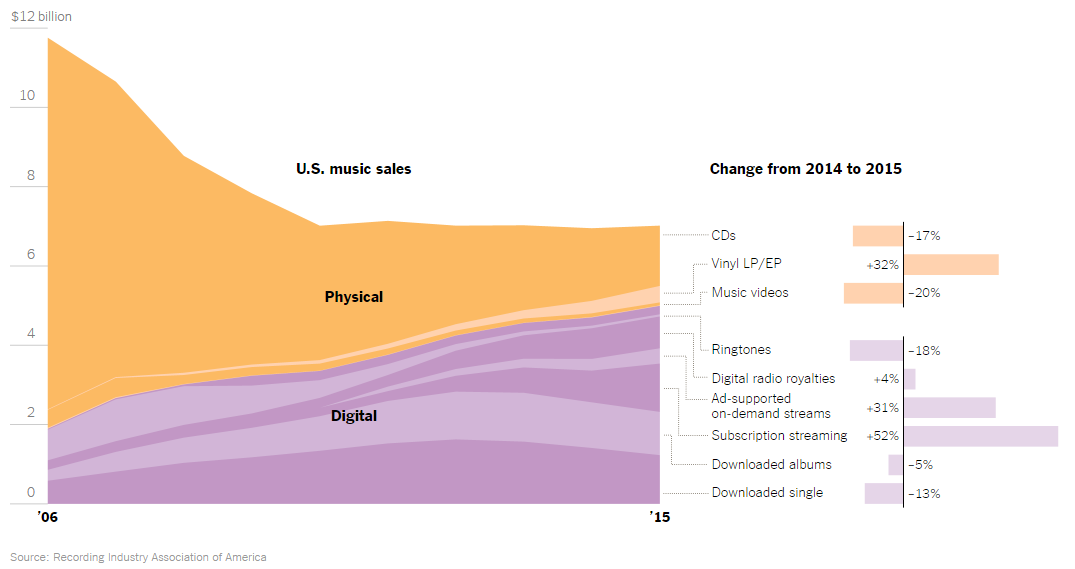 Supporting Links:
[1]
In Shift to Streaming, Music Business Has Lost Billions, NY Times
[Other Maximum Metal Columns]
<< back >>