Tales from the Jugular
Reminiscing on 90s HuH Magazine

By: Eric Compton
Published: Friday, May 6, 2016
"It was a genius way to cross promote music artists and labels that had rarely been utilized before (if ever?)"
It's 1994. Alternative and grunge rock rules the US. Flannel is the new spandex. Hair product is exiled. Lyrically, no one wants to rock and roll all night. It's the age of spoiled kids croaking in a rocker about boredom ("Here we are now, entertain us" - Nirvana).
Me? I'm not buying it.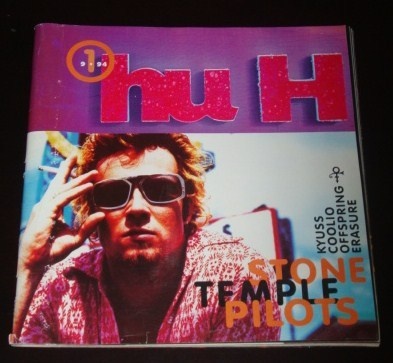 By then, I've invested time and money into the metallic arts which are back underground and far from dead. I'm chasing European power metal, Bay Area thrash, melodic death and gothic doom. I'm searching bins and racks for black-something. I'm thumbing the mail order catalogs while Store Clerk Jabroni #1 asks Store Clerk Jabroni #2 "Do we carry Mortuary Drape normally?" SCJ #2 states two heinous words, "SPECIAL ORDER", while suggesting future global superstars Crash Test Dummies to me. Mmm Mmm. I politely decline and special order Mortuary Drape from some pothole in Cambodia with a $5 deposit that will eventually be returned to me a year later when it remains on indefinite backorder. I'm on the phone long distance with Sentinel Steel listening to 30 second samples of Metal Forrest and paying the import shipment fees from South Africa.
That little record store episode is the embodiment of metal in the 90s. The heavy stuff was hard to come by and it was even harder to find new bands outside of a handful of World Wide Web sites (the internet was still an infant). There was Metal Maniacs and Metal Circus but in my rural part of the bible-belt only a couple of stores carried those. After the disenchantment of downloading 30 second .wav files online and watching MTV's SuperRock (the horrible substitute for Headbangers Ball), I decided to take a chance and spend some of my Aunt Mabel's hard earned social security money (her annual $50 birthday gift cash) on a music subscription magazine. Huh?
HuH Magazine had arrived.
The unique magazine was published by Ray Gun Publishing under the Time Warner brand. Ray Gun was founded by Santa Monica, CA native Marvin Scott Jarrett, who rose to prominence with a late 80s resurgence with the glossy tabloid Creem. Jarrett later went on to release Ray Gun Magazine with a mindset on presenting vivid imagery to the "Generation X" crowd. Ray Gun launched in November 1992 and had a successful run of 74 issues through January of 2000. It focused on alternative and rock music with a slight nod to trendy heavy metal. Its sister magazine, Bikini, launched in 1993 with a nude pictorial of 80s star Alyssa Milano. It was this sort of transcendence from 80s to 90s that made both Ray Gun and Bikini so cutting edge.
"Unfortunately as brilliantly packaged as HuH was, the run ended in the late 90s."
In 1994, Jarrett and Ray Gun Publishing pushed the envelope one step further. Huh Magazine launched as a spin-off of Ray Gun as a music zine that drilled into alternative and rock music. Its inaugural issue, September 1994, featured Scott Weiland on the cover and a spotlight on Stone Temple Pilots' sophomore album 'Purple'. The zine's first issue also featured columns on Kyuss, Coolio, and Offspring, proving diversity in music was an essential piece of HuH's presentation. While there were hundreds of music magazines of the 60s, 70s, and 80s, the interesting part of HuH's marketing campaign was compilation CDs and VHS tapes.
Here's how it worked. The magazine subscription initially ran on the "mix tape" idea. It packaged its squared magazine in a Styrofoam box with a VHS tape of select videos. Later the VHS tape transformed into sampler mix CDs and cassettes. Huh asked which genre the subscriber prefers. When the magazine would arrive each month a compilation CD would be inside the bag featuring selections from new releases of that selected genre. The magazine would offer a dedicated print section of each issue to the compilation CDs that were sent out. For example if you chose rap, you could thumb to the section, look for the Rap header and then see a list of all the songs that are on your compilation CD as well as album covers, band information and a small review. It was a genius way to cross promote music artists and labels that had rarely been utilized before (if ever?).
My subscription was earmarked as "Hard Music" and the first issue I received was a 1995 issue that had Morrissey on the cover (also featured on March 1994 issue of Ray Gun). The CD compilation had a great track listing but the one song that stood out was Amorphis' "Into Hiding". I had never heard of the band until that point and one listen had me hooked and standing in front of Store Clerk Jabronis 1 & 2 in a matter of hours (with my $5 deposit in hand ready to do the special order dance). Finland's Amorphis was a young act on the indy label Nuclear Blast. They took the basic structure of Floridian death metal and incorporated traditional heavy metal into it. Obviously if you are reading this then you probably know Amorphis went on to become huge stars in inner circles. But in the mid-90s living in the US...Amorphis were in the deepest blackest waters in Europe with no sails to domestic shores. HuH appealing to the small masses and labels at the time was extremely oppositional to the US's metal poverty tirade of the 90s.
Take a look at my first compilation CD:
1. Pitch Shifter - Triad/Biohazard Remix
2. Mudhoney - Generation Spokesmodel
3. Pantera - Cemetary Gates
4. Amorphis - Into Hiding
5. Fates Warning - Outside Looking In
6. Acid Bath - Tranquilized
7. The Goops - Booze Cabana
8. Faith No More - Ricochet
9. Sheer Terror - Broken
10. Fretblanket - Direct Approach
Granted, I wasn't terribly impressed with the likes of Fretblanket, Pitch Shifter or The Goops, but the magazine and compilation gave me my first tastes of Amorphis and Acid Bath and some new unheard songs from Fates Warning and Faith No More. For that same issue the Alternative Music subscriber would have received a compilation of tracks from the likes of Wilco, Our Lady Peace, Royal Trux, Morrissey and Collective Soul. I think it's safe to say I won that month.
Future compilations featured a plethora of great metal songs from the likes of King Diamond, Machine Head and Mercyful Fate. I think one issue featured a short haired Metallica on the cover posing for their 'Load'. Unfortunately as brilliantly packaged as HuH was, the run ended in the late 90s. They managed to release at least 27 different compilation CDs to correspond with their magazine releases. Marvin Scott Jarrett went on to become editor-in-chief of Nylon magazine as well as directing short films and videos.
The next time you pick up that shiny Metal Hammer or Revolver bag with your FREE compilation CD inside, say a little thanks to Jarrett and HuH magazine. Like Spider-man's famous Uncle Ben proclaimed, "With great power comes great responsibility", maybe Jarrett said something like, "With great magazines comes great music".
Yeah, something like that.
[Other Maximum Metal Columns]
<< back >>