Tales from the Jugular
H.P. Lovecraft Special Edition Vinyl

By: Greg Watson. Edit by Eric Compton
Published: Thursday, April 21, 2016
"That is not dead which can eternal lie and with strange aeons even death may die. Ia Ia Cthulhu fhtagn!"
2015 marked the 125th anniversary of the life of H.P. Lovecraft. The famed horror and science fiction author is considered a pioneer for the genre with countless forms of media inspired by his dark and vivid imagination. With comics, movies and television relying heavily on Lovecraft literature, heavy metal has always maintained a unique fascination with the author. Metal founders Black Sabbath referenced Lovecraft's 1919 short story "Beyond the Wall of Sleep" on their 1970 song "Behind the Wall of Sleep". Two of metal's marquee names, Iron Maiden and Metallica, have both penned tracks (and artwork) based on Lovecraft lore. Many of metal's extreme bands and sub-genres often use the author's mythology to create supernatural lyrical imagery and atmosphere.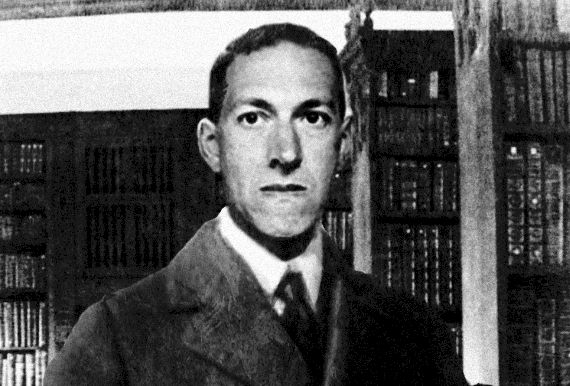 Anyone who knows me personally knows that Howard Phillips Lovecraft holds a very special place in my soul. When I first read "The Call of Cthulhu" I was hooked within the first paragraph of the story. Since that time I have hunted down book after book of his Cthulhu Mythos works and his non-Mythos stories as well as the audio versions. There's a great site that has recordings of almost every story, essay or piece of poetry his name was affixed to during his short life
[LINK]
. On many occasions I've listened to the same story twice or more, depending on the number of narrators, trying to find the best versions. To say I was elated and surprised to learn Maximum Metal had received two new audio recordings of Lovecraft would be a massive understatement.
New spoken word label Cadabra Records is celebrating the 125th anniversary with a series of limited edition vinyl releases dedicated to some of Lovecraft's short stories. The label is ran by horror fan Jonathan Dennison and saw its first release, 'Where is Abby & Other Tales', late last year. Dennison released 'The Hound & the Music of Erich Zann' in February as a 500 copy 150 gram vinyl housed in a gatefold tip-on "old style" jacket. The second release of this Lovecraft series comes in late April. 'Hallowe'en in a Suburb and Others' is released as a limited 7" pressed on clear vinyl in a 150 copy run. The cover is hand-screened in silver ink on a fold-over cover with insert.
First up is the 'Hallowe'en in a Suburb and Others' recording that is comprised of seven Lovecraft poems. While I have never been a huge fan of his poetry personally, these recordings were pretty entertaining and fun to become familiar with. I don't possess a great knowledge of poetry but I know enough to realize Lovecraft's poetry is amateur at best and isn't groundbreaking by any means. But they still retain that eerie, sinister quality that his stories possessed in droves. The poems selected for this recording weren't my favorites of his but were still quite entertaining with "Astrophobos" and "The Messenger" being my favorites. I would have liked to have seen "Night Gaunts" included in this collection but that's just a personal preference on my part. Perhaps we will get that one on additional releases by the label.
"The end of the story is the quintessential moment of fright and realization tied together in one bloody bow."
With 'The Hound and The Music of Erich Zann' there is much more to talk about. "The Hound" is a short, yet very well written story about an ancient amulet buried in the grave of a very interesting creature. The intro into the background of the two characters who unearth the amulet is pretty grisly and will make some people squirm when some of their activities are referenced. The atmosphere and suspense only grows after the removal of the amulet and the "faint, distant baying as of some gigantic hound" follows the characters wherever they go. The end of the story is the quintessential moment of fright and realization tied together in one bloody bow.
"The Music of Erich Zann" is one of Lovecraft's more underrated stories partly because of the shadowy conclusion instead of the clear cut endings his stories are known for. A poor student takes up residence in a seemingly suitable residence and hears the strange music of Erich Zann, an eccentric mute who resides on the upper floor of the establishment. Zann's music mesmerizes and haunts him so much that he wishes to acquaint himself with the musician. When he hums some of the music Zann has played, he discovers the musician is terrified to hear his own music repeated by someone other than himself. He becomes very frightened by something just beyond the window in his room. As the relationship changes between the protagonist and Zann, the protagonist becomes even more determined to continue to hear the wild music of Zann. But at what cost does his curiosity come? Listen to the story to find out.
Andrew Leman handles the narration for both of these releases. I have heard several of his recordings prior to the Cadabra releases and feel the same as I have from my first introduction with his style. While the timbre of his voice is very sonorous and pleasing to the ear, his cadence and speed are a bit too fast paced for these stories, which causes some of the atmosphere and ambience to be lost in translation. I would like to hear him slow down a little to add to the suspense and drama that the stories naturally utilize while moving towards their finale.
All in all, any chance to get to listen to H.P. Lovecraft stories in audio format is a win for me. The cover art for "The Hound and The Music of Erich Zann" is incredibly wicked looking and fits the stories to a tee while the cover art for "Hallowe'en In A Suburb and Others" is a bit less detailed but seems to fit the subject matter appropriately. These are a good start for Cadabra Records and I hope there will be more Lovecraft audio offerings coming forth from the vastness of space and time going forward.
And remember "That is not dead which can eternal lie and with strange aeons even death may die". Ia Ia Cthulhu fhtagn!!
Look for 'The Lurking Fear', 'Pickman's Model' and 'The Picture in the House' LPs later this year.
Hallowe'en in a Suburb & Others:
1. Hallowe'en in a Suburb
2. The Cats
3. The Garden
4. Festival
5. Astrophobos
6. Despair
7. The Messenger
The Hound and the Music of Erich Zann:
1. The Hound
2. The Music of Erich Zann
Cadabra Records Website
Cadabra Records Facebook
Cadabra Records Twitter
Cadabra Records Instagram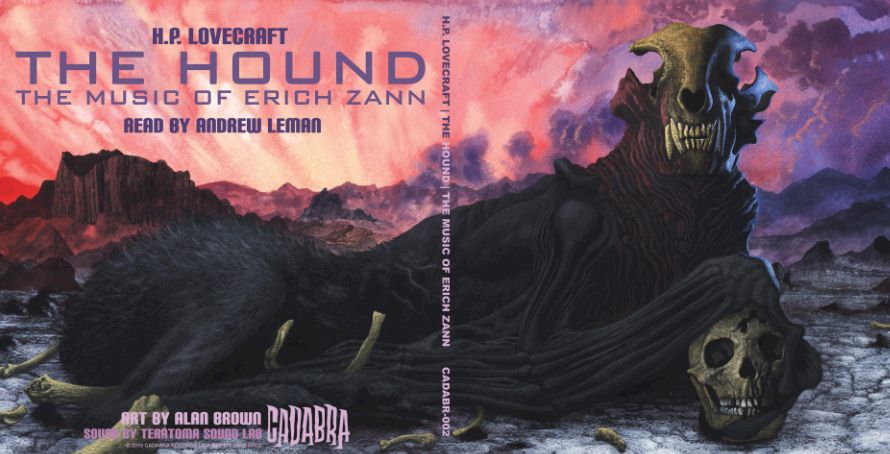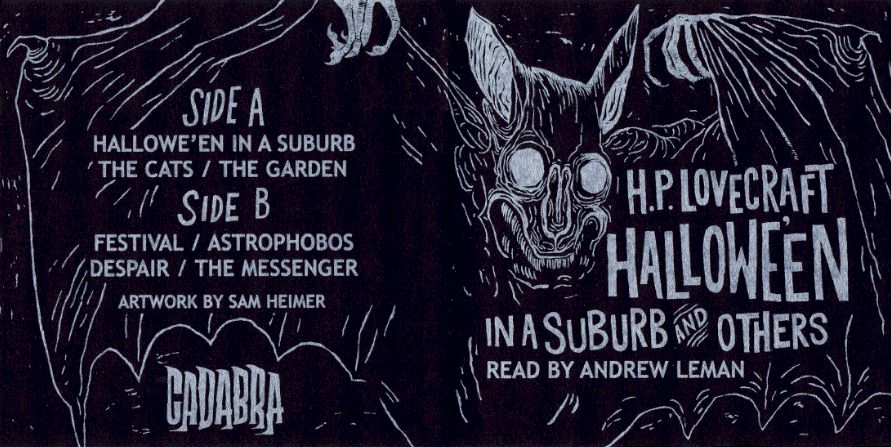 [Other Maximum Metal Columns]
<< back >>