Tales from the Jugular
Futureal – A Look at Virtual Reality in Metal

By: Eric Compton
Published: Friday, April 1, 2016
"The one marvel that seemingly could surpass all modern advancements is virtual or augmented reality."
I can remember as far back as the late 80s hearing the term "virtual reality". At the time visual storytellers like George Lucas ('Star Wars'), Steven Spielberg ('E.T.') and Robert Zemeckis ('Back to the Future') showcased future worlds where technology drastically modified mankind's existence. When you combined that ideology with the global popularity of home computing and cellular communications it was easy to imagine a much larger world than the physical one. When the World-Wide-Web was introduced in the early 90s it set forth a chain of events that would eventually lead to premonitions of some of the things we witnessed in science-fiction media.
"Virtual reality has no off season."
As we sit here in 2016, a lot of what we saw and heard in the science-fiction community over the last few decades has finally come to fruition. While
Morlocks
haven't taken over man's position on the food chain, there have been huge advancements in technology that equals or even exceeds what we could only imagine as "future concepts" years ago. Automobiles can do a variety of tasks that Knight Rider's KITT car could fictionally do in the 80s. Global positioning, voice responsive controls and satellite communication are now standard features in most vehicles. A cell phone now has more computing power than NASA's first trip to the moon. One could argue that an iPhone would have more functionality and tools than the technology wielded by Captain Kirk on the Star Trek Enterprise. Nike is on the verge of introducing self-lacing shoes like those featured in 'Back to the Future II'. We could certainly list dozens upon dozens of technology advancements that enhance our lives and are eerily similar to fictional concepts of old. However, the one marvel that seemingly could surpass all modern advancements is virtual or augmented reality.
Google Cardboard, Occulus (acquired by Facebook for $2 billion), Samsung Gear, Playstation VR and other "viewers" have the ability to link up with a phone or PC and provide stunning virtual worlds that can be seen and heard. Google Cardboard, the cheapest way to experience VR, can be purchased as low as $5.00 and simply folds around your phone with two lenses. The user can download dozens of VR apps using Android or Apple. The ones we have all tried are free apps and really push the limits of what early VR technology can achieve.
Google Street View can put you on the lawn of your childhood home for a full 360 degree nostalgic experience. Never had the funds for that Paris trip? No worries, you can visit the Eiffel Tower or The Louvre utilizing Google's Street View app or a host of hotel chain apps wanting you to experience their lodging before the plastic swipe. Can't wait for the county fair in July? You can ride roller coasters and crazy swings in the winter. Halloween is over? No problem, walk through haunted hospitals and houses anytime. Are we heading towards
Ready Player One
crossed with
Second Life
? Virtual reality has no off season.
With the advances made with VR and more innovation coming, how does heavy metal and hard rock welcome this new market? Thankfully the genre has always firmly embraced new ideas and products that help to better the positioning of the industry in terms of technology. KISS has stamped everything from pinball machines to coffee makers. Aerosmith has released video games and even made their own roller coaster for Disney. Iron Maiden cleverly made Bruce's 90s farewell a live pay-per-view concert and followed that five years later with a video game and a depiction of what VR might look like with their 'Virtual XI' album cover. Anthrax utilized the first DVD technology that allowed viewers to adjust the camera angles of their concert.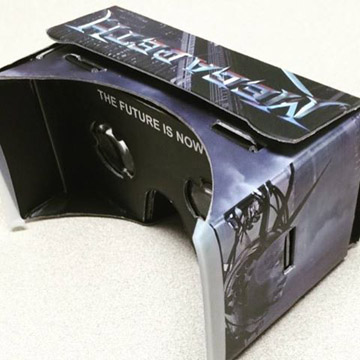 Just this year,
Megadeth
continued their branding by being the first band to offer VR technology simultaneously with an album release. To celebrate the band's newest album, 'Dystopia', the group partnered with Best Buy to offer a Google Cardboard viewer decked out with artwork from the cover. The viewer and CD were sold as a package set that allowed the consumer to experience a concert in VR of five tracks and a table discussion with the band regarding the album. In 1994 Megadeth had a similar "first". Dave and company created what many would consider the first internet site for a band in 1994. The site, "Megadeth, Arizona", was launched as a promotional avenue for the band's 'Youthanasia' album. Along with the technology pairing Megadeth has also ventured into coffee, pinball, comics and trading cards. It's music but also an enterprise.
As cutting edge as VR is and will be for the next few years, it is now moving out of its early stages. Microsoft has created 'Star Wars' style holographic communication. In collaboration with Blue Note Jazz Club in New York, Rivet released a series of virtual reality jazz performance videos on
YouTube
, where you can experience a live performance by simply viewing the video on your mobile device.
Six Flags Theme Park
, in partnership with Samsung Gear VR and Oculus, will equip roller coasters with wireless headsets that, while wearing, allow you enter a virtual world with high-resolution imagery and 360-degree views that synchronize to the action of the coaster.
As we look ahead to more and more VR content being supported by the music industry one can only imagine what's next. Could we see concerts filmed with 360 degree cameras and released as apps? Will we eventually be offered two types of concert tickets at Live Nation and Ticketmaster – one physical and the other virtual? Will the shaky fan shot YouTube videos you are seeing now be replaced by VR type footage that the average user can film? The possibilities are endless for both the musician and the fan.
Given some realistic programming, bands would have no need for physical pyro. You could "see" Sabaton in historical battlefields, or Voivod on various planets, Deceased would be in graveyards, and even Slayer could have a concert in Hell. I can only imagine a Megadeth hologram performing an entire concert for me in my own living room. By that time maybe my flying DeLorean will be parked outside…with a KISS manufacturing logo stamped on the engine.
Maximum Metal's Top VR Apps:
Vrse
Google Street View
Discovery VR
Google Cardboard
inVR
GermBuster
[Other Maximum Metal Columns]
<< back >>