Tales from the Jugular
Round Table Discussion: Alkaloid "The Malkuth Grimoire"

By: Maximum Metal Staff
Published: Friday, March 27, 2015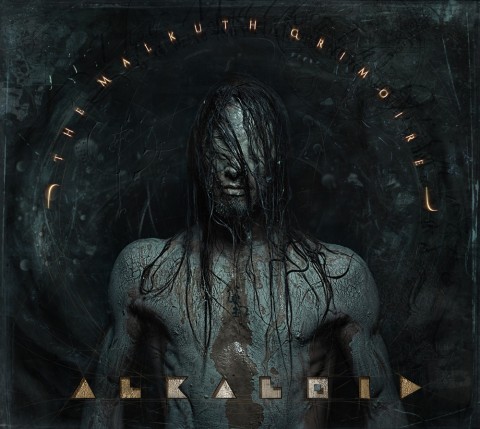 Welcome to our collaborative write-up called the Round Table Discussion where multiple writers from our staff give their opinions on a release. This time around to spin the wax and call the tracks, we have T. Ray Verteramo, Greg Watson, David "David Loveless" Loveless, and Vinaya Saksena on hand to talk about a new extreme release titled "The Malkuth Grimoire" from the band Alkaloid.
"The extreme metal band ALKALOID consists of international high-class musicians, including current and former members of bands like Obscura, Spawn of Possession, Aborted, Dark Fortress, Necrophagist, God Dethroned, Blotted Science and Noneuclid. To fund their album they started a crowdfunding campaign in late 2014 that turned out to be a complete success."
"Alkaloid is a band that is defined through the field of tension created between musical opposites. Alkaloid merge extreme metal and other more diverse genres of music into a unique style that people will somehow find familiar, but haven't heard yet. All musicians in the band are known and active death metal players who all have a much broader view of music than just blastbeats and growls. Alkaloid want to establish from the beginning that they have many faces, and oscillating between (seemingly) contrary or mutually exclusive styles is a factor. To use playing technique only to write good songs, is another factor."
"The Malkuth Grimoire" is twelve tracks consisting of 73 minutes of music.

Your host for this Round Table edition and up first is T. Ray Verteramo.


"The Malkuth Grimoire," to those who have a clue of the Quabbalah, instantly advertises the intention to explore the extraordinary in the ordinary -- the majick in the mundane – and they do. Through such musicianship not heard in decades, this show is perfectly cast in every element, even down to the sorcerer at the board. Morean's well-tamed, dissociative identity vocals play all the characters under the proscenium in this tumultuous, relentless drama of thought and sound. Complex off-beats, jolting time changes, and demonstrative chord progressions in less skillful hands would be patched together like an ugly collage designed to trigger the car-wreck mentality, at best. But, this work is not sewn, it's woven. True, this most likely wouldn't be the first choice for background noise while taking in some black sunshine, though the title track and "Funeral for a Continent" would certainly belong on that playlist, it's a journey you can't stop once you start. Each song has its own ink that stains you with riffs and words and phrases, while keeping you on edge, intoxicated or intrigued. Then when it's done, like a kid who just got off the roller coaster, you'll want to ride it again. And when you do, you find twists and turns that you didn't remember or notice before, so you ride it again…and again…
Very often a "prog death" or a "prog anything" band has a tendency to mix too much prog with not enough death, or a whole lot of anything with not very much prog. Fusion propels the industry forward and it's a precarious medium to find the balance, which is when your audience is not aware they're listening to anything but music. These men perform so tight, so fluent, so intuitively, it rivals the likes of a very dark Yes or a Rush from a forsaken abyss. The only hint of humanity this work reveals is that at times, it risks getting up its own ass with brazen displays of sapiosexuality. Granted, getting off on brain food is better than brain damage. However, regardless, they set out to create Metal, but delivered an experience. And if this is what they've got for a debut, how could anyone possibly imagine what they could do for an encore?
There are many primal, brutal, and glorious projects out there worth every ounce of respect and support -- and comparison's a disease, so don't catch it. But, this? Unexpected. Powerful, masterful, bold, flawless, inspiring, haunting, uncomfortable, igniting, grotesque, and exquisite, the sacred geometry that is "Grimoire," whether despised or revered, is not an accomplishment. It's a game-changer.
When I agreed to give Alkaloid a listen to facilitate a round table discussion, I was told that they consider themselves "space metal" and I wasn't really sure what to expect going in. But after listening to this album for about a week, I have to say that whatever "space metal" is, sign me up to pilot the shuttle for that genre because this album is amazing. While they are technically death metal, Alkaloid has a sound that is all their own. Fans of "Orchid" and "Morningrise" era Opeth can appreciate Alkaloid for their crazy tempo changes and transitions from death to clean vocals in their songs. What stands out to me more than anything though is the musicianship on "Malkuth". From start to finish, each song is perfectly crafted and executed with laser like precision. The album as a whole could basically act as an audio interplanetary soundtrack, with eerie, otherworldly soundscapes, gruff and heavy vocals and ethereal, haunting pieces on each track. Now, some of the lyrics lost me but that's only because my nerdiness extends so far and some of the material was totally over my head. But I didn't really care about that because I was just having so much fun listening to the album. If I had to pick a track as my favorite off the album it would be hands down "Cthulhu", for a few reasons. First off, it's the heaviest and nastiest track on the album. The riff in that song would make one of H.R. Giger's Alien's tremble at the coming of the Great Old One. The vocals and the riffs meld together to form just an incredibly kick ass and evil sound that I feel is deserving of Cthulhu himself. The second reason I love the song is because I'm a huge fan of all things Lovecraftian and this song to me is the epitome of Lovecraft inspired tracks. The feel, the lyrics and the overall tone are what I would imagine, if H.P. Lovecraft were still alive and a metalhead, exactly how the literary master would have wanted a song about his greatest creation to sound. However, that's not to take away from the other tracks on the album. Each track can easily stand on its own for some specific element but together, they create a listen that is truly incredible and a breath of fresh air in a genre that has become terribly stagnant. I will be listening to this album for years to come and am incredibly lucky that T. Ray mentioned the album and I took a chance on checking it out. I recommend that all fans of metal do the same so they can truly appreciate this incredible effort by a criminally underrated band! 4.5/5
You are most welcome for the corruption, Mr. Greg! "Cthulu" is my ringtone. (No, seriously. It is). "Criminally underrated?" The expectations have been very high from the band's inception. Though I'm inclined to agree regarding the "nerdgasmic" elements (honestly, because I believe Morean doesn't want to be known as just a pretty face…or a half-naked, mud-smeared torso), I found this work was like discovering platinum where gold was promised. With their grasp of theatrics, I really hope they choose to produce a conceptual video or two – crossing my fingers for "Alter Magnitudes, "The Malkuth Grimoire," or "Funeral for a Continent." However, should the Divine Whatever happen to be in a particularly generous mood and deliver an animated 4-part "Dyon Sphere" in its entirety, I would not question or refuse the blessing. (I would, however, probably upgrade my health insurance…) --T. Ray
I'd like to first start by saying the term "supergroup" is way overused these days. Just because a group of well-established musicians get together and record music, doesn't make them "super". For example, the so called supergroup "I" featuring members of Gorgoroth, Immortal, & Enslaved was extremely disappointing. In my opinion, Gorgoroth, Immortal, & Enslaved are all supergroups and if members of any band want to get together to make music, more power to them, but they better be better than their own bands if they want to be called super.
Now that I got that out of the way, I do not consider Alkaloid a supergroup. Sure, there are some extremely memorable moments on The Malkuth Grimoire, but the album as a whole is hardly original and inspirational. Vocalist Morean (from the SUPERGROUP Dark Fortress), lays down some pretty haunting vocals - as expected. However, the rest of the bands attempt to back him up musically seems tired and strained at times. The production is excellent and probably does the music more justice than necessary.
If I had to rate Alkaloid's debut, I would give it a 3 out of 5 - and that's stretching it a bit. Now, I don't dislike The Malkuth Grimoire at all. Like I said before, there are some real shining moments on this 73 minute opus. However, I'm just not sure how much listening value it has (meaning how many more times I'll listen to it). If Alkaloid plan to release more albums, I would expect them step it up a bit.
Alright, alright, you've got a point about the "Supergroup" label. I'll give you that. But, you have to admit, it sounds a lot less cheezier than "All –Star," "Patchwork" would just be silly, and it's much easier to say than, "Gaggle of Famous People." Tell you what, you come up with a better term and I'll use it. Deal? (Although, I do like "gaggle"). Other than that…were we listening to the same album? "Tired?" Really? I suppose if you were looking for another Anaal Nathrakh, then yeah, but this is a whole other planet! Yes, there are tons of dynamic and dimensions at play, but these boys took their Red Bull. Granted, this may be an acquired taste, but I dare you to tell me you couldn't ride that rhythm section like a vintage Harley... Dare. You. --T. Ray
First of all, I should be upfront about two things: I knew nothing about the band members' previous work in the extreme metal world. And that's because I honestly haven't paid much attention to extreme metal until recently, usually finding myself put off by the vocal styles more than anything. In the last couple of years, however, a handful of extreme metal acts have grabbed my attention through the indisputable brilliance of their music and, in many cases, their inhuman levels of instrumental skill. Alkaloid do that easily, given the quality and complexity of the music found on "The Malkuth Grimoire." Announcing your new band as an attempt to be "the world's most extreme Prog Metal band" is bold and bordering on pretentious, and there is bound to be a lot of competition for that title, but based on the evidence at hand, I'd say Alkaloid are at least contenders. Right from the album's opening moments, you can tell that this is a band intent on challenging both themselves and their audience. I like the fact that the album- filled as it is with heavy riffing and ugly (but clear) death metal vocals- kicks off with a prolonged passage that reminds me of Tool's best mellow moments, almost lulling us into a false sense of security before the heavy elements kick in. Elsewhere, there's all manner of deliciously crazy prog metal goodness to be found, with the band constantly bombarding us with intelligent but palatable musical ideas and clearly taking care to avoid clichés. (Random thought: portions of "Orgonism" remind me of Menace, the excellent solo project of Napalm Death's Mitch Harris.) Some of the best stuff on the album comes in the four-part "Dyson Sphere," the first portion of which manages to incorporate a killer chorus. Really, if it wasn't for the constant growling vocals, I'd be praising this as virtually guaranteed to be one of THE albums of the year, because other than Morean's vocals, I can hardly find anything not to like here. And for other extreme metal acts, it will take a pretty monumental musical feat to beat what Alkaloid have done here. So, "The Malkuth Grimoire" may not be a contender for my best metal album of the year; but best extreme metal album? Don't bet against it. Rating: 4
..."the world's most extreme Prog Metal band" is bold and bordering on pretentious, and there is bound to be a lot of competition for that title, but based on the evidence at hand, I'd say Alkaloid are at least contenders."

Sold. --T. Ray
[Other Maximum Metal Columns]
<< back >>