Tales from the Jugular
Doug Aldrich, Dee Snider, and "Importance"

By: Eric Compton
Published: Thursday, March 19, 2015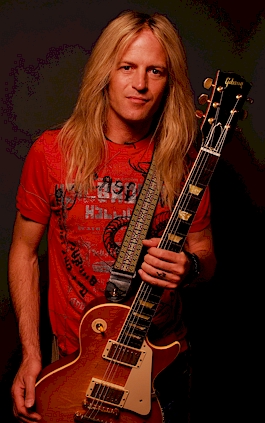 At this point we have probably all digested Twisted Sister frontman Dee Snider's ridiculous comment regarding Doug Aldrich (Whitesnake, Dio, Burning Rain). If you missed it, the instigator is this remarkably insensitive tweet posted on February 9th by Snider (who later apologized to Aldrich):
"What Whitesnake album of importance did Douglas Aldrich play on?"
I have a number of issues with this short little question but first and foremost…what is Snider's definition of important? The albums that only charted hits? The albums that hang in platinum glory on a downstairs wall? Snider seems to be referencing the importance (and arrogance) of hits and money with this banter that played out on "Eddie Trunk Live" on March 9th:
"I have a radio show called "House of Hair". In the eighteen years that I have hosted the show, we've never played a Whitesnake record with a Doug Aldrich song on it. I'm sorry, Doug. We've never played a KISS record with any of the guys after Bruce Kulick. You wanna know why? Because we're a hits show. We play hits. We plays songs people know, songs people wanna hear, songs people love. It may be wrong."

"I often tell the producer of my radio show, 'Why can't we play something — even a taste of something — new?' 'Cause people are interested. But we don't. And there's a reason for it. Because these are the defining records, these are the defining musicians, this is the music of these people's lives, and that's what my show gives to them. Again, I'm not the producer, but this is what we give to them." --Dee Snider


Twisted Sister is a nostalgia act and they don't deny it.

Those of you not familiar with Aldrich, he picked up a guitar at age eleven and trekked to Los Angeles to cut his teeth in the dives at age nineteen. Aldrich formed Burning Rain and has gone on to perform with Dio, Lion, Hurricane, House of Lords and Bad Moon Rising. Let me re-phrase that. Aldrich has been a contributing, performing, sweating, bust-your-ass member of Dio, Lion, Hurricane, House of Lords and Bad Moon Rising.
His most recent project was released earlier this year, Revolution Saints, with another veteran in Jack Blades (Night Ranger, Damn Yankees). In a 2013 interview with Maximum Metal writer Kim Thorne, Aldrich explains his baptism by fire in the early days:
"When I first moved out here I got into a band and started playing the Sunset Strip before all of the hair bands and LA glam bands hit the scene, eventually I got a name around town and got asked to audition for KISS. That was really bizarre, I guess I felt at the time that was what you do, you move to LA and join a big band, in this case it just happened to be KISS. I spent some time with those guys, but I was just a kid—I was eighteen...and it was just way over my head, but what it did do was get me more serious. I started to really work hard on my music, playing and I started teaching...and getting involved in playing in bands."
[
Full interview link
]
David Coverdale of Whitesnake explains the "importance" of fresh material in this 2011 interview with Maximum Metal's Kim Thore:
"I didn't miss the business per say, but I missed performing, the interaction with audiences, and what lead me to actually make records again not with the majors even though I am still involved with large corporate record companies with my catalogue. I work with independents now because primarily they are fans of music. You know, they got into the business because they enjoy the music as it was when I first started. That is an inspiration in itself. Some of my old songs were getting distinctly dusty for me to perform. And I thought if it feels that way for me, it's gotta feel that way for an element of my audience. So that was a huge inspiration for me to go back into the studio and record some new music and I'm delighted I did because it definitely has recharged the Snake without a doubt."
The 2008 album "Good to Be Bad" charted at number 8 on the Top Independent albums, number 23 on the Top Canadian albums, number 62 on The Billboard 200 and number 7 on the UK Albums Chart. It garnered the band a world tour in forty countries featuring seven songs from the release. In using Snider lingo…the only "important" thing Snider did in 2008 was appear on a reality show for Country Music Television called "Gone Country" in which he sheds the hard rock persona in pursuit of Nashville pop-country.
That same Whitesnake (featuring guitarist and co-writer Aldrich) released the 2011 album 'Forevermore' and toured six songs from the release over thirty-four countries. Again completely void of radio play on an independent Italian record label called Frontiers.
Dee Snider, in between reality shows like "Celebrity Wife Swap", "Growing Up Twisted", "American's Got Talent" and "The Apprentice", hasn't released anything remotely original in fifteen years. There is nothing new whatsoever from Twisted Sister, Desperado or Widowmaker in nearly fifteen years. Unless we count 'Dee Does Broadway' (yikes!).
Twisted Sister is a nostalgia act and they don't deny it.
Dee Snider stated about the possibility of the band making a new studio album:
"People have been talking about doing a new Twisted record, which I feel is like going 'back to the future.' You'd be making an old record in contemporary times. And I really have no passion in doing that. And there really isn't a marketplace for it. Those records really don't sell, and people have shown that they're not really interested in old bands making new music. If it sounds like new music, they think you gave up and sold out. And if it sounds like your old stuff, they're like, 'Yeah yeah, we've heard that already, we just want to hear the original stuff (we know).'"
[
Link
]
Dee Snider's House of Hair is a nostalgia show. It is what it is. It continues to ignore new talent and new music and is disrespectful to the hard working musicians and artists who continue to wear the weight of the world on their shoulders by playing the clubs, logging the miles and passionately presenting NEW music for young and old fans worldwide regardless of band moniker, hits, commercial appeal or trends.
Yet, in the 1990s, he quoted on the horror movie circuit saying Trent Reznor was the future of hard music in America, his 1998 film 'Strangeland', written, produced and starring Snider, produced a soundtrack featuring Snot, dayinthelife, Bile, (hed) P.E., The Clay People and Coal Chamber to name a few.
Where were the "defining musicians, defining bands, the music that changed people's lives" at then Dee? Snider jumped on the commercial band wagon fast…searching for hits, money, and "importance" in the 90s while bands like Dokken, Overkill, Motorhead, Blue Oyster Cult and Saxon played the clubs, signed to smaller labels like CMC and kept striving on with new music regardless of trends, fashion, or radio appeal. Guys like Aldrich were busy in 1998 performing with Burning Rain, Bad Moon Rising, and releasing solo albums.
Did I mention he was teaching seventy kids the art of guitar?
That is the definition of "importance" Dee.
Continue sitting on your ass collecting royalty checks every time Spongebob Squarepants sings "I Wanna Rock". The rest of us will be out supporting scenes, supporting new music, and supporting our rock and roll brothers and sisters. Hard rock music has continued on, mile after mile, pushing the heavy load. Hard rock lives today and is still touching lives well past the cut off date of 1989 thanks to guys like Doug Aldrich.
That's importance.
What Whitesnake album of importance did Douglas Aldrich play on? --All of the ones he played on.
[Other Maximum Metal Columns]
<< back >>