Rusted Metal
Jag Panzer - Ample Destruction
By: Eric Compton
Published: Friday, May 7, 2004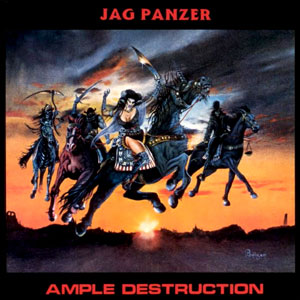 I'm gonna attempt to describe the greatest metal album of all time--Jag Panzer's "Ample Destruction". It's never an easy task to describe the most beautiful things in life. An attempt to describe "Ample Destruction" is very much like describing a sunset to a blind man. It's just a specific thing that is hard to visualize with words.
Many metal fans have heard Jag Panzer. They have been fairly popular in the metal community for the last 10 years or so, joining large tours with Iced Earth, Helloween, and In Flames as well as performing at large European metal fests every year. They have released four records on major metal label Century Media. Jag Panzer's sound for these four records has been fairly good, mixing old school metal with the European flavor of bands like Blind Guardian and Morgana Lefay. As good as these albums were, Jag Panzer will never be the same band they were in 1984, when the holy grail of heavy metal, "Ample Destruction", was released to the masses.
At a time when Anthrax and Exciter had unveiled their US power metal debuts, Colorado's Jag Panzer went one notch higher and released the mother of all metal records. Put out on indy label Iron Works Records, "Ample Destruction" took the sounds of early Exciter and Anthrax to another level of power and intensity. Guitarists Mark Briody and Joey Tafolla combine for the most over-the-top guitar dynamics ever put on tape. This type of sound was far heavier than Anthrax, more driven than Venom, and vocalist Harry "The Tyrant" Conklin proved to be the ultimate metal athlete, bringing thrash and falsetto stylings to the microphone for the first time. The result is just astonishing. Nine tracks of heavy metal mayhem played precise and accurate through blood, swear, and tears.
Opener "Licesed To Kill" is an all out metal basher, with Conklin hitting some insane "screaming" vocal melodies. "Warfare" is probably the best metal song ever written with just one riff. This is a real barn-burner, adding a good lethal dose of punk with the chaotic essence of NWOBHM. "Symphony Of Terror" is a perfectly crafted gem penned after Bram Stoker's Dracula. "Harder Than Steel" is another excellent neck cranker, with the best sing along chorus ever written...."Put your hand on the grinding wheel!! Give 'em hell, cause you're harder than steel!!". Thrasher "Generally Hositile" follows with a blasting battery attack courtesy of Rick Hilyard behind the kit. "The Watching" is a perfect example of horror metal, bringing an aura of eerie atmosphere with songwriting reminiscent of the Hammer films of the 60s and 70s. The listener goes "under the knife" with "Reign Of Tyrants", in my opinion the best song on the album with its strategic beats and ryhthms. "Cardiac Arrest" gallops along at break neck speed, keeping the fast pace of the record. The closer is a mid-tempo track which kind of signals the epic feel that Jag Panzer had in store for their Century Media albums. This one has some perfectly placed keyboards and really adds to the haunting atmosphere. A really chilling song to close the record out.
There you have it. Nine tracks of the best heavy metal ever created in my opinion. Some call this album the best US metal offering, others say its the best power metal album of all time. I honestly believe it is the best record out there. Jag Panzer's "Ample Destruction" was a huge rally call for US metal, much like Iron Maiden in Britain and Helloween in Germany, this album was a huge inspiration on hundreds of bands, many of which tried to be a Jag Panzer clone. For whatever reason this record never saw the success that it should have. Jag Panzer got popular with the metal community with its medieval themed albums like "Thane To The Throne" and "Age Of Mastery" almost a decade later, but "Ample Destruction" never got the audience it deserved. After this release, the band went through a lot of changes. Conklin left the group, along with Tafolla, leaving Briody in charge of the act. They got a singer and struggled trying to find their sound. The band released "Chain Of Command" with a different singer, then released a thrash-hardcore album on Pavement in the early 90s.
Finally after all the years the band pieced it back together with Conklin and they enjoyed the success they should have gotten in the 80s. Joey Tafolla continues a war with the band and unfortunately will not release the rights to the songs he helped write. "Ample Destruction" has never had the official release it needed to, however the album has seen 5 different album covers and two different tracklistings (Black Sunday, Eyes Of The Night, etc.), and countless reissues from various bootleggers.
Those of you who love the aggressive Priest songs, the melody of Maiden, and the violence of Overkill, get yourself a copy of "Ample Destruction". It is a must have.
Track Listing
Licensed to Kill
Warfare
Symphony of Terror
Harder then Steel
Generally Hostile
The Watching
Reign of the Tyrants
Cardiac Arrest
The Crucifix
[Other Maximum Metal Columns]
<< back >>