Rusted Metal
Shok Paris - Steel & Starlight
By: Eric Compton
Published: Saturday, March 27, 2004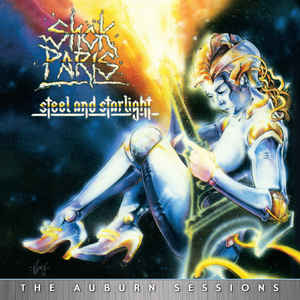 16 years ago, Ohio natives Shok Paris took the best elements of Savatage, Vicious Rumors, Judas Priest, Iron Maiden, and Dio, and created a winning combination that will go down in the metal history books as a vital part of any headbanger's metal collection.
Shok Paris released their first album, "Go For The Throat" on Auburn records in 1984. The record is a very good debut that got the band noticed by a lot of fans and record executives. The act signed to IRS Records and in 1987 released "Steel & Starlight", an absolute masterpiece that should be held in high esteem by metal fans worldwide. With the release, Shok Paris proved they were a heavy metal force in America. With masterful songs, great writing, and one superior vocalist in Vic Hix, Shok Paris created the perfect melodic metal album of 1987.
The album kicks starts with "Go Down Fighting" and a minute long guitar intro courtesy of Ken Erb and Eric Marderwald. After the into frontman Vic Hix lets out a blood freezing scream to let the listener know who's running this metal show. Pounding rhythms, twin guitar melody, and a very professional sound punctuate the track and reinforce the fact that Shok Paris means business. The title track follows in a moody Dio meets Lion escapade, with plenty of great hooks and passages perfectly tuned to fit Hix's vocal style, a style that is very much like Ronnie James Dio.
Hard rock numbers follow in "Tokyo Rose" and "Rocked Outta Love", showing an amazing ability to thread good US underground metal with blazing love-potioned rock and roll tracks. "Castle Walls" is next with it's slow acoustic intro that builds into a violent crescendo of over the top guitar and a raging Hix dishing out the gloomy lyrics of a prisoner trapped behind the cold walls of a castle. The rousing, in your face "On Your Feet" rebounds nicely, showing off the great songwriting of the band. This track has a very catchy chorus and showcases the power that this great US band possessed at that place and time.
"Falling For You" is next with its Dokken-styled hard rock approach again. Soaring guitars from Marderwald and Erb here again, expressing the mood to STAND UP AND SHOUT!!!!! Pure brilliance illuminates from the album's gem, "Exhibit A", which is very much in the same lyrical style of Maiden's "Hallowed Be Thy Name". This song brings out the "never give up and never say die" heart and soul of heavy metal. This is Americanized NWOBHM folks, and its damn good.
The haunting passage "Lost Queen" ends the "Steel & Starlight" story, a great track written about a ghostly figure that haunts the shore. A good dose of Floridian-styled classic metal can be heard in grand fashion with this tale.
This record again is a must have. Its CLASSIC metal at its very best. If you love bands like Savatage, Judas Priest, Dio, Maiden, Vicious Rumors, Chateaux, Lion, and Crimson Glory, then Shok Paris is the band for you. The group followed up the record with the disappointing "Concrete Killers" in 1989, before disbanding.
Shok Paris had a fan following, and seemed to do well for themselves. For whatever reason, the band just never really made it big and just simply disappeared over time. Vocalist Vic Hix can be found in the Ohio band Aftershok, which released a good record in 2002.
Regardless of the band's drawing power or endurance, one thing is for sure. "Steel & Starlight" will always be considered a classic by underground metal fans, and is still being discovered in the metal caverns to this day.
Steel And Starlight, may you shine forever...
[Other Maximum Metal Columns]
<< back >>