Rusted Metal
TNT - Knights Of The New Thunder
By: Eric Compton
Published: Monday, March 15, 2004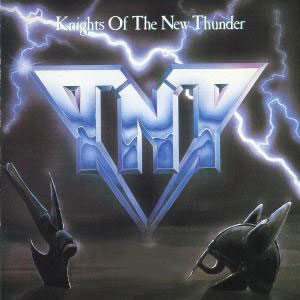 Wow, what a monsterous record.
"Knights Of The New Thunder" was the debut album from Norway's TNT. Released in 1984 on Polygram/Vertigo Records, the record was a huge success for Norway's metal scene. When one thinks of Norwegian metal, bands like Emperor come to mind. But to older metal fans, TNT ruled Norway's shores, at least in 1984 that is. "Knights Of The New Thunder" is a metal masterpiece, sure to please fans of hard rock, power metal, and even thrash. This is one great record and a sought after gem still to this day.
This record just screams out a metal assault, with the glorious artwork showing TNT's huge blue logo, surrounded by lightning and a viking battle axe and helmet. The slow, melodic tune "Seven Seas" opens the album in grand fashion, a true metal anthem penned about the days of Viking exploration. Guitarist Ronni Le Tekro explodes on the following track, "Ready To Leave", showing an insane ability to play a full scale guitar attack, complete with shredding leads. The third cut, "Klassisk Romance", is a short instrumental passage that leads into the hard rock Van Halen sound of "Last Summer's Evil", an emotional song about lost innocence. "Without Your Love" leads off with a rigid bass line that shows off the ballad side of TNT, a side that soon would be exploited by big name label Atlantic Records for TNT's next album.
Metal scorcher "Tor With The Hammer" is next, a classic metal song that should be mentioned with the likes of "Run To The Hills" or "Electric Eye". Tony Hansen screams like a banshee while Le Tekro solos and gallops all over. This track will go down in the metal books as one of the greatest songs in history. "Break The Ice" and "USA" follow in hard rock style, even adding some keyboards for effect. "Deadly Metal" follows, an epic masterpiece and easily one of the best songs ever created by any band of any musical genre. Soaring vocals and amazing leads just annihilate the listener, slamming home the fact that TNT are no hard rock pushovers, and are simply on par with the likes of Priest and Maiden. At this point "Knights..." becomes perfect in every way.
The title track marches forth like Sabbath's "Heaven And Hell", with Hanson showing off his melodic range. The record ends with "Eddie", a spooky little feast that is rather soothing and calm compared to the intensity and madness that the album creates prior to.
Unfortunately after "Knights Of The New Thunder", TNT wavered from this sound. Money, politics, loss of metal drive are all factors in the demise of the Heavy Metal TNT. In its place, we get TNT's follow-up record, "Realized Fantasies", a complete disaster that helped TNT get more AOR fans and radio play, but completely finished the band's metal status.
Its a real shame that Atlantic signed TNT. "Knights..." will go down in history as one of the greatest slabs of metal. A one hit wonder perhaps, but nevertheless a true masterpiece of epic proportions.
Shame on Atlantic and shame on TNT for letting it all fall apart.
[Other Maximum Metal Columns]
<< back >>