Rusted Metal
Devastation - Idolatry
By: David Loveless
Published: Friday, June 14, 2019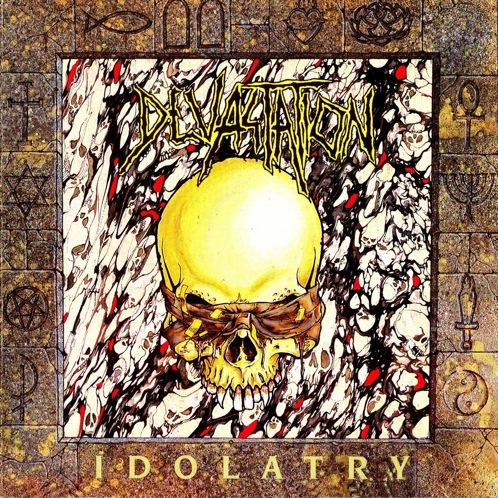 Devastation was a thrash metal band from Corpus Christi, Texas that released 3 albums and a hand full of demos between 1986 and 1991. Their debut album, 'Violent Termination' was released in 1987 and was one of the most lack-luster debut albums released by a thrash metal band. From the terrible production and mixing, to the horrible Celtic Frost clone-like riffs, this album was just horrible and wasn't worth more than a listen or two. In 1989, came their sophomore effort, 'Signs Of Life'. While this album saw them coming into their own, the album seemed rushed and the playing came across as very sloppy. There were some great songs on here though, but unfortunately poor production plagued the whole effort.
However, in 1991, the unthinkable happened; possibly one of the greatest thrash metal albums of all times was released by the most unlikely of bands. It's hard to believe that the same band that produced two previous lackluster albums wrote 'Idolatry', but maybe they learned from their past mistakes and decided to turn things around. Whatever the case may be, 'Idolatry' was a milestone in brutal thrash metal. Everything seemed to have clicked on this album--the production, mixing, music, and vocals were near perfect (especially for 28 years ago). Unfortunately, with the exception of some core Devastation fans and some diehard thrash metal fans, 'Idolatry' was widely overlooked, probably due to the poor reputation of their previous albums. At 44 minutes long, there is not a single dull or boring moment amongst the 8 tracks contained within. Whether they are blazing through speedy thrash songs, or slowing the tempo with chugging riffs, Devastation absolutely crushes it on every song!
The album opener, "Deliver The Suffering" starts with a creepy keyboard/piano intro before abruptly kicking in to the first of a barrage of riffs. This track sets the tone for album and the brutality and relentless never lets up. Next up is "Freewill", and it starts with a chugging riff before tearing into a barbaric thrash riff. Next comes "Forsaken Hatred". The intro sounds reminiscent of early Sepultura but it doesn't last too long as more speedy riffs take over and creates havoc for the next 5 minutes. "Souls of Sacrifice" contains possibly one of the best riffs ever--for any subgenre of metal. Although this is a mid-paced song, the guitar riffing is fast and very unique. "Idolatry" starts with a short acoustic into before blasting into a fiendish riff. This song has an awesome groove too it and is perfect to headband to! On "Legacy Of Faith", they return to the chugging riffs on the first part of the song before savagely transitioning into a speedy thrash anthem. "Subconscious" continues on the path of the previous song and delivers some hate-filled thrash. Album closer, "Never Believe" is one of the most sadistic tracks on the album, featuring some insane drumming, very memorable riffing and the vocals and lyrics will have you singing along with the chorus before you know it.
I'm not sure what started the creative spark for Devastation when they set out to create 'Idolatry', but I'm glad they delivered such a grand final product. Unfortunately they broke up after this album but in my opinion, they cemented their legacy with 'Idolatry', creating one of the most devastatingly brutal thrash metal albums ever. Twenty-eight years later, this album still stands the test of time and sounds just as punishing as it did back then. If you ever have a chance to hear this masterpiece, I highly recommend it for fans of thrash metal, and extreme metal in general.
[Other Maximum Metal Columns]
<< back >>