Rusted Metal
Sentenced - Down
By: Eric Compton
Published: Friday, August 31, 2018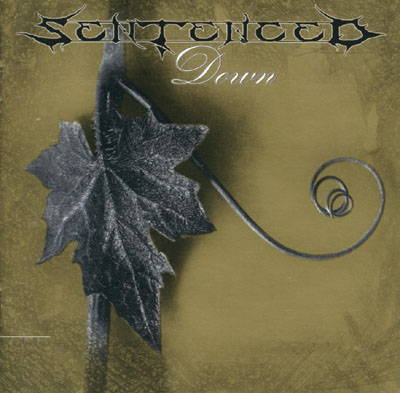 I remember hearing this young Finnish band on a Century Media sampler called 'Identity 2' in the early 90s. It was a track from their 1995 full-length 'Amok', "The Way I Wanna Go", and it absolutely smoked. 'Amok' was what I consider the second stage of Sentenced. The band began in 1989 and released two full-length albums of blackened metal that was very extreme. In 1995 the group focused on making a melodic heavy album and it was held back just a bit by the rather rough vocals of Taneli Jarva.
In late '95 and the early part of '96, it was announced that Jarva was leaving the band to pursue academic studies (I think) and his replacement would be unknown singer Ville Laihiala. The lead-in single from 1996's 'Down', the first to feature Laihiala, was a riveting cut called "Warrior of Life". I heard the song on Century Media's third 'Identity' sampler and was blown away. Laihiala has Hetfield characteristics with his vocal tone and enunciation and I could "hear" Kirk hitting those acoustic strings during the first 30 seconds of the song and Hetfield rolling in with that electric riff that just rips. At that moment in time I remember several media outlets referencing 'Down' as the album Metallica should have made. It's sewn with the fabric of European goth-metal that isn't a far cry from what Paradise Lost was knitting with at the time. NWOBHM is a central part of the Sentenced sound but not in the traditional sense. The twin guitar and raw edges are ever present but it's never flashy or overzealous.
Cuts like "Noose" and "Keep My Grave Open" are damned in black, portraits of dark depression and unsettling lyrics that kept the listener a little bit mystified by this cold Finnish sound. It was produced and recorded in Germany's Woodhouse Studios which catered to a lot of the new "obscure" talent at the time like The Gathering, Tiamat and Moonspell. That production is rather dry with a lot of emphasis on the cymbals and higher clarity strings. It's interesting that twenty years later Metallica had a similar sound as Sentenced on the song "Here Comes Revenge" from their fantastic 2016 record 'Hardwired... to Self-Destruct'. The opening two minutes of that song is nearly identical to the mood and lyrics of 'Down' with Hetfield oddly sounding very similar to Laihiala's brooding serenade. It took twenty years but Metallica finally got the point musically and lyrically.
The early to mid-90s were such a turning point for heavy metal in general, but specifically for the independent label Century Media. This record, like so many others, solidified what we all knew--this was OUR label. With it's capture of the Norwegian black metal genre, focus on young and traditional US acts like Nevermore and Iced Earth, its embrace of diverse acts like The Gathering and Stuck Mojo, the label played host to the revolution of heavy metal. Dismissing hard rock and glam ties, it showcased the new generation of heavy metal fans that became musicians and artists. Nothing represents this place in time or this styling more than the Sentenced 'Down' record. From here, the band would go on a 10-year run of monumental albums like 'Frozen', 'Crimson' and 'The Cold White Light' before their unfortunate 'Funeral Album' farewell. It was a sentencing we didn't see or want...but the band was simply no more.
Play 'Down' and remember this time in heavy metal. It was a one of a kind experience but lives on with the music, bands, and labels that made it so special.
[Other Maximum Metal Columns]
<< back >>