Rusted Metal
Moonspell - Wolfheart
By: Eric Compton
Published: Friday, July 7, 2017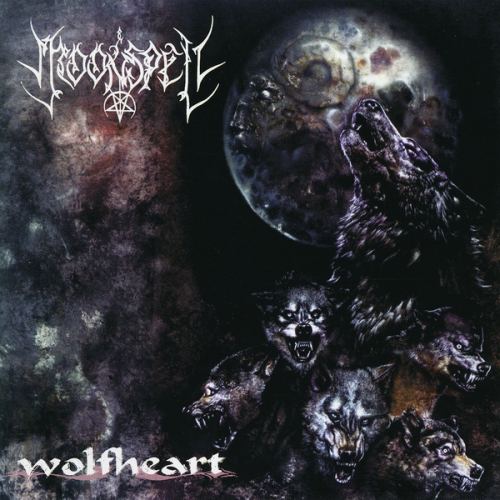 It's Saturday morning, early 1995, and I've worked 50-hours at a local factory making gold rings. It was grueling, hot work made even more unpleasant with tiny little metal spurs that would often poke under your fingernails or into your hands. Honestly, that job probably increased my desire at the time for more aggressive and brutal music. The job pissed me off, but the money fueled my metal addiction. That morning I'd polished off early morning overtime and was ready to blow a wad of cash on a few things at the mall (I'm single and living at home). The first thing I remember buying that morning was a life-size cardboard stand-up of Jason Voorhees from the installment "Jason Goes to Hell". I had it neatly folded up under one arm and hit the store called Camelot Music. With one arm around Jason, I managed to flip a few CDs until I saw a band I hadn't seen in the US.
Moonspell.
I was familiar enough with the Century Media label and owned roster acts like Unleashed, Grave and Samael at the time. However, the name Moonspell was on my radar due to an album I had bought a few months prior--'The Principle of Evil Made Flesh' by Cradle of Filth. In the liner notes they had thanked Moonspell and I had made a mental note to keep an eye out for them. The album was called 'Wolfheart' and plenty would agree with me that the album cover warrants further investigating. I bought it and took Moonspell and my Hellish Jason back home to settle in. Needless to say, it was a damn fine day.
Portugal's Moonspell originally formed in 1989 as Morbid God. Under that moniker they released one track, "Serpent Angel", in August of 1992 under the general name 'Promo 92'. That song was later added to a compilation called 'The Birth of a Tragedy' and released the same year by label MTM. In 1992, the band changed the name to Moonspell and recorded the 'Anno Satanae' demo. It released independently on February 24th, 1993. At the time the band consisted of Fernando Ribeiro, Duarte Picoto, Luis Lamelas, Joao Pedro and Miguel Gaspar. A 7" vinyl followed in 1994 with the songs 'Goat on Fire' and 'Wolves from the Fog'.
On April 27th, 1994, the band released the pre-cursor to 'Wolfheart', the EP 'Under the Moonspell' for French label Adipocere Records. Those five tracks are a loose adaptation of the traditional Moonspell sound that would come to be a year later. It's black-metal with folk elements, abstract time signatures, female vocals and violin. While not perfect, it certainly signaled the beginning of a great band. It landed the group a six-album contract with Century Media Records (Tiamat, Iced Earth, Grave, Unleashed).
'Wolfheart', Moonspell's magnus-opus, was recorded from January 29th to February 12th, 1995 at Studio 2 in Germany. The producer was essentially Century Media's house producer, Waldemar Sorychta (Grip Inc., Tiamat). It was released on April 1st, 1995 and featured eight total tracks that collectively weighs in at 43:52. It's short-lived…but what a dark and mysterious journey it is.
The album begins with opener 'Wolfshade (A Werewolf Masquerade)'. The song has some simple guitar notes at the beginning, just slow picks for atmosphere. It's backed by an ominous keyboard sound. At 0:47 vocalist Fernando Ribeiro (listed as Langsuyar) screams as the Bathory-like percussion and electric riffs hit. It's a really slow track with some blackened higher pitched growls but made recognizable and understandable by Ribeiro's enunciation and tone. He has one of the few black metal voices that allows the lyrics to actually be heard. At 1:44 the double-bass kicks in just as the vocals switch to gothic clean singing. I love the lyrics--"And in the name of Her Father, she will kill. My child kills"--with the last sentence said with a little bit of force. At 2:20 it adds in some clanging cymbals and some orchestration before going back to its main riff albeit over consistent double-bass. 3:29 is more black metal screams and a riff that is somewhat like later day Satyricon. At 4:12, I swear it almost sounds like grunge as it slows and does some subtle, more muffled licks. The pocket beat and isolated bass lines builds up to a really cool solo at the 5:09 mark. Masterful opening track and a staple of extreme music.
"Love Crimes" honestly doesn't sound like anyone. It's one of the most innovative songs I've ever heard. It has this poppy sort of keyboard sound in it's opening minute and has this center riff that reminds me of John Christ's (Danzig) playing style. That pounding sort of gothic rock bleeds into a double-bass battery with clean male and female vocals. At the 2:36 it explodes into this twin guitar riff orgy that sounds like galloping Maiden. The last two-minutes is a keyboard outro over some spoken word narration.
The third song, 'Of Dream and Drama (Midnight Ride)', is easily one of my favorites of the record. It's also one of the shortest at 3:59 in length. It has this dreamy beginning with some distorted slower riffs, keyboards and Bauhaus like goth. At 0:45 is total Danzig worship with Ribeiro belting out "When she shines!" like Glenn. The tempo and riffs are the some of the most rock oriented of any Moonspell track and the gang chanting just crushes it--"Suicide...Midnight Ride". Phenomenal.
The instrumental "Lua d'Inverno" follows with acoustic guitars and flute. It's atmospheric...but I always skip it. "Trebaruna" follows and the beginning always reminds me of Italian act Goblin and some of their haunting and brooding songs for George Romero's "Dawn of the Dead" film score. It's completely in Portuguese and has a rigid bass line, keyboards and a dominant violin sound. It's a shorter cut at 3:30 and helps offset the record at the mid-point.
The atmosphere for "Vampiria" is saturated in a dark, crimson liquid that sets the mood and tone. Think of Bram Stoker's "Dracula" or what Vampire Lestat may have sounded like in Anne Rice's novels. Some point to Type-O-Negative and the vocal register of Peter Steele as influence. Regardless, this song is another high point of the record. The orchestration is thick and reminiscent of Cradle of Filth while the slower drums are like goth rock. I love how it stops at 1:10 with the spoken poetic nuances and picks up the pace at 2:00 with the backing female vocals. At 2:32, a wicked groove hits with the double-bass and more "fearful" orchestration. The vocals turn icy cold with blackened growls and some slower staccato riffs. It's a classic.
"An Erotic Alchemy" quotes Marquis de Sade (an influence) and is a beautiful, melodic piece with really soft touches of keyboards and delicate percussion. The gothic rock is fully intact here, and at the 1:12 mark the spoken female poetry reminds me of Cradle of Filth. At 4:48 the bass line buzzes with the epic orchestra backing track and just really gentle nudges on the drums. At 5:23 this massive sweeping groove envelopes the song and, combined with the vocal chanting, leads to some more black metal growls before the song closes out at 8:05, the longest of the eight tracks presented.
The most aggressive song closes out 'Wolfheart'. "Alma Mater" has a slower pace with the simplistic drums and riffs. The vocals are rougher but still remain poetic--"For I am your only child, and you my dearest mystery, world can't you see it, am I alone in my belief?". For the most part the song remains the same pace with some gang chanting of "Alma Mater" to close it out.
The amounts of pressings of 'Wolfheart' are too numerous to even list here. The album has two different covers and I prefer the original over the "white wolves" version. Moonspell would occasionally visit this more aggressive and melodic version of black metal, notably for me 'Memorial' from 2006. The band's most referenced work other than 'Wolfheart' is its follow-up, 'Irreligious'. That album only possessed a small fraction of the magic and dark wonder of its predecessor. By the end of the 90s, Moonspell had fully embraced goth rock with heavy uses of synths, less aggressive music and some pop stylings that alienated most of its metal flock. There are good songs here and there over the band's 11 record catalogue, but they are few and far between.
Among a handful of black metal albums, I hold Cradle of Filth's 'The Principle of Evil Made Flesh' and this release as my most treasured. I would love to read Ribeiro's 2012 autobiography about Moonspell entitled "XX Anos". But thus the life of a metal fan who can never put his hands on retail goods.
Gift anyone?
[Other Maximum Metal Columns]
<< back >>