Rusted Metal
Venom - Black Metal
By: Eric Compton
Published: Tuesday, April 25, 2017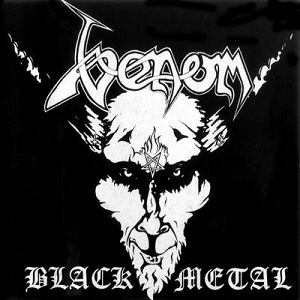 The debate among metal historians seemingly never ends on what type of band Venom really is. Some say it's extreme to the point of defining black metal's rigid boundaries while others refer to them as thrash. Loosely, the Newcastle, England act are lumped into the NWOBHM scene that sprouted in 1978. That's fitting considering geographical location and the band's formation in 1979 (originally called Guillotine). Regardless of genre label, none can refute the band's place in the building of the heavy metal machine. Imagery, lyrics, and energy were catalysts in an attempt to move Venom from pub to hub. While Venom never sold well, their influence on aggressive metal, notably the development of thrash, death, and black metal is hard to deny.
The three-piece band consisted of Conrad Lant as CRONOS (bass/vocals), Jeffrey Dunn as MANTAS (guitars) and Anthony Bray as ABADDON (drums). On the bulk of a three-song demo called 'Demon' (with short-lived fourth member Clive Archer), the band secured a deal with Neat Records, a label that was making some headway with other prominent English acts like Raven, Tygers of Pan Tang and White Spirit. Pre-cursor 7" single "In League with Satan" was released in April of '81 before the band's debut, 'Welcome to Hell', released in December of the same year.
With producer Keith Nichol (Cloven Hoof, Fist, Black Rose) the album proved to be a combination of clangy drums, washed out guitars, and an over the top speed that couldn't quite contain the band's maniacal energy level (and utter disregard for sound quality). The band's image and lyrics probably outlived the album though. Tracks like "Sons of Satan", "In League with Satan" and "Witching Hour" were brimming with testosterone and boyhood menace albeit swaddled in a dark blanket of magic and mystery. Tongue in cheek or not...Venom appeared scary.
The band's second album, 'Black Metal', is arguably Venom's "best of the 80s" and is essentially the act's most ambitious title. The record was released in November of 1982 and was once again produced by Keith Nichol. While it still possessed the low-end production standards that plagued the band's debut, the three-piece had crafted much better songs. Imagery and lyrics were still Satanic and campy, but riffs, presentation and even shouter Cronos had improved.
'Black Metal' is considered an early proto-type of extreme metal. It's frantic energy, over the top lyrical imagery and dark presence is easily seen years later in genres like thrash, black, and death. The album is 35 years old at this point and still maintains a following through collectors, fans and artists that continue to cover and cite the album's songs and global impact on heavy music.
Being a late bloomer of heavy metal in the early 90s, it took me a while to find the Venom catalog. US printed magazine Metal Maniacs did a black metal retrospective on bands like Rotting Christ, Mortuary Drape and Thou Art Lord circa 1995. In that article, they pointed to Venom as an early inspiration. I sought out and purchased a copy of 'Black Metal' on disc and was just blown away. Unlike meals-ready-to-eat like Metallica, Testament and Megadeth, Venom was a much different dish. It was raw, unbridled energy with a vocalist that sounded like Satan himself. That metal-on-metal grinding sound as "Black Metal" opens the record is a fitting introduction to such an abrasive opus. The eerie sounds of a funeral and the subsequent grave digging on "Buried Alive" and it's Earth-churning punk sequel "Raise the Dead" are a one-two punch that cements the album in its thrash foundation. The groovy riffs on "Countess Bathory" are the album highlight for me. Easily one of my favorite albums of all time.
[Other Maximum Metal Columns]
<< back >>