Rusted Metal
Voivod - Dimension Hatross
By: David Loveless
Published: Wednesday, October 3, 2007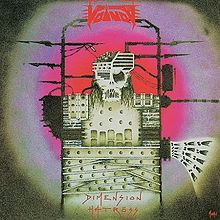 The year was 1988 and I was just 16 years old, but I was already experiencing the dawn of modern heavy metal. With classic releases from major bands such as Metallica, Megadeth, Obituary, Anthrax, and Overkill, and lesser known acts such as Sanctuary, Forbidden, Rigor Mortis and Faith or Fear, all bands were out to prove in their own right, that they were the best. Then one evening while at a friends house bored out of my misery, I proceeded to channel surf until a video clip on MTV caught my attention. I didn't know the band at the time, but the phrase that was being repeated in the song still sticks in my head today: "Who's God? Who's Dog?". The music was heavy, yet strangely different from the other metal that I was currently listening to. At the end of the video, the demographics displayed that I was listening to Tribal Convictions by Voivod. The next day, I went out and bought Dimension Hatross and my outlook on metal changed from that point on, as Voivod proved to be different from all the rest.
Dimension Hatross, the 4th album by Canadian thrash quartet Voivod, was their first album to feature more accessible song structures and backing via video airplay on MTV. Comprising of Snake (vox), Away (Drums), Piggy (Guitar), and Blacky (Bass), Voivod finally achieved breakout success with Dimension Hatross. Although their three previous efforts were stellar releases, they seemed to have finally found their niche to catapult them into a long and successful career.
The eight songs presented on Dimension Hatross were crafted with intelligence, precision, and innovative guitar tones and riffs, to create the ultimate cosmic ride through time and space. Although not as heavy as some of the aforementioned bands, it equals or surpasses in the aggression category and defies any metal sub-genre.
The first track, Experiment, starts off with a spiraling guitar riff, and classic Piggy leads that have inspired many others that have followed in his footsteps. The song then explodes into that classic Voivod sound of crunching, yet discordant riffs. Blacky shreds with his low-end bass lines while Away performs near flawlessly as usual.
The next song is Tribal Convictions. What a better way to start off this song than Tribal-like drums and Blacky's addictive bass line. I can remember the video for this song now; Blacky head banging away with his long-haired semi-Mohawk. As one of the best songs on the CD (or cassette tape as was originally bought back in 88), Tribal Convictions goes from mid-paced to fast, before finishing up in an almost frantic ending.
Chaosmongers continues the fast pace along with a catchy chorus to show the albums range and diversity, albeit not straying far from the basic fundamentals of thrash metal. More Piggy-esque riffs can be found here, especially during the middle part of the song. Away, known for his stellar double bass drumming, adds an additional intensity to the song that continues to increase up until the end.
The fourth song, Technocratic Manipulations, is another fast piece that starts with the thunderous bass licks of Blacky before morphing into a more hardcore oriented song - almost reminding me of Ace of Spades era Motorhead. However, Piggy again succeeds in adding his flavor to the metal-edge chorus.
Macrosolutions to Megaproblems starts with a crescendo into Piggy's massive odd-sounding riffs and then cuts loose into a fury of demented riffs and double bass madness. With slight hints of progression, time changes and stand-alone guitar patterns, the song accelerates into another catchy chorus and without missing a beat, progresses into the latter part of the song.
Track 6, Brain Scan, is a spacey, progressive number with a slight echo to the main guitar riff that eventually blasts its way into a punishing metal track that proves to be one of the most aggressive tracks. Incorporating several quirky interludes, Brain Scan always finds its way back to the crushing metal riffs that makes this one of the stand-out tracks.
If there is any song that can sum up the classic Voivod sound, it has to be Psychic Vacuum. Fast, aggressive, and full of those Piggy chops that we've all come to love. Away's double bass is in masterful form, as is Snake's distinctive vocals. As "nothing can stop the evacuation...nothing can stop the psychic vacuum" pulsates from your speakers, you'll be banging your head in unison.
The final song on the CD, Cosmic Drama, is the perfect album closer for this celestial trip known as Dimension Hatross. With a feeling that you are lost in space, Cosmic Drama is another classic example as to why Voivod can never be duplicated.
Dimension Hatross has to be one of the most influential metal albums of all times. Defying the scope of traditional heavy metal, it combined unique guitar wizardry of Piggy, Away's masterful drumming, the awesome bass works of Blacky and the innovative vocal works of Snake. Since Dimension Hatross, Voivod has continued their stellar career and to date, have released 7 more studio efforts. Although they have all been great, they still stand second to Dimension Hatross. Unfortunately, Piggy passed away in August of 2005 but he left behind a legacy that will go untouched!
Thanks to Piggy and Voivod's uncompromising innovation, an alternate metal universe has been created for the metal heart in everyone.
Track Listing:
1. Experiment
2. Tribal convictions
3. Chaosmongers
4. Technocratic Manipulators
5. Macrosolutions to Megaproblems
6. Brain Scan
7. Psychic Vacuum
8. Cosmic Drama
[Other Maximum Metal Columns]
<< back >>