Rusted Metal
Omen - Battle Cry
By: Eric Compton
Published: Monday, June 5, 2006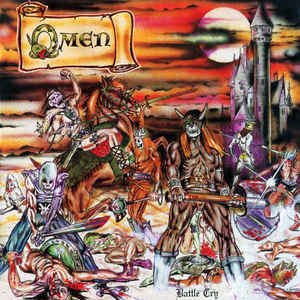 Ride against the wind shameless killer in the night
Rape another village before the break of light
Trample down the ashes grind them with your hate
Take another helpless life before it's too late
Death Rider! You've taken the Earth by storm!
And so it begins...the epic war chant from 1984's Omen "Battle Cry", the Metal Blade debut album from the Los Angeles act. It is interesting that I have really grown to love this record. For years and years it has taken it's place on my CD shelves, far outweighed by what I thought were heftier metal giants like Nasty Savage and Jag Panzer. The band's first album, as well as "Warning Of Danger" and "The Curse", have gathered dust through the years with very little rotation in my weekly play lists. Even through Saturday night CD exploration the band has had few spins in my player.
Outstanding, well published, Canadian critic Martin Popoff has a review of "Battle Cry" in his legendary "Collector's Guide To Heavy Metal". In it he states something to the effect of "If "Battle Cry" was the only heavy metal record left, I would play it 100 times, dissect it, and eventually come to accept and enjoy it.
I have come to that point.
After playing well known '80s US metal acts ranging from Overkill to Anthrax, and lesser known metal bills such as Savage Grace and Helstar, I have finally gripped Omen's back catalogue with focused and steady hands. After spending the last few weeks with their albums, I have found that "Battle Cry" may be one of the finest US efforts to date. Beaming with high speed finesse and medieval, warcraft lyrics, Omen prove without a shadow of a doubt that they belong on the '80s spotlight marquee with the likes of Jag Panzer, Riot, Nasty Savage, and the unstoppable sounds of early Savatage in terms of quality, skillful playing, and soaring melodies and harmony. "Battle Cry" rages with an unbridled heavy metal passion, well versed in the New Wave Of British Heavy Metal put down years before by the likes of Maiden, Saxon, and Priest.
1984 was such a huge year for heavy metal, twelve solid months in which the red, white, and blue metal roots were firmly attached and planted. Just like those speed racers of Europe, Omen took up the same torch in a journey through the labyrinth in search of heavy metal success. Whether or not they got it is more of a personal opinion. If you think just in terms of a record label and touring then absolutely YES. Metal Blade Records supported the band and distributed their first four albums, one EP, and a compilation package. In terms of crowd multitudes and buyers galore....unfortunately NO. Sure every well versed metal fanatic will know the name Omen. But when you ask casual fans of Megadeth, Slayer, and Metallica if they knew the releases and songs of the band....well you will probably hear the crickets chirp.
"Battle Cry" is a fist in the air metal tumble that gives more heart and more energy than most bands of that decade. With strong, furious cuts like "Death Rider" and "Prince Of Darkness", one can hear the no frills, quick gallops of the European bands. Lyrically the band are very medieval based, with most of their material being strong anthems that are just below the "seriousness" of Manowar. Songs like "Die By The Blade" are enhanced by fast twin guitar melodies that are reminiscent of Iron Maiden. Guitarist Kenny Powell obviously cut his teeth from the Adrian Smith school of song and dance, really providing the same sort of axe attack that he showed off one year earlier with Savage Grace (look for "The Dominatress EP"). Vocalist J.D. Kimball, who unfortunately lost his battle with Cancer in '03, is a remarkable singer. Fans of Overlorde and Axe Hammer will find his range very operatic, really stirring all emotions with his fantastic chorus parts.
Honestly, anyone who is into the sounds of Helloween and Running Wild will find Omen's first three albums respectable and enjoyable. However, this debut is really the only album from the band that had this much speed and "raw" guitar sound. It certainly doesn't go as far underground as Exciter or Anvil, but it stays right with the likes of Anthrax's "Fistful Of Metal" in terms of unbridled energy, speed, and metal rage. Omen are still in business and still recording records. Their newest is "Eternal Black Dawn", released in 2003 through Mausoleum Records.
"Battle Cry" should still be available on disc wherever FINE metal goods are sold.
NOTE - Powergod has an incredible cover of "Death Rider" on their "Long Live The Loud: That's Metal Lesson 2" release.
[Other Maximum Metal Columns]
<< back >>