Rusted Metal
Accept - Eat The Heat
By: Eric Compton
Published: Monday, December 5, 2005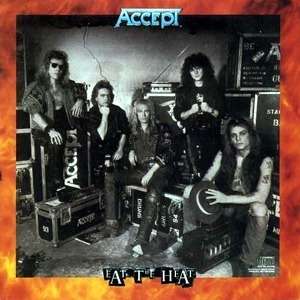 It is really rare to have someone just come out of nowhere and take the reigns of a band that has had a long and successful career, both commercially and within the metal community. Sure we've seen it before, most recently with Tim Owens fronting Judas Priest and Gary Cherone shipwrecking Van Halen. The chances of success are probably fifty-fifty when you think about it. Guys like Andi Deris (Helloween), Ronnie James Dio (Black Sabbath), and even Mike Howe (Metal Church) have had tremendous results when leading a band with a good sized following. Then of course you have the guys that just flunk out completely, like Owens or Cherone.
David Reece is one of those guys, a complete failure anyway you look at it. But the guy had IT, yeah IT. That thing that singers need to front the unit, to lead the charge in one way or another. He had a great voice, a fantastic look, and a desire to rock with the best of them. The problem? He just couldn't fill the void left by a tiny powerhouse; Udo Dirkschneider.
In 1980 German hard rockers Accept landed in the big time with their second record, "I'm A Rebel". The album ignited a Teutonic charge that incorporated the best of the German rock sound (Scorpions) and combined it with a classic, more traditional metal brigade (perhaps in the vein of Saxon?). That battle soaked, hard rock approach led to classics like "Restless & Wild", "Balls To The Wall", "Metal Heart", and "Russian Roulette". However by 1989 Udo had two fairly successful solo ventures in "Animal House" and "Mean Machine", which in all honesty still kept a majority of the Accept sound that made him famous to begin with. With some tension with Accept and this new solo avenue, the group and Udo parted ways. The answer for Accept? A young, long haired American image that carried that pretty boy, hair metal look that was selling records for glam superstars like Cinderella, Poison, and Bon Jovi. They found that look and that answer in David Reece.
Reece originally was in a band called Gale Force, and after sending in a few audition tapes, landed the gig of leading a German hard rock sensation like Accept. He had the looks, and with a voice that fit snugly in the powerful styles of Rob Halford and Tony Harnell, he was the chance Accept was looking for. By 1989 the band had wore out their groovy, metallic rock sound, so they changed gears musically to fit Reece's vocal delivery. In 1989 CBS Records proudly unveiled "Eat The Heat", the new and improved Accept, the more commercial and arena rock ready band that could invade North American audiences, and more importantly, wallets and Billboard charts.
With cuts like "Prisoner", "Love Sensation", and "Mistreated", Accept showed off a bit more "pomp" than "push". Their songwriting was geared more towards relationships and life more so than battlefields and angst. The band still had the metallic drive, evident on strong ripper "Helltrain", but for the most part this was more of a commercial venture for the band. Did it work? No, not at all. They toured with W.A.S.P and Metal Church and had very little success. With a new touring guitarist added into the mix, things were not well within the Accept camp. Soon Reece was axed, and Udo rejoined the group for three more albums before their breakup in 1997. Since then Accept has reformed for touring purposes, and David Reece's journey into the band's legacy is long forgotten. But "Eat The Heat" was still a really good record in my opinion, and something to admire and appreciate. Good for them to give it a try, and good for Accept fans to have a slightly different record to pull out off the shelves from time to time.
[Other Maximum Metal Columns]
<< back >>