Rusted Metal
Cannon - Thunder & Lightning
By: Eric Compton
Published: Friday, September 16, 2005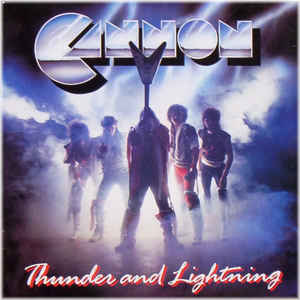 "Rockamania, does it never ever stop!"
It is amazing how some bands just get pushed under the rug, neglected for other artists with only half the talent and potential. In 1988 the metal community was on the verge of a hair metal explosion. Poor bands that wouldn't even qualify for a C or D grade metal status were popping up on the charts everywhere, and at that particular point in time the really bad glam style hadn't quite reached it's full peak commercially. Sure there were tons of great bands still around, with the likes of Tesla just gearing up as well as other greats such as White Lion and Winger (Kip is a great singer, put your hand down). In 1988 another great band was firing on all cylinders, a hell bent rocket ride that unfortunately didn't take off the way it should have. That little rusted metal gem was a record called "Thunder & Lightning". The band? Cannon.
Germany's Cannon laced up their high tops in '86, releasing their debut album in 1988 under the title of "Thunder & Lightning". It was an interesting choice of title as Cannon's material featured hard, thunderous chomps as well as the German speedy, lightning fast anthems made famous by restless and wild groups like Accept and Scorpions. The debut showed a great deal of promise and potential, and after releasing one mammoth of a good time they simply went away for a while. "Thunder & Lightning" is a fantastic release and a collector's vinyl that is sought after by many fine metal collectors. Still to this day I see bootleg versions of the vinyl transferred to disc and up until last year many folks were demanding the record to be reissued. Last year it was! Cannon's "The History" made its way to a two disc release chronicling the entire band's catalogue, even going as far as including unreleased tracks and an entire second record that never saw the light of day. Pops to Point Music for finally unleashing this awesome hard rock ride for the buying public. But enough about the validity of the album, let's look into the material a little more....
At times Cannon plays like a really good L.A. band, expanding on the same concrete slabs put down by the likes of Ratt, Dokken, and the mighty 'Crue. But the group combine that Sunset sound with the German Teutonic metal made famous by U.D.O, Accept, Victory, and Scorpions. Opening track "Lies" is the perfect summary for the band, with vocalist Mat-Rein Jaehnke sounding like a cross between Helloween's Kai Hansen and Victory's Charlie Huhn. His voice is a smooth transition from the speedy, melodic side of the band into the hard rock intensity put forth on the chorus part. "Fireblade" starts out just scorching, with fast twin attacks from guitarists W. Ross Mueller and Olli Krueger. The song slows down to a brilliant arena rock sound. The same can be said for the title track, an explosive vision that just shakes and rolls right through. Favorite cuts for me are the more driving patterns put into "Rockamania" and "Stand The Fight". But as a whole this may be one of the most solid albums from top to bottom ever laid down.
The band builds each track into the perfect melodic structure, with the pattern of the songs going from fast openers to catchy chorus parts and verses. Each cut is just laced with the absolute perfect hook. Honestly at times I feel like this record was what Def Leppard COULD HAVE BEEN if they hadn't given up on themselves and hard rock. Unfortunately this is all the band had to offer us in the 80s. Last year the band reformed and this year the band released another incredible album with "Back In Business" which is also available through Point Music. Do yourself a favor and pick up "The History" as well as "Back In Business".
[Other Maximum Metal Columns]
<< back >>