Rusted Metal
Overkill - Taking Over
By: Eric Compton
Published: Friday, August 5, 2005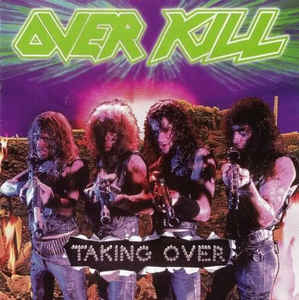 1986 marks the band's second major label release, following up their loud 'n raw debut, "Feel the Fire", a cult sensation through Megaforce Records. Did this New Jersey thrash band have the same energy as "Feel the Fire", or would this be another case of the dreaded sophomore jinx? Let us look at their discography, and the question is answered. Granted the albums stopped being great, (just good, I doubt they could ever make a bad album.) around the 1999 era ("Necroshine" for those keeping score). We are going to focus on a true thrasherpiece this time around, an early US pioneer record called "Taking Over".
Due to some discrepancies of when the band was formed, I'll stay out of that dogfight. The undeniable facts are the band started with Megaforce Records, but by the time that "Taking Over" was released, Overkill had inked a deal with Atlantic Records, known for their sturdy and rigid support of bands like Testament, Savatage, and Vicious Rumors just to name a few. The infamous thrashers were Bobby "Blitz" Ellsworth using his blistering pipes, Bobby Gustafson on guitars (Cycle Sluts From Hell, Skrew, and Responses Negative), D.D. Verni on bass (The Bronx Casket Co.), and Rat Skates on drums.
The self proclaimed Wrecking Crew became known not only for Bobby's incredible vocal abilities, but also for the bass heavy grooves of D.D. While "Feel The Fire" explored the more teutonic fury of Euro dishes, "Wrecking Crew" played the part of a different character. The Blitz's voice takes on the more widely known Overkill vintage sound, a noticable difference from the "power metal" range heard on the debut. In all reality this Overkill record is really the very beginning of the band's career. From the Euro shine of "Feel The Fire" comes the more gritty, gutter thrash sound made famous by this record, a vicious and mean onslaught that led to more thrashings to come ("Under The Influence", "Years Of Decay").
This bonebreaking affair is highlighted by guts and glory wreckage such as "Wrecking Crew", "Powersurge", and "In Union We Stand", a ballad done Overkill style. From the opening line "I'll steal your life and cut out your heart." until the closing line, "Strangled in this knot of sin" and everything in between, this is one album that explodes out of the gates like a wild bull and just doesn't stop. Blitz's vocal style is of course completely out of control, but along with that comes the fast, quick punchs from Bobby Gustafson, with most of the riffs built here coming from the likes of German thrash fests ("Kreator", "Sodom", "Destruction"), but not quite that sadistic or evil.
Overkill were about hell-raising and sinful affairs, never quite raising a ruckus like Europe's dark castles. With the crime and grime of New Jersey as the perfect backdrop, "Wrecking Crew" is exactly that. A streetsweeper of chaos that does more than just entertain, it proved to be a way of life for an entire generation.
[Other Maximum Metal Columns]
<< back >>