Rusted Metal
Fifth Angel - Fifth Angel
By: Eric Compton
Published: Friday, July 8, 2005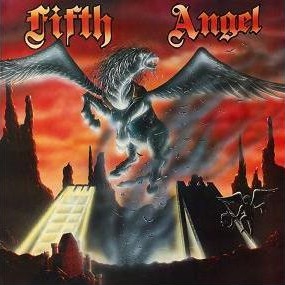 Seattle, Washington ruled the wasteland long before those flannel wearing wrecks poked their heads through the college dorm walls. Yes, believe it or not, metal was the choice of Seattle, not long haired geeks playing three chord riffs and throwing tantrum parties. No, Nirvana was not here in 1986. Instead, '86 was hell bent for leather, with Seattle offering up wonders like Sanctuary, Queensryche, Screamer, and a guitar frenzy power act simply called Fifth Angel. All four of these bands were absolutely loaded, each with the very best in powerful vocals, screaming guitars, and scorching melody. They were some of the best of the 80s, and in this particular Rusted Metal, I will attempt to explore one of the best records of all time, the debut from Fifth Angel.
Shrapnel Records knew melodic power when they heard it, they understood how important that "guitar wizard" was. Fifth Angel made no exception, delivering a captivating sound couresty of virtuoso James Byrd, who later went on to form James Byrd's Atlantis Rising and several other solo acts for Shrapnel. But long before that came his first band, a Seattle unit that landed a deal on the same label that brought us legends like Chastain, Racer X, and Apocrypha. How fitting for Fifth Angel to land here, with their sound almost absorbing those types of sounds and polishing it with a smooth hard rock delivery?
At times Fifth Angel sort of fits that same mold, but at other times a NWOBHM element seems to rise to the occasion. Judas Priest, Saxon, and Grim Reaper all come to mind deep under the flash and polish of this group's delivery. While the band certainly keep that California glow to their sound, the gritty songwriting almost seems to overshadow that. Vocalist Ted Pilot is just amazing here, running the show in the same vein as Kal Swan (Lion), Jeff Martin (Racer X), and Nadir D' Priest (D' Priest, Steel Prophet). His voice is very melodic, almost bordering on that squeaky clean tone of progressive singers. Guitar MASTER James Byrd steps in to shine, delivering huge hooks and absolutely captivating leads. His work here is probably the best of his career and in my opinion ranks highly with the likes of Paul Gilbert, David Chastain, and even Kane Roberts. When you hear him, you know him. That is the mark of a great guitarist. Helping out with backing vocals and second guitar is Ed Archer. Bass duties are handled by John Macko, while the drums are performed by journey man Ken Mary, known for his work with Chastain, Alice Cooper, and Impellitteri.
This debut is just absolutely killer in every way, from slow-tempo cuts like "Fade To Flames" to the more furious tracks like "In The Fallout". The songwriting is simply brilliant, the musicianship is one of a kind, and Pilot's voice is just fabulous. Favorite cuts for me are the Dio flavored "Cry Out The Fools", the war ravaged "Wings Of Destiny", and the anthem "Shout It Out". Fifth Angel are going to appeal to fans of Lion, Malice, and Leatherwolf, with the guitar wizardry sure to please fans of Chastain, Racer X, and even Malmsteen to an extent.
The band lost James Byrd after this release, his replacement being Kendell Bechtel. The group released one more record, "Time Will Tell", in 1990. After the underground buzz of the first release CBS Records stepped in for the second album. "Time Will Tell" just didn't have the same power, instead focusing too much on a commercial brand. The sophomore release proved to be the band's demise. We are left with the amazing and unbridled "ST", a landmark record that still pleases to this day.
[Other Maximum Metal Columns]
<< back >>