Rusted Metal
Stryper - To Hell With The Devil
By: Chris Galea
Published: Friday, June 24, 2005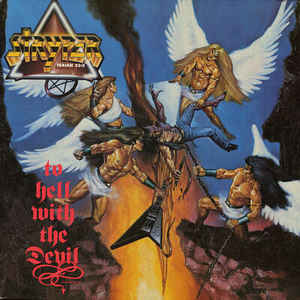 Stryper were the embodiment of one of the unlikeliest marriages in Rock music–-glam image, metal music and pro-Christian lyrics. Basically you either hated `em or luved `em. Well, I guess I fall into the latter category. Out of the 5 studio-albums Stryper released I have no hesitation in saying that "To Hell With The Devil", first released in 1986, is their best one.
Sceptics may accuse the band of using religion to sell out, but I'm convinced that the religious aspect had actually hindered even greater success for the band. Besides, you don't (necessarily) have to take their bible-bashing anthems seriously to feel captivated by their songs. The same thing goes for Black Metal--how many Black Metal fans are actually involved in Satanic rituals? Hardly any, definitely!
But now on to the album in question: "To Hell With The Devil" is musically characterized by vocal harmonies above which the voice of Michael Sweet soars. The title track, which opens the album, sets the album off track. Obligatory Stryper-ballads we find here are 'Honestly' and 'All Of Me'. Lyrics such as "Rockin' for the One who is the Rock" ('The Way') or "Anyone who asks shall receive Jesus in your heart" ('More Than A Man') leave little doubt as to the lyrical orientation.
"To Hell With The Devil" went platinum in the States, was backed by extensive touring and overall was quite successful. What makes me prefer this particular album is probably the appropriate balance of ballads and rock songs as well as the standard of song writing throughout. The production is relatively good too, definitely better than the follow up, "In God We Trust".
Okay, having a 'commercial' orientation this is not an album I would listen to for long periods. But there is a misconception here that 'commercial' is synonymous with inferior quality. This is definitely not necessarily the case, as "To Hell With The Devil" illustrates.
Corny? Yes! Preposterous? Agreed! Divine? Maybe! But I sure rubbed my hands in glee when I got the news of the Stryper reunion.
Praise the Lord!
[Other Maximum Metal Columns]
<< back >>