Rusted Metal
Fastway - Fastway
By: Vinaya Saksena
Published: Sunday, April 10, 2005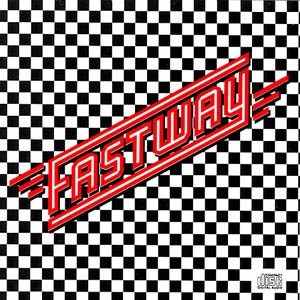 I discovered this obscure hard rock curiosity as a high school junior while scouring the school library's limited but often fascinating CD collection. Upon examining the CD booklet, I noticed that this unknown act included none other than ex-Motorhead guitarist "Fast" Eddie Clarke. Intrigued, I checked the CD out and popped it into my Sony once home. What I heard was an inviting collection of bluesy, hooky, hard rock tunes in the grand tradition of Led Zeppelin, Aerosmith, and Humble Pie (whose drummer, Jerry Shirley, lays down the bruising grooves contained on this album).
And while I find it a gross simplification to compare one great band to another, if such a comparison must be made with Fastway, then Aerosmith is it. Indeed, the Toxic Twins' influence can be detected to varying degrees throughout the album, "Same Old Song And Dance" being grandly evoked in the snaky riff and more than slightly suggestive lyrics of "Feel Me, Touch Me (Do Anything You Want)."
Elsewhere, we are treated to other rousing invocations of glam, kicking blues-rock, heartfelt, working-class laments of society's evils, and other dated, but still enjoyable '70's rock traditions. And despite being recorded in 1983, in the midst of new wave and the first stirrings of pop metal, Fastway bears almost no sonic traces of either trend, being relatively rough, low-fi and down to earth.
Anyway, what we have here is a reverent and inviting update on the best traditions of '70's rock, personal favorites being "Say What You Will" and the mellow-then-heavy "Another Day." All in all, though, the whole album upholds the aforementioned '70's rock traditions beautifully, and aside from a couple of songs being slightly sub-par compositionally, this album is damn close to bell-bottomed, riff-rocking perfection; tasteful, well-executed, but never flashy, and exuding more emotional depth than many other acts in the same genre even bother with.
Note 1: UFO bassist Pete Way co-founded the group with the aforementioned Fast Eddie Clarke (hence the name Fastway), but left to join Ozzy Osbourne's touring band, only to be fired by Ozzy shortly thereafter. It was only recently that I discovered the identity of the mystery bassist who took Way's place on this album. Apparently, bass duties were handled by unlisted session player Mickey Fiat, before Charlie McCracken joined as the band's full-time bassist for their underrated sophomore release All Fired Up.
Note 2: Vocalist Dave King later formed the similarly bluesy, but more modern-sounding Katmandu, who released an excellent self-titled album on Epic in 1991.
[Other Maximum Metal Columns]
<< back >>