Rusted Metal
Nazareth - Hair of the Dog
By: Frank Hill
Published: Sunday, February 15, 2004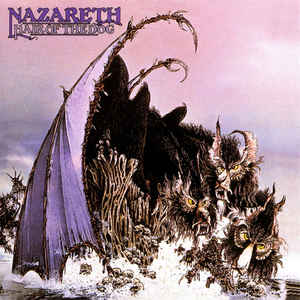 Nazareth released a good many records in the 70's and had a million+ selling album back in 1975 called "Hair of the Dog" that was a fantastic hard rock disc with some big, monster hooks and a variety of songs that were popular then and I think still hold up today without sounding dated because of its blues-based core sound. The vocals are at times a little low in the mix and on the raspy side sounding like a cross between AC\DC's Bon Scott and Brian Johnson, but given the subject matter and dirty blues sound, it fits right in.
Hair of the Dog - After a short little drum intro this one throws out one of the toughest riffs ever in rock. It's like a jacked-up version of the Beatles "Day Tripper" and it fits perfectly with the sing along chorus of "Now you're messin' with a...a son of a biiiitch!". This one is a pure male, sweat-ride on a fat-bottomed Harly Davidson and I don't know how they got this classic rock staple on the air back in the day. The dictionary definition of Hard Rock should list this bad-ass song. Of some note, it was also covered by GnR on "The Spaghetti Incident?"
Miss Misery - Surprisingly heavy and definately Sabbath-inspired in sound with its chucky guitar riff. Unlike Sabbath's occultish lyrics though, this one is a personal reflection about the power of a woman to enchant and enthrall and it oozes anger and bitternesss. It's an updated, stripped-down version of Ulysses and his struggle to escape the Sirens that lured men to death on the rocks. One of my favorites.
Love Hurts - An expressive remake and a complete change a pace here into one of the first power-ballads ever. Don't think it's just a superficial ditty like some of its 80's counterparts though.
Changin' Times - Simplistic blues number and one of the weaker tracks. It about the love/hate relationship and could be a good bar band song.
Beggars Day - Straight-up hard rock tune here. Nothing glorious; nothing shameful.
Whiskey Drinkin' Woman - Southern-rock, honky-tonk, bourbon-drenched good time that could fit on any Lynyrd Skynyrd album.
Please Don't Judas Me - Nazareth's 9-minute inclusion into the opus hall of fame with "Stairway To Heaven" and "Freebird". Some might call this one a little long in the tooth, but it's also an emotional, haunting epic about trust and betrayal. It's a hell of an ending to a solid set of songs.
Now, there is little variety to the lyrical content of the songs with pretty much all except the instumental having something to do with being wronged by a woman or taking some kind of revenge on one, but there is plenty of variety and good times in the music to make "Hair of the Dog" a must-have addition to any hard rock collection.
[Other Maximum Metal Columns]
<< back >>