Rusted Metal
Sanctuary - Refuge Denied
By: David Loveless
Published: Saturday, August 14, 2004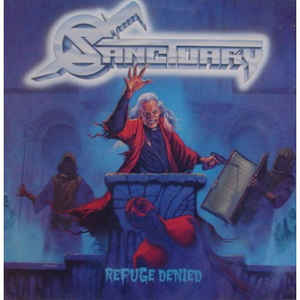 I remember a time when metal was just METAL! In the 80's the only sub-genre's were either Thrash or Speed metal, and even then, bands were not scrutinized enough to worry about their place in any category. These days, there is Black, Death, Grindcore, Hardcore, Gore, Progressive, Power, and Nu Metal just to name a few. Great bands, despite their genre, will always be referred to as a great metal band. Sanctuary was a great metal band that didn't need the help of any genre to make their mark on the metal world. Sheer talent, aggression and love of metal are the trademarks that will forever embrace Sanctuary as one of the most underrated band in metal history.
I was 16 in 1987 and I used to go to the store at least once a week to look for new tapes. I was mainly interested in Death, King Diamond, Anthrax, Obituary, Kreator, Sodom, Slayer, and Overkill releases, but one day in 1988, I ran across a new band called Sanctuary. I picked up the cassette tape and examined the evilness of the cover and the catchiness of the song titles. I didn't realize at the time that the cassette I was holding, Refuge Denied, was going to be one of my favorite catches in my history with metal. I bought the tape and immediately listened to it in my car stereo with the sound as loud as I could get it.
The first song, Battle Angels, pulsated through my speakers and caught my attention with its monstrous riffs. However, it wasn't until Warrel Dane screamed the chorus: 'Fall on your knees, and hail to our dawn. Crawl on your knees, the slaughter is on', that I realized I had just bought something special. His vocals sent chills up my spine! Never had I heard anyone that could sing with so much force and with a vocal range that could shatter glass. As chilling as the vocals were, it was the combination of it with the music that produced a force to be reckoned with. You couldn't call them thrash or speed metal, but they were definitely much heavier and musically versatile than most music out at that time.
The second song, Termination Force, showed their range from classic metal riffs and 'Master of Puppets-esque' axemanship during the chorus to eerie acoustical passages coupled with Dave Mustaine style narrative singing. Speaking of Dave Mustaine, he produced Refuge Denied and even supplied backing vocals and the main guitar solo to 'White Rabbit', the disk's only cover song.
Die For My Sins and Soldiers Of Steel continue the pace with their inevitable 80's thrash arrangements, catchy choruses, and masterful guitar solos (something rarely used today). Again, Soldiers Of Steel is the perfect example of the perfect blend of heavy thrash and gloomy acoustic parts complimented by Warrel Dane's soothing vocals. It goes to show you that death vocals and screaming 100% of the time are not necessary to deliver a metal classic. It wasn't until the song Sanctuary, that I experience my second bout of chills. Within a matter of seconds the song transforms from what seems like a evil ballad with beautiful singing from Dane into one of the albums heaviest songs accompanied by Dane's falsetto vocal screams that would have Rob Halford or King Diamond shaking in their boots! To this day, the chorus is one of my favorites, lyrically speaking: 'I will live on, pure energy and perfect knowledge. The eye of the storm, judgment now awaits for me. Am I born to darkness or to light?' .
Cover songs are always great, but they're even better when they are not originally metal pieces. That is the case with White Rabbit, a song originally performed by Jefferson Airplane (Starship, or whatever they were called at the time). Dave Mustaine clearly delivers a classic Megadeth solo at the beginning of the track that leads into three minutes of mayhem covered madness. Ascension To Destiny and The Third War follow pursuit without skipping a beat and maintaining their heaviness with a touch of melodic riffs.
The final song, Veil Of Disguise, is the perfect song to close out the CD (album, whichever you prefer) because it contains all the dynamics that Sanctuary were able to master during their brief stay in the metal scene. I always loved those songs that were acoustically beautiful in the beginning and then abruptly became punishable to the ear with a barrage of violent riffs.
It's unfortunate that some of the better bands have put out two CDs and then called it quits. Devastation did it with two stellar CDs. Dead Brain Cells did it with two phenomenal recordings (in which I still listen to religiously today), and Sanctuary did it with Refuge Denied and Into The Mirror Black. Although Into The Mirror Black was not as good as it's predecessor, it was still a masterpiece and a true testament to its time in the metal scene. To this day, Sanctuary remains one of my favorite bands and their CDs bring me as much punishing pleasure today as they did years ago. Although Sanctuary didn't last long on the metal scene, their legacy lives on. Since Sanctuary, Singer Warrel Dane and Bassist Jim Sheppard went on to form Nevermore. Nevermore has released 5 full length CDs as well as an EP.
Track Listing
1) Battle Angels
2) Termination Force
3) Die For My Sins
4) Soldiers Of Steel
5) Sanctuary
6) White Rabbit 7) Ascension To Destiny
8) The Third War
9) Veil Of Disguise
[Other Maximum Metal Columns]
<< back >>