Rusted Metal
Anthrax - Fistful of Metal
By: Eric Compton
Published: Monday, July 26, 2004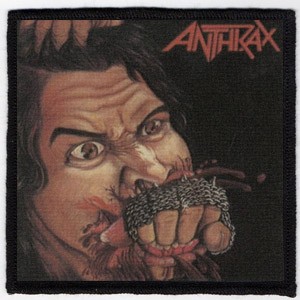 Got My Foot Pressed To The Floor
You Can Feel The Engine Roar
I Got Thunder In My Head
I'm Metal Thrashing Mad!
Anthrax. Fistful Of Metal. 1984. Megaforce Records. One of the most wicked metal sensations to ever course through the human ear, Anthrax stepped over the line with "Fistful Of Metal", the best album to date by the band, and a record that will forever be held in high esteem by metal fans world-wide. With "Fistful Of Metal", Anthrax created the perfect stomping ground, laying down ten tracks of thunder sure to raise the dead themselves, roaring through the rotation in 35 minutes. Like "death from above", Anthrax sweep in, shellshocked and left the town a bloody spectacle.
With very little regard for human life, and the human ear, Scott Ian (Rhythm), Dan Spitz (Lead), Neil Turbin (Vocals), Dan Liker (Bass), and Charlie Benante (Drums) set out on a mission to kick start the world into heavy metal momentum, by-passing the laws of physics and sound, instead settling on a mind roar of loud, crashing, thunderous sound waves that devestated EVERYTHING in January of 1984. Anthrax laid the groundwork that would soon be taken to the limit with Jag Panzer's "Ample Destuction", with "Fistful Of Metal" influencing everyone from Exciter to Overkill, creating a solid album of heavy fast chops, wailing vocals, and a tight battery that sounds like a battering ram, carefully plotting each strike in high hopes of breaking down the proverbial walls, delivering each smashing blow with all intentions of total sonic destruction. Anthrax delivered a Fistful Of Metal.
From opening storm "Deathrider" to the gothic power metal overtone of "Howling Furies", Anthrax create the perfect heavy metal album. With the lightning quick guitars of Ian and Spitz, the bottom basement bass lines of Liker, and the fantastic vocal performance of one Neil Turbin, the group manage to mesmerize the listener with a wall of sound, one that really combines the raw aspects of Venom and Motorhead with a loosely built New Wave Of British Heavy Metal engine, with a deep understanding of thrash metal added to the mix.
With songs like "Deathrider", Anthrax refuse to let up, instead increasing the pace to a fever pitch. Ian and Spitz combine to unleash the ultimate gallop, with Turbin sounding completely out of control, almost pyschotically deranged in his vocal delivery, sounding rabid with his "Here It Comes, You Better Hide, Shoot The Guns, You're Going To Die!!" ramblings. "Metal Thrashing Mad" is a power metal classic, building around one huge guitar chop, sounding like a more metallic version of Nugent, with Turbin once again driving like a maniac. Soaring leads hit this one at the midway, with Benante laying down an extraordinary drum pattern on the skins. This is just classic!
"Panic" is just simply too much at times, almost making it an unfair fight for the other bands, showing off the true fury that is Anthrax, with "Panic" thrashing almost out of bounds. "Subjugator" shows off the red, white, and blue New Wave, almost sounding like a hard and fast look at the dirtiest KISS. "Soldiers Of Metal" and "Death From Above" are raging steelers, once again showing off Turbin's loud and aggressive pipes. "Across The River" builds into "Howling Furies", a good song writing venture into the realms of Hell, a great track that probably went on to inspire other bands like Iced Earth, Helstar, and Nasty Savage. "Howling Furies" takes the grinding doom riffs of Sabbath and speeds them up, still conveying that gloomy doom vibe, but instead focusing on a more up tempo delivery, one that is both atmospheric and thrashing at the same time. The band also stops by to cover Alice Cooper with a good renditon of "I'm Eighteen".
With "Fistful Of Metal", Anthrax took over the underground, laying claim to the "most over the top" album to hit the streets. This album would be considered extreme metal for '84, long before extreme meant church burnings and murder, extreme for Anthrax was creating the ultimate out of control sound, one that never wavers in its valid attempts to crush everything in sight.
"Fistful Of Metal" did exactly what it proclaimed, serving up the perfect dish for the starving metal legions. KISS were never this wild. Priest didn't go thrash until '90. Anthrax simply played monkey in the middle, making the most of their opportunity by creating the perfect debut record. Unfortunately Turbin and Spitz left the band later, with "Fistful Of Metal" really being the only 'Thrax album of its kind. Runner-up "Spreading The Disease", with Joey Belladonna on vocals, never wanted to get too far out of line, making what "Fistful Of Metal" did that much more impressive.
Innovative, original, and completely over the top, Anthrax simply killed with "Fistful Of Metal".
Track Listing
1. Death Rider
2. Metal Thrashing Mad
3. I'm Eighteen
4. Panic
5. Subjugator
6. Soldiers of Metal
7. Death from Above
8. Anthrax
9. Across the River
10. Howling Furies
[Other Maximum Metal Columns]
<< back >>