Rusted Metal
Riot - Fire Down Under
By: Eric Compton
Published: Wednesday, July 14, 2004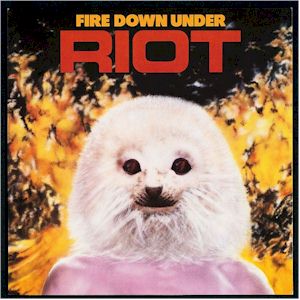 "Swords And Tequila!"
"Carry Me Through The Night"
"Swords And Tequila!"
"Carry Me Through The Fight"
Good God, what a metallic monster, a ravaging, fire-breathing beast that envelopes everything in its path, leaving behind singed debris and rubble as an afterthought to the overwhelming power and raw-energy that Mark Reale and vocal god Guy Speranza unleashed upon the Earth.
This is RIOT baby, in full guts and glory fashion, displaying the European persona, advancing miles beyond Scorpions and Leppard, instead throwing Red, White, & Blue all over the canvas of NWOBHM. Lets just call a spade a spade here, as Riot is the ULTIMATE metal sensation with "Fire Down Under", the groups third album and the bands first REAL addition to their impressive catalogue, with 78's "Rock City" and 79's "Narita" sub-par efforts, both of which are very good, but nowhere near the mark made by the group's prime material (Fire, Born, Restless, Thunder).
"Fire Down Under" sails a different sea, walking the planks with British superstars Saxon and Priest in glorified epic power, but taking a heaping dose of hard rock via Def Leppard back to the American shores with them.
Released in 1981, "Fire Down Under" marked the third record fronted by back-alley brawler Guy Speranza, a small guy with a might big voice. His David Lee Roth meets Rob Halford pipes shined with attitude, determination, and a will of its own to walk the walk and talk the talk, shaking and baking while pummeling the metal crowds, really breaking down the so-called walls around metal, adding in that "much sought after" rock appeal while pleasing the headbangers. This record proved that hard rocking can be heavy as hell, killing with power while soaking up the party sun.
With neck crankers like "Swords & Tequila" and "Run For Your Life", Riot go on the hunt, tracking down all lawbreakers with a ruthless sense of authority, just going out and taking over wherever they could. With guitarist Mark Reale's hellblazing string work with fellow axeslinger Rick Ventura, Guy Speranza's godly vocal performance, and skin basher Sandy Slavin, the group create a monumental opus of pure metal passion, treasuring the genre by helping in its creation.
The group's title track, "Fire Down Under", is the ultimate speed anthem, cherishing fast fret work and bumblebee bass, riveting with Speranza's unique and captivating voice. Medieval march "Altar Of The King" will please all the Maiden fans, while "Feel The Same" dishes out a heaping dose of more melodic, bluesy AC/DC. My favorite track is "Outlaw", which is the perfect ode to the legendary Thin Lizzy, serving up tons of melody and harmony, spinning the ball and watching it fall on a brilliant and thoughtful songwriting pattern. Just perfect in every sense.
After this album, which is considered the band's best work, Speranza left Riot to pursue other interests. The band picked up Rhett Forester for their two follow-up records, "Restless Breed" and "Born In America", which both saw more commercial success than "Fire.."
Riot proved that they were worthy contenders in US metal market with "Fire Down Under", with this album being mentioned in the same sentence with the likes of Maiden, Priest, Def Leppard, and Saxon. This album is considered by many to be mandatory for any collection, and in my opinion this one ranks in the top-ten all-time for US Metal.
Track Listing
1) Swords & Tequila
2) Fire Down Under
3) Feel The Same
4) Outlaw
5) Donít Bring Me Down
6) Donít Hold Back
7) Altar Of The King
8) No Lies
9) Run For Your Life
10) Flashbacks
[Other Maximum Metal Columns]
<< back >>